Ingredients
Blackened Tilapia Tacos
1 pkg Grimm's Corn Tortillas
4 tilapia fillets (170 g each)
1 1/2 tsp brown sugar
1 1/2 tsp smoked paprika
1/2 tsp cumin
1/4 cayenne pepper
1/2 tsp garlic powder
1/2 tsp onion powder
1 tsp sea salt
1 tsp dried oregano
2 tbsp grapeseed oil (for blackening)
Creamy classic coleslaw
6 cups cabbage, shredded (if desired, a mix of red and green)
1/2 cup of mayo
2 tsp honey
2 tsp vinegar
1 tsp lemon juice
1 tsp dijon mustard
1/4 tsp garlic powder
1/4 tsp onion powder
1/4 tsp salt
1/2 tsp black pepper
Fresh pico de gallo salsa
3 large tomatoes, chopped
2 tbsp red onion, finely chopped
1-2 jalapeño peppers, deseeded and finely chopped (1 pepper for mild-medium salsa, 2 peppers for medium salsa)
3 tbsp cilantro, chopped
2 tbsp lime juice
salt and pepper to taste
Vegetarian Halloumi with Charred Pepper & Onion Tacos
1 pkg halloumi (225 g), drained
2 peppers, deseeded and sliced (red and/or green)
1 large onion, sliced
3 tbsp grapeseed oil, divided
salt and pepper to taste
1 pkg Grimm's Corn Tortillas
Guacamole
2 avocados, pitted and mashed
juice from 1 lime
2 tbsp red onion, chopped
1 garlic clove, minced
1/4 tsp cumin
1/2 tsp sea salt
1/2 tsp pepper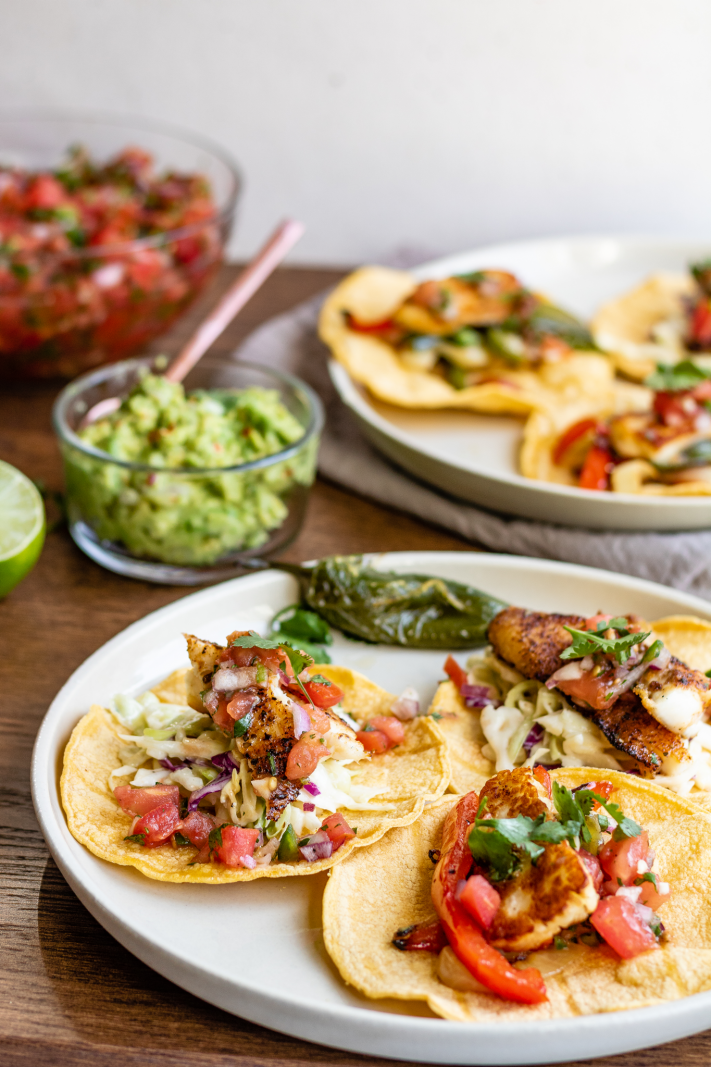 Preparation
Blackened Tilapia Tacos
Preheat the oven to 350°F and wrap 3 stacks of 4 tortillas in aluminum foil. Place in preheated oven for 15-20 minutes, until warm.
Mix herbs together and rub into both sides of each fillet.
In a cast iron pan, heat grapeseed oil over medium high heat.
As soon as it starts to smoke, add the fillets and blacken each side for approximately 4 minutes, until the outside is blackened and the inside is flaky.
Break up the tilapia fillets into 2-3 inch pieces and serve immediately in warmed tortillas with Creamy Coleslaw & Fresh Salsa (recipes below)
Creamy Classic Coleslaw
Combine all ingredients (except cabbage) and mix well.
Once well combined, add in the cabbage and stir mix until fully combined.
Refrigerate for at least 30 minutes prior to serving.
Fresh Pico de Gallo Salsa
Mix all ingredients and refrigerate for at least 30 minutes prior to serving.
Vegetarian Halloumi with Charred Pepper & Onion Tacos
Preheat the oven to 350°F and wrap 3 stacks of 4 tortillas in aluminum foil. Place in preheated oven for 15-20 minutes, until warm.
Preheat a grill to medium high heat.
Toss peppers and onions with 2 tbsp of grapeseed oil and salt and pepper, and place in aluminum pan or foil.
Place pan on the preheated BBQ and cook for about 10-15 minutes, until slightly charred and cooked through.
In a non-stick pan, heat 1 tbsp grapeseed oil to medium high heat.
Slice halloumi into slabs of about 1/4 to 1/2 inches thick.
Place slices into the heated pan and grill for about 3 minutes each side, until the outside is browned and inside warm and soft. Serve hot.
Guacamole
Combine all ingredients and enjoy immediately!

Tip from Chanelle: I like my guacamole cold, so I often place my ripe avocados in the fridge in the morning prior to making guac so I can enjoy cold & fresh guacamole in the evening!