Our Sizzlin' Jalapeño and Mozzarella Smokies, prepared by Chanelle Saks, is packed with a ton of spicy, citrusy, smoky and sweet flavours.
Ingredients
1 pkg Grimm's Sizzlin' Jalapeño & Mozzarella Smokies
6 pieces naan bread
Corn Relish
1/2 medium red onion
3 jalapeños, halved and deseeded
2 limes, halved
1 red bell pepper, halved
4 ears corn, hulled
juice from 1 grilled lime
1/4 cup brown sugar, packed
1/2 cup water
1/2 cup apple cider vinegar
1/2 tsp each salt and pepper
Lime Donair Sauce
1 can condensed milk (300ml)
3/4 tsp garlic powder
1/3 cup white vinegar
juice from 1 grilled lime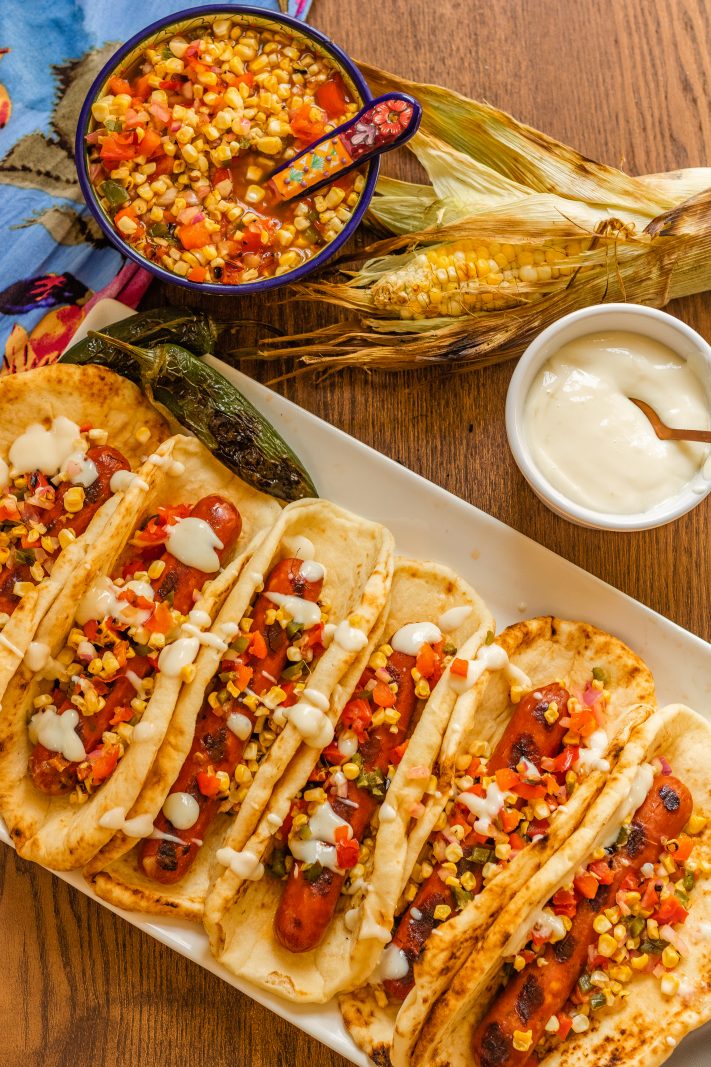 Preparation
Corn Relish
Preheat grill to medium-high heat.
Place the red onion, jalapeños, cut limes, bell pepper and corn on the grill. Cook directly on the heat source turning 1-2 times, for about 10 minutes, or until all the elements are nicely charred, then remove and set aside to cool while you make the donair sauce (recipe below).
Once the grilled vegetables are cool enough to handle, remove the corn from the cob and finely chop the jalapeños, red onion, and bell pepper. Combine ingredients and juice from 1 of the grilled limes in a large bowl, then set aside.
In a small saucepan, stir together the brown sugar, water, apple cider vinegar, salt and pepper. Heat on the stove to a low boil, frequently stirring until the sugar has dissolved.
Remove from the heat and pour the vinegar mixture over the grilled vegetables.
Cover and refrigerate for 1 hour before serving.
Lime Donair Sauce
Whisk together the condensed milk, white vinegar, garlic powder, and juice from 1 of the grilled limes in a bowl, then refrigerate for at least 1 hour before serving.
Smokies & Naan
Place smokies on the preheated grill, turning often, until cooked.
Once the smokies are nearly cooked, grill the naan bread on both sides, until warm.
Serve smokies inside of grilled naan bread, add the grilled jalapeño-corn relish, and top with donair sauce.