Ingredients
2 Grimm's Old Fashioned Ham Steak, diced small
1 cup Grimm's Old Cheddar Cheese, shredded
​1/2 small yellow onion, diced small
2 tbsp olive oil
1 1/2 cup all-purpose flour
1 tbsp baking powder
1 tbsp sugar
1/2 tsp salt
1 large egg, at room temperature
1 cup milk, at room temperature
1/4 cup, coconut oil, melted
black pepper
optional: chopped green onions, parsley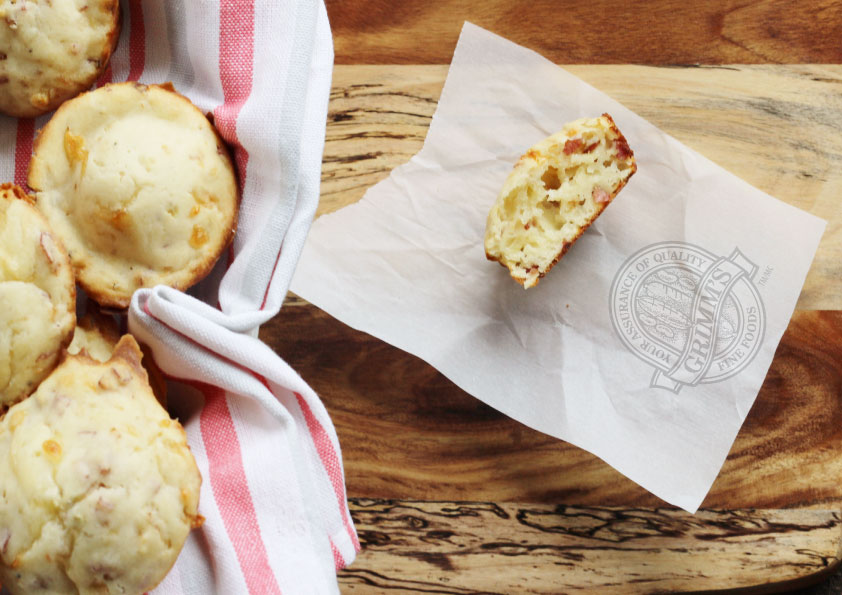 Preparation
Preheat oven to 375°F.
In a skillet, heat olive oil over medium heat.
Add diced Grimm's Old Fashioned Ham Steak and onions and heat until sausage is brown and onions are caramelized, stirring occasionally.
Grease muffin pan with coconut oil and lightly flour.
In a large mixing bowl, combine flour, baking powder, sugar and salt.
In a medium-sized mixing bowl whisk together milk melted coconut oil and egg.
Pour the wet mixture into the dry mixture and whisk.
Pour sausage, onion, and cheddar into the batter and stir for even distribution, be careful to not over–mix.
Add a sprinkle of coarse ground pepper if desired.
Divide the batter over the 12 muffin tins.
Bake for 20-25 minutes (or until the tops are slightly golden brown and a toothpick comes out clean.
Remove from oven and let sit for 5-10 minutes.
Optional: Serve warm alongside butter or sour cream