The delicious recipes keep coming in our #OwnTheGrill series.
Pepperoni Pizza with Basil & Honey is as good as it sounds. Grill (or bake) this recipe from sweetsugarbean and enter summer BBQ heaven.
Ingredients
whole wheat & honey pizza dough
1/2 cup warm water (110-120°F)
2 tbsp active dry yeast
3 cups all-purpose flour
2 cups whole wheat flour
1 1/2 cups cool water
1/4 cup olive oil
2 tbsp liquid honey
2 tsp sea salt
pizza
4 sticks Grimm's Original Pepperoni, thinly sliced
3-4 tbsp canola oil (for greasing pan)
1 ball pizza dough (about 484 g), at room temperature
1 cup of your favourite pizza sauce
1/4 cup basil pesto
1 cup shredded mozzarella cheese
1 jalapeño pepper, thinly sliced
200 g fresh mozzarella or bocconcini cheese, torn into pieces
2/3 cup fresh basil leaves
3 tbsp liquid honey, for drizzling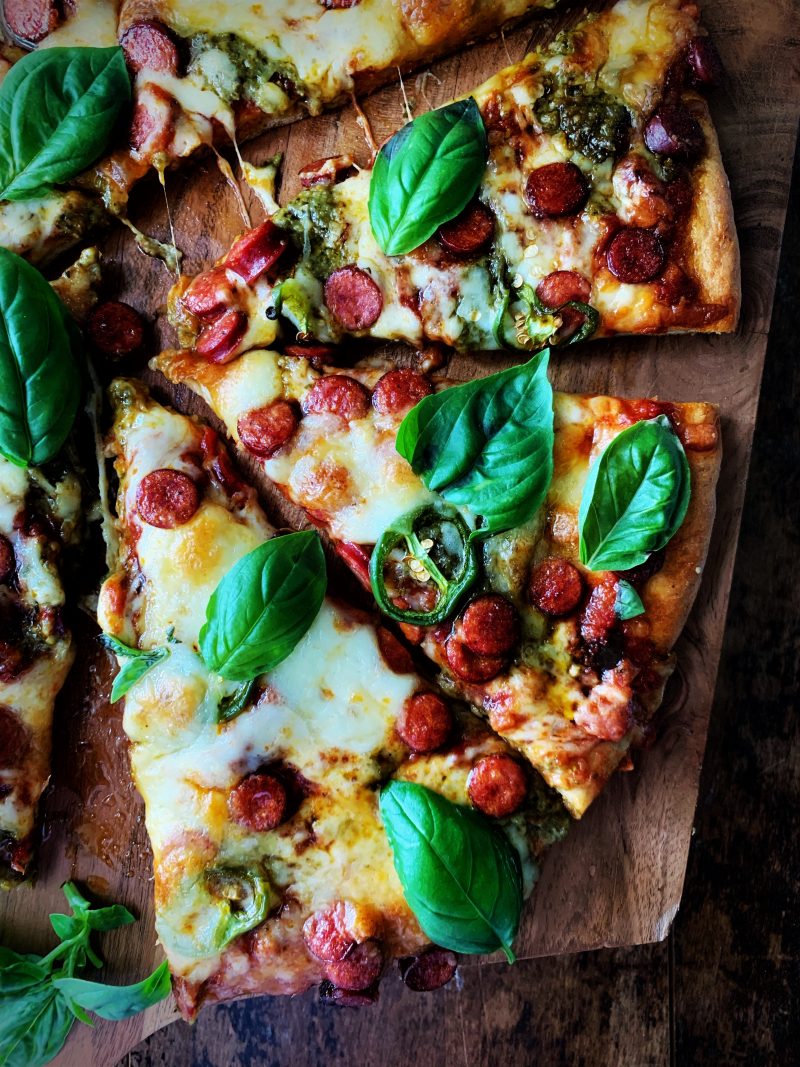 Preparation
Dough
In the bowl of a stand mixer fitted with a dough hook, stir the yeast into the warm water until dissolved. It should get foamy (about 5 minutes). If it doesn't, throw out the yeast and buy some new stuff.
Add both flours, cool water, olive oil, honey and salt to the bowl. Knead with the dough hook on medium-low speed for 5-6 minutes, until the dough is smooth and elastic. If you don't have a stand mixer, you can knead it the old fashioned way for about 7 minutes.
Place the dough in a large greased bowl and cover with a clean tea towel. Let rise for about 50-60 minutes, or until the dough has doubled in size.
Punch down the dough and divide into 3 portions. Use 1 portion for this recipe. Wrap the other two in plastic wrap and place in a Ziploc bag. Freeze for up to 3 months. To use, just thaw in the fridge for 8-12 hours before you want to use it. Let rise until doubled in size, then punch down and roll out.
Pizza
Use a pizza stone on a heated grill or preheat the oven to 450°F. Grease a large baking sheet with canola oil. I used about 4 tbsp You really want it greasy!
On a lightly floured surface, roll the pizza dough out into a large, thin oval (about 11×14 inches).
Transfer the dough onto the baking sheet. Remember, it's pizza, so doesn't have to be perfect.
Spread the dough with the pizza sauce, and dollop with pesto, leaving a 1 inch border. Top with the shredded mozzarella, pepperoni, jalapeño slices and torn mozzarella/bocconcini. Bake for 15-20 minutes, until the cheese and crust are golden brown.
Remove from the oven and let stand for about 5 minutes before slicing. Scatter with fresh basil leaves and drizzle with honey. Makes about 8 large slices.