Ingredients
5 rounds Grimm's Old Fashioned Ham Steak
​6 tbsp vegetable oil, divided
2 medium onions, halved then thinly sliced crosswise (yields 2 1/2 cups)
1 1/2 cups grated yellow potato, packed (about 2 medium)
3/4 tsp kosher salt, divided
8 eggs
1 1/4 cups milk
3/4 cup heavy cream
1/8 tsp freshly ground black pepper
1/8 tsp ground nutmeg
1 1/4 cups gruyere
1 green onion (dark green part only), minced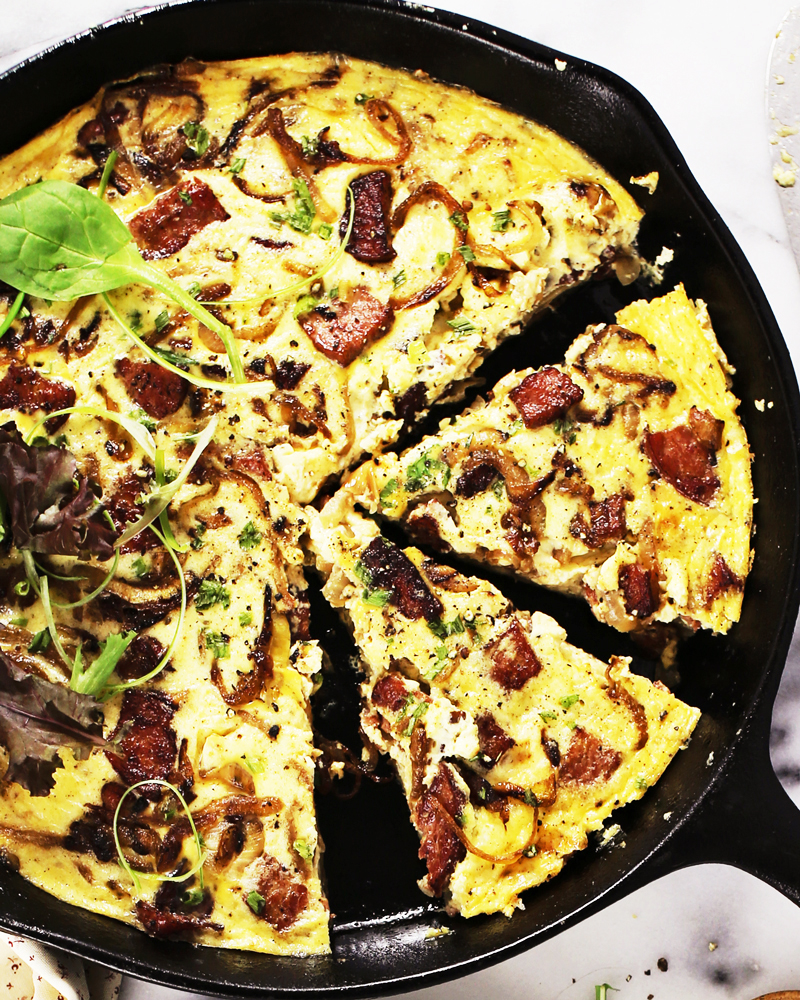 Preparation
Preheat oven to 450°F with a baking stone (or baking sheet) placed on the lower rack. Slice sausage rounds into strips, and then crosswise to 1/2 inch pieces.
​Heat 1 tbsp oil in a 10 inch oven-proof cast-iron skillet over medium-high heat. Add sausage and cook, stirring occasionally, until nicely browned on both sides, 2-3 minutes. Transfer to a plate.
Add another tbsp of oil to skillet and reduce heat to medium low; add onions and cook until soft and deeply golden, about 25 minutes.
Meanwhile, prepare crust and filling. Place grated potatoes in the centre of a clean kitchen towel, and gather the towel around it to forcefully wring out the excess moisture. Open towel and sprinkle potatoes with 1/4 tsp salt; toss to season evenly.
In a medium bowl, whisk together eggs, milk, cream, 1/4 tsp salt, pepper, and nutmeg.
Transfer caramelized onions to plate with sausage, and carefully wipe skillet clean with paper towels. Add 2 tbsp oil and increase heat to medium high. When shimmering hot, add grated potatoes and press firmly into the skillet so that the entire bottom is evenly covered. Cook until golden brown on the underside, about 4 minutes (use a spatula to gently lift it to check). Carefully flip the hash brown onto a plate.
Add another 2 tbsp oil to the pan, and gently slide the hash brown back into brown the other side, another 4 minutes or so.
Remove skillet from heat and sprinkle hash brown with the cheese, then the sausage, and caramelized onion. Pour the egg mixture over top, and sprinkle with green onion. Reduce oven temperature to 350ºF and bake on baking stone or sheet for about 20 minutes, until filling is set.
Serve warm or room temperature.
Variations: Farmer Sausage Rounds, Canadian Back Bacon Rounds, Sliced Black Forest Ham