If anyone knows how to #OwnTheGrill it's our friend Zimmysnook.
Our Spicy Italian Sausages with make-ahead peppers, onions, and Zimmy's All-Purpose Sauce on a Weber Q1200 makes the perfect portable grill recipe for your next picnic or camping trip.
Ingredients
6-8 Grimm's Spicy Italian Sausages
6-8 brioche hot dog buns
1 red bell pepper
1 orange bell pepper
1 jalapeño (seeds optional)
1/2 red onion thinly sliced (in half-circles) and marinated (recipe below)
Zimmy's AP Camping/Picnic sauce (recipe below)
All Purpose Sauce
3 tbsp BBQ Sauce (Zimmy uses a habanero BBQ sauce)
1 tbsp sweet & smokey mustard
1 tbsp Caribbean hot sauce (Zimmy uses pickled scotch bonnet sauce)
If making more sausages or camping for longer, double, or triple recipe. Delicious on sausages, burgers, chicken, pork chops, etc…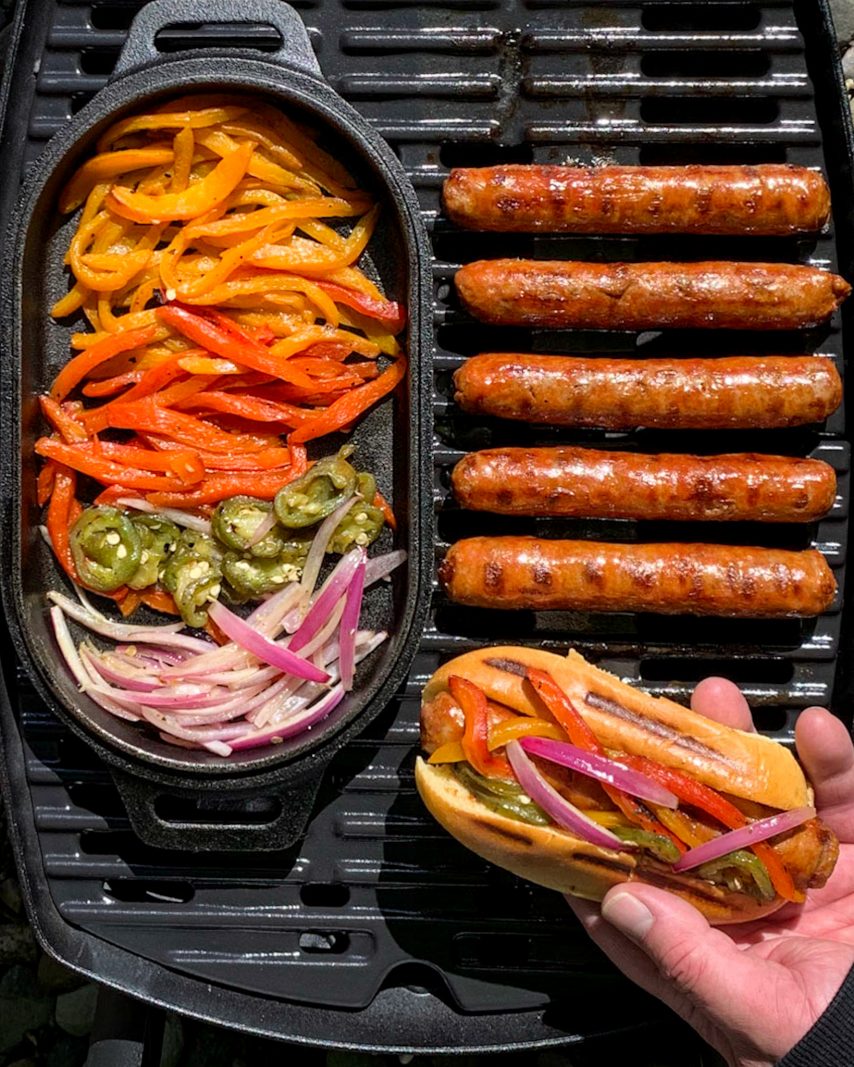 Preparation
Marinated Red Onions
Thinly slice the red onion (in half circles), place in a bowl that fits the onions with at least an inch of room to spare. Pour in olive oil to completely cover the onion.
Add 1 tbsp balsamic vinegar, 1 tsp oregano, and season with salt and freshly ground pepper. Leave onions uncovered on the counter for at least 2 hours, up to 2 days.
Use leftover onions in other recipes and use the flavoured oil to add interest to dressings, marinades, or even to fry eggs.
Make Ahead Peppers & Onions
Preheat the barbecue to medium high heat.
Poke a hole in each pepper and place over direct heat on the grill.
Cook (rotating occasionally), until each of the skins of the peppers are blackened. About 10-15 minutes.
Place peppers in a bowl and cover with plastic wrap to steam for 10 minutes.
Peel the peppers and discard the blackened skin.
Cut the bell peppers into thin strips and discard the seeds.
Slice the jalapeño into thin circles (seeds optional).
Place the prepared peppers, jalapeños and onions in a small container and add a tbsp of the onion marinade to the peppers.
To heat before serving, wrap peppers, jalapeños and onions in a foil pack or add to a small cast-iron skillet and place on hot grill 5 minutes before sausages are done.
Preparing Sausages
Preheat the grill on medium low
Place sausages on hot grill and cook (lid down), rotating occasionally for about 10 minutes.
Turn the grill to high, add the peppers & onions. Use a knife to put a couple of small incisions in each sausage, then cook for about 5 minutes, rotating regularly, until sausages are cooked and peppers and onions are hot. (Internal temperature for the sausages should be 160°F)
Lightly toast the buns, spread Zimmy's AP Sauce liberally. Add sausage, peppers and onions.