Looking for a lighter version of a quick family favourite?
This veggie and sausage pasta skillet from @loveinmyoven will have a nutritious meal on the table in 30 minutes.
Ingredients
1 pkg Grimm's Fine Garlic Sausage (375 g), sliced in to 1/2 inch rounds
1 tbsp olive oil
1/2 yellow onion, diced
3 garlic cloves, minced
3 cups short-cut pasta
2 cups cauliflower florets
1 cup chicken stock (or sub vegetable stock for a lighter dish)
2 cups 1% milk
2 tbsp all-purpose flour
1 cup frozen peas
3/4 cup parmesan cheese, grated
optional: crispy onions, black pepper, for garnish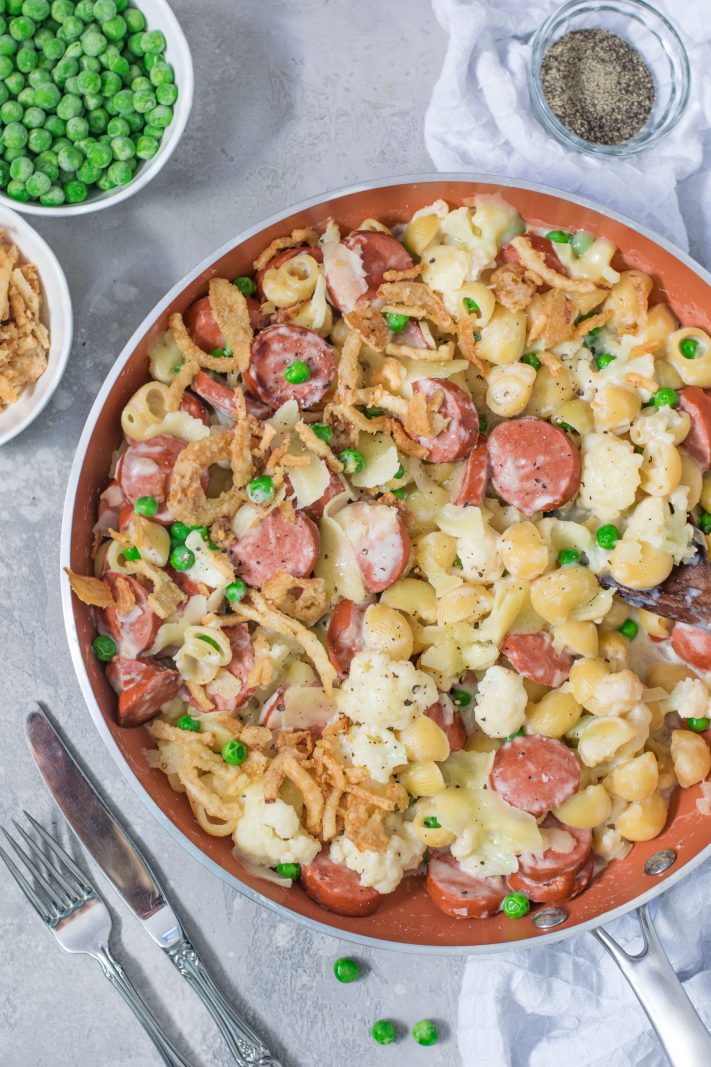 Preparation
Heat a large 12 inch skillet or frypan over medium high heat and add the olive oil. Allow the oil to heat up for 1-2 minutes before adding the diced onion and minced garlic. Sauté the onion and garlic for a couple of minutes before adding the sausage rounds. Fry the sausage until brown and crispy, about 5 minutes.
Add the pasta, cauliflower, stock, milk, and flour. Stir everything together until combined, being sure the flour is thoroughly dispersed into the liquid. Bring the mixture to a boil, then turn down to simmer over low medium heat for 10-11 minutes, or until the pasta is fork-tender. Keep the lid on, with a slight crack to allow steam to escape.
Turn the heat to low, and add the frozen peas and parmesan cheese. Stir to combine and cook for 5 minutes. Serve immediately, topped with crispy onions and black pepper for garnish.
Leftovers can be stored in an airtight container, for up to 2 days, or frozen for up to 2 months. Store the leftovers without the crispy onions.