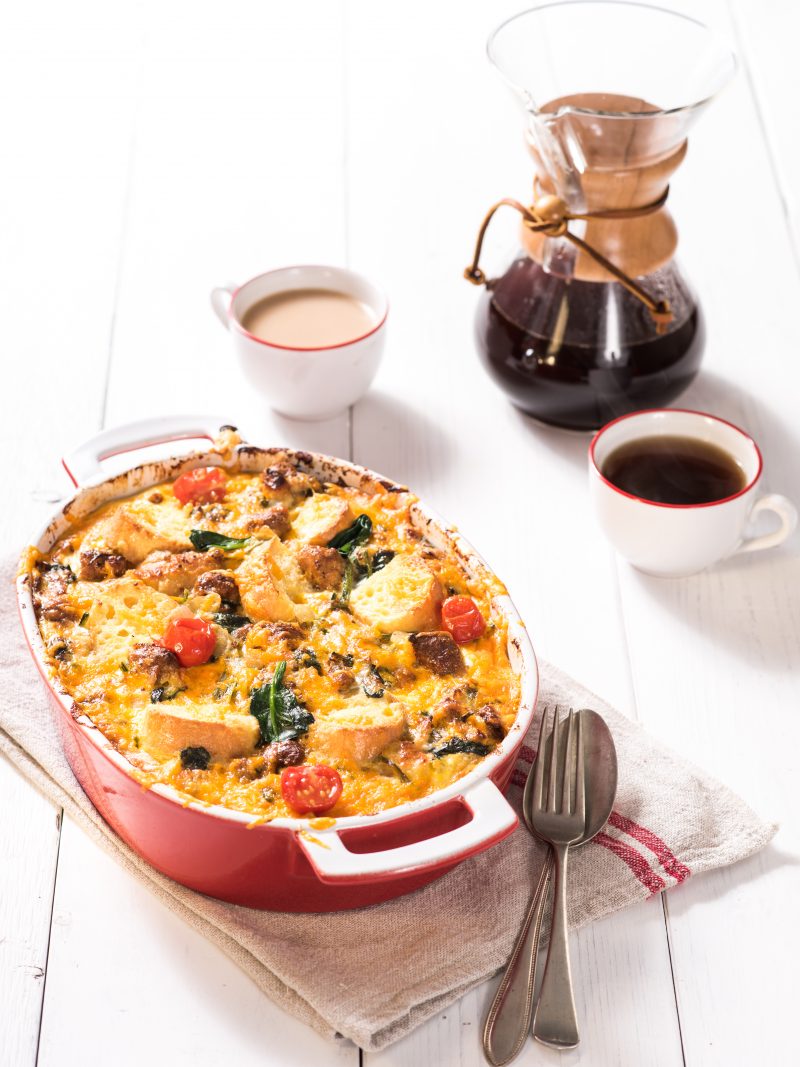 With the holiday season upon us we have been busy in the kitchen dreaming up recipes to help fill your table with delicious and easy meal solutions to impress your holiday guests.
You may have seen our recent collaboration with The Endless Meal (also the mastermind behind our Bavarian Smokie Cassoulet, Sizzlin' Jalapeno & Mozza Kebabs, and Grilled Corn Salad with BBQ Farmer Sausage) who used our Fresh Breakfast Sausage to create delicious, healthy and festive Egg and Sausage Stuffed Peppers.  If you haven't seen it go check it out on our recipe page or visit The Endless Meal for the full story.  
Keeping with the brunch theme we created another recipe to serve your loved ones on those cozy holiday mornings. Our Savoury Bread Pudding with Chorizo Sausage serves 8-10 and all the prep work can be done ahead of time so you can enjoy the morning hassle free; just pop in the oven for an hour when ready.
Bread Pudding can be adapted to be sweet or savoury depending on the ingredients used.
We went with savoury and used our Fresh Chorizo Sausage, vegetables, cheese and Ciabatta baguette.
Our Fresh Sausages are relatively new to us but have quickly become our favourite products to cook with because they allow for a lot of versatility. It also doesn't hurt that they're made with 100% Verified Canadian Pork Raised without the use of antibiotics, leave very little grease in the pan and of course, are gluten, lactose, and soy-free like all of our meat products.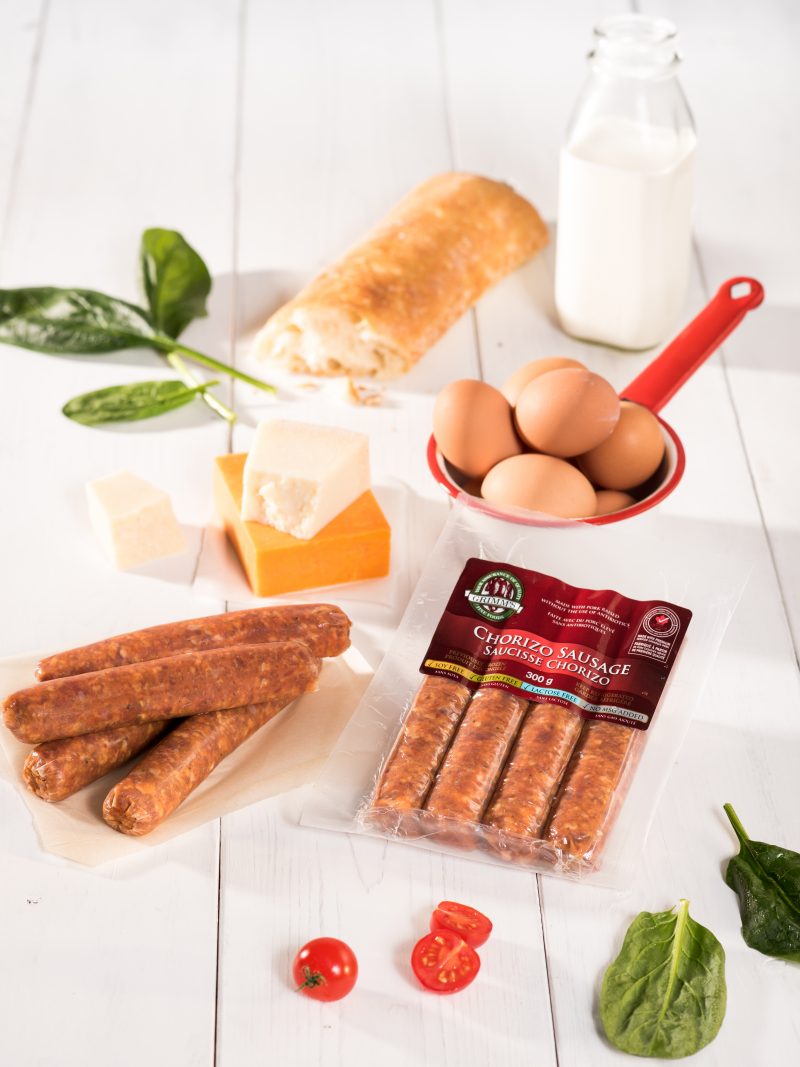 The sausage and vegetables are cooked ahead of time before putting the whole mixture into the oven. We took the sausages out of their casing and crumbled the meat, but you are also welcome to leave the casings on and chop the sausages into small pieces. Cook these in a large frying pan over medium heat until golden brown.
Remove and reuse the pan to fry 1 chopped onion and then add in 4 cups of spinach, cook until wilted.
In a large bowl, beat eggs with milk, Dijon, salt and pepper. Mix in cheeses, bread, cooked sausage and spinach mixture, and cherry tomatoes. Pour everything into a deep buttered pan. 
You can stop here if you're just doing the prep work, cover with plastic wrap, and place in the fridge until you're ready to cook.
Very easy to take the dish out and pop in the oven while everyone is sitting around the opening present and spending quality time in the morning.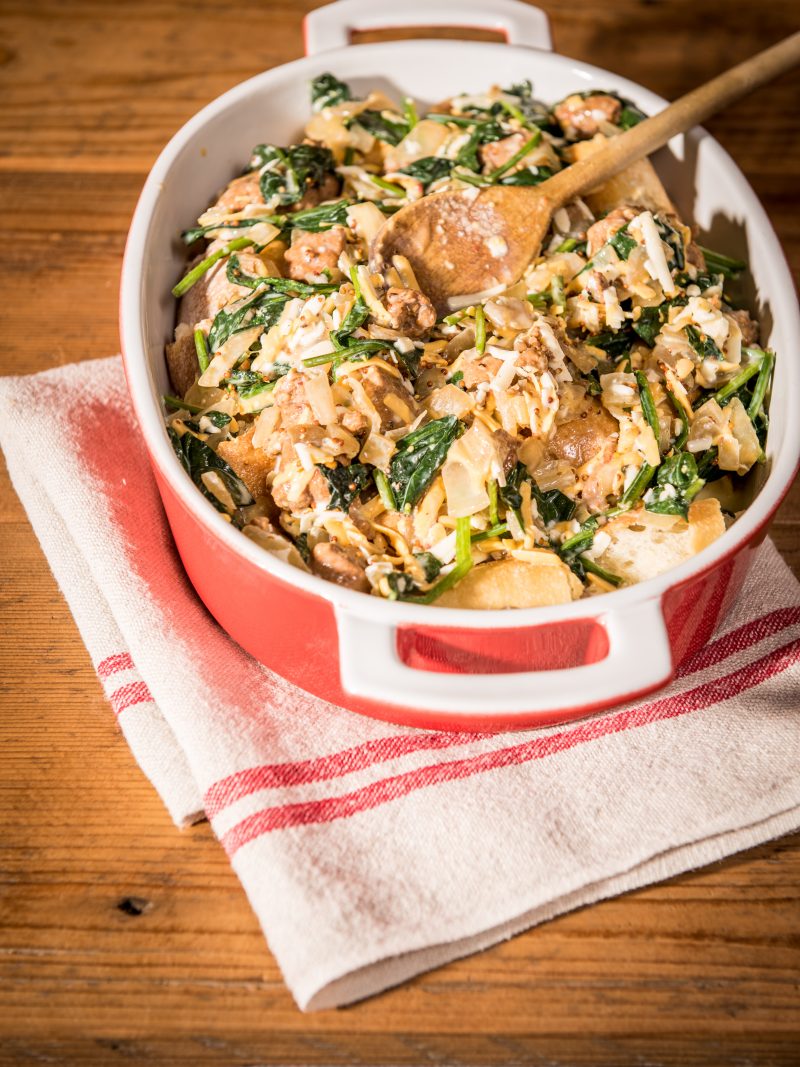 When you are ready to bake, place in the oven, and cook at 350°F for one hour until cooked thoroughly.
Let sit for 5 minutes and serve.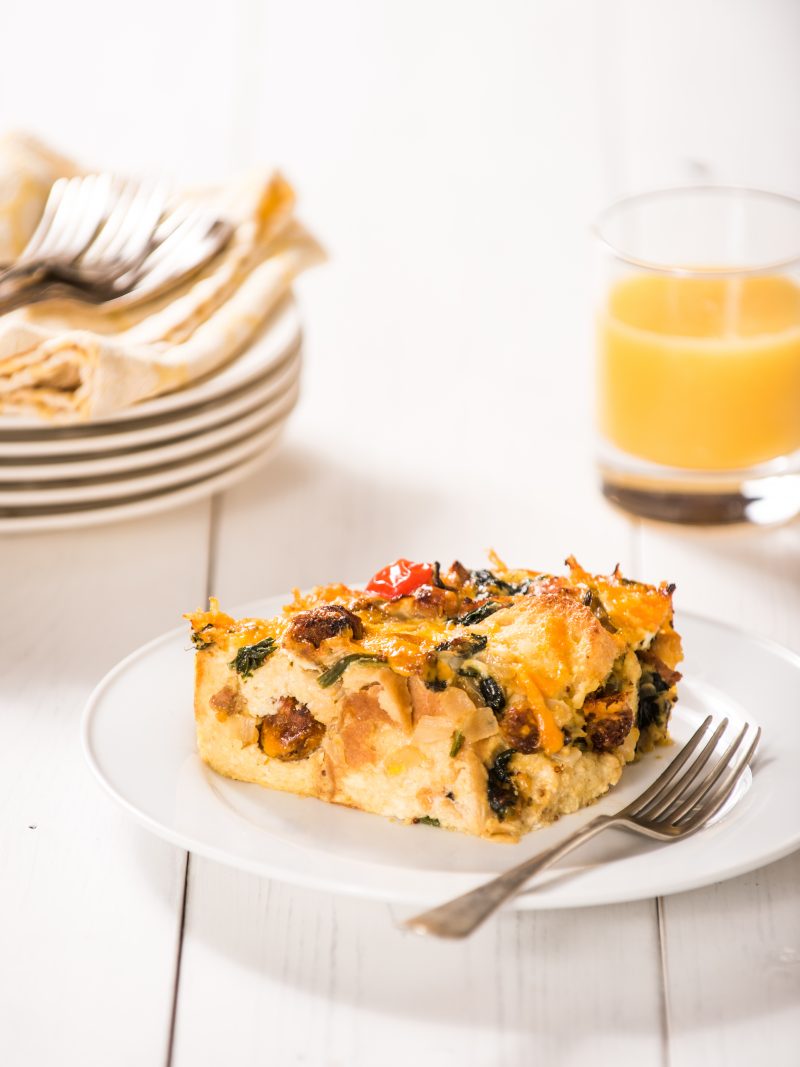 This dish is sure to keep you satisfied until the big feast!
For the full recipe visit our recipes page.