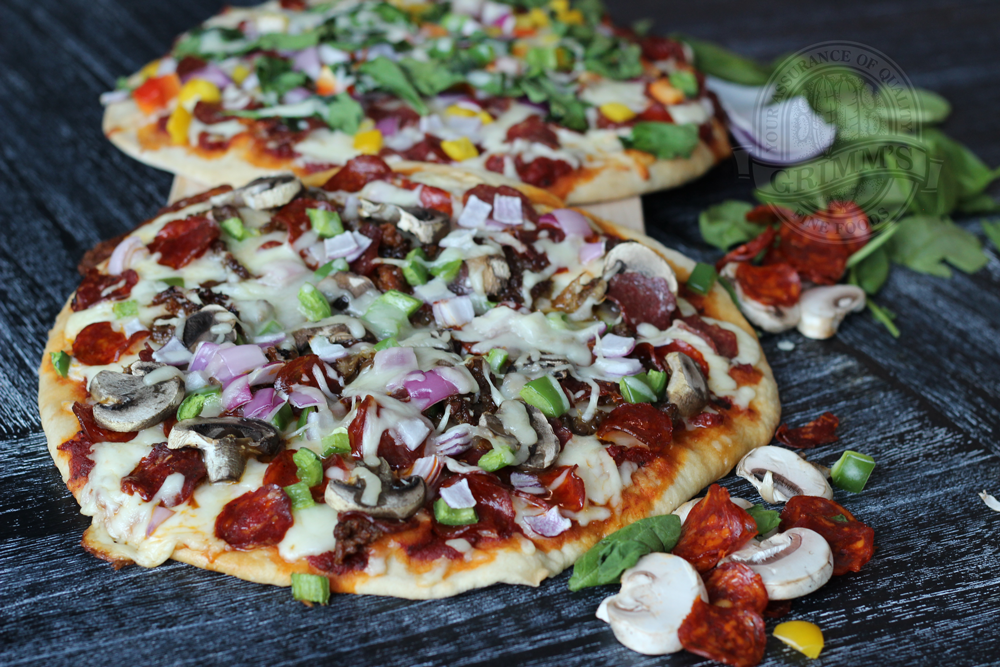 The days are getting cooler and it won't be long until leaves begin falling. The upcoming long weekend means that at least one day will be spent with loved ones or close friends.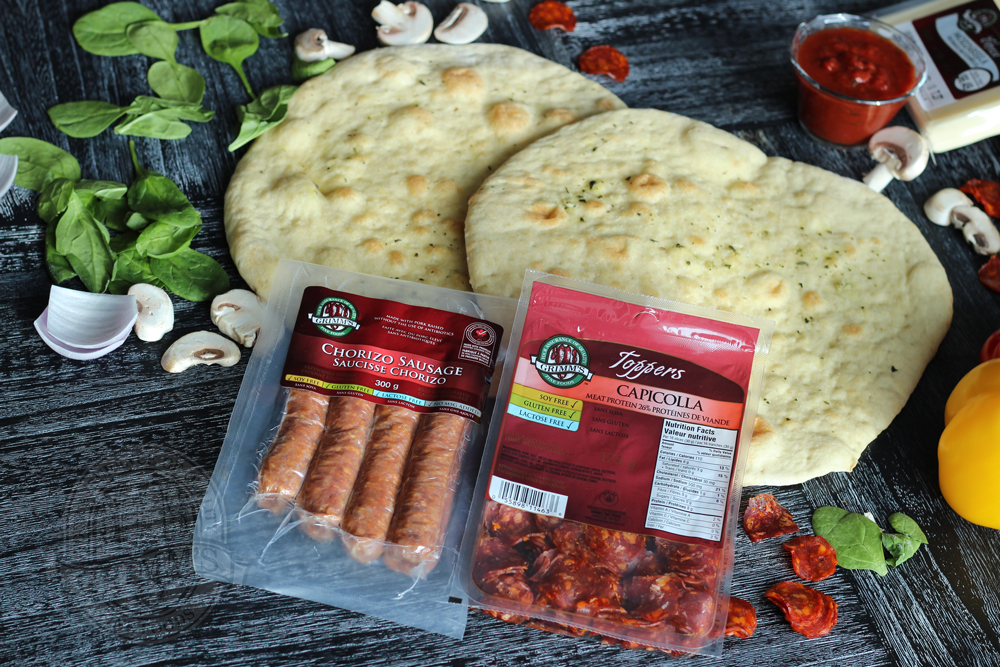 Here is a recipe for those wanting nothing more than to enjoy the comfort of home with a hearty slice of pizza. This pizza explores two flavour combinations that result from layering a few of our sausages and other gluten-free meats.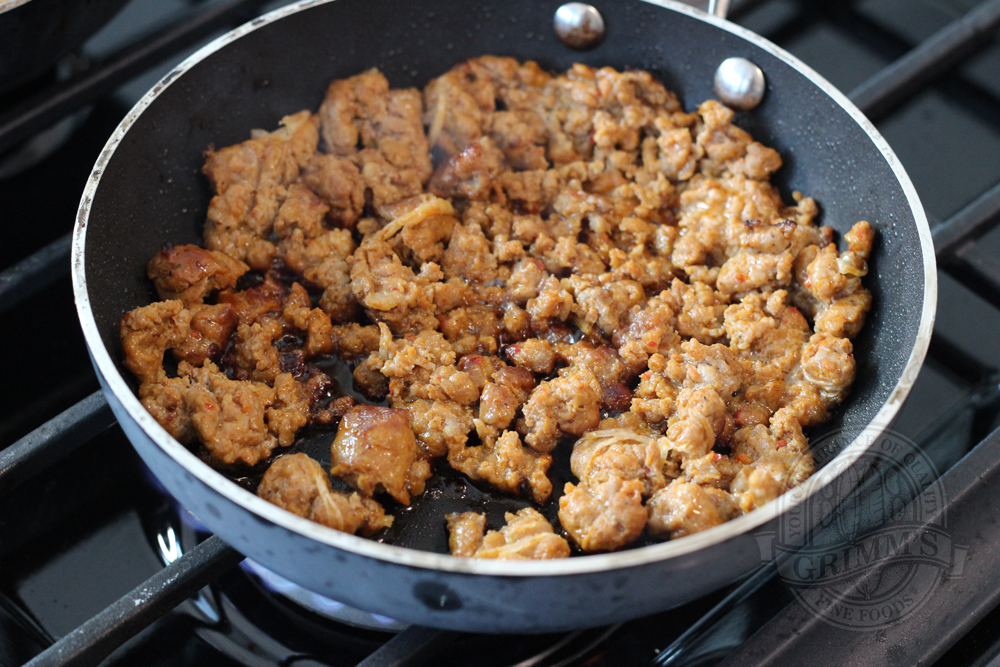 We strive for like heartiness in a dish! Breakfast Sausage, Chorizo Sausage, Pizza Pepperoni, Salami, and Capicolla Toppers come together beautifully to provide richness and depth.
The first step is to cook chopped pieces of sausages over medium heat. The sausages feature a simple ingredient list with 100% Verified Canadian Pork™ that were raised without antibiotics. As the sausages are fresh, they can be crumbled with a sturdy wooden spoon as a shortcut.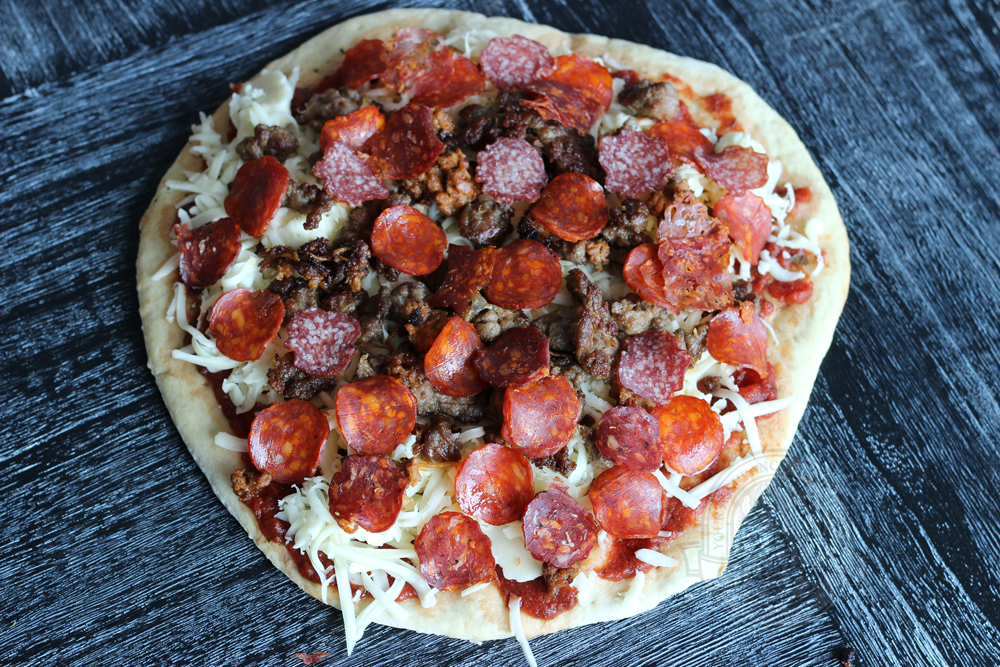 Next, shred piles of our creamy Mozzarella and cut vegetables to preferred size. The smaller pieces make it easy for little fingers to help sprinkle on. Pick up freshly made flatbread from a local bakery. Apply tomato sauce with a generous brushing. Layer each topping onto the foundation of the pizza.
Be sure to pile a generous layer of our Mozzarella on top of the crust, which will later envelop all ingredients into one warm, satisfying bite.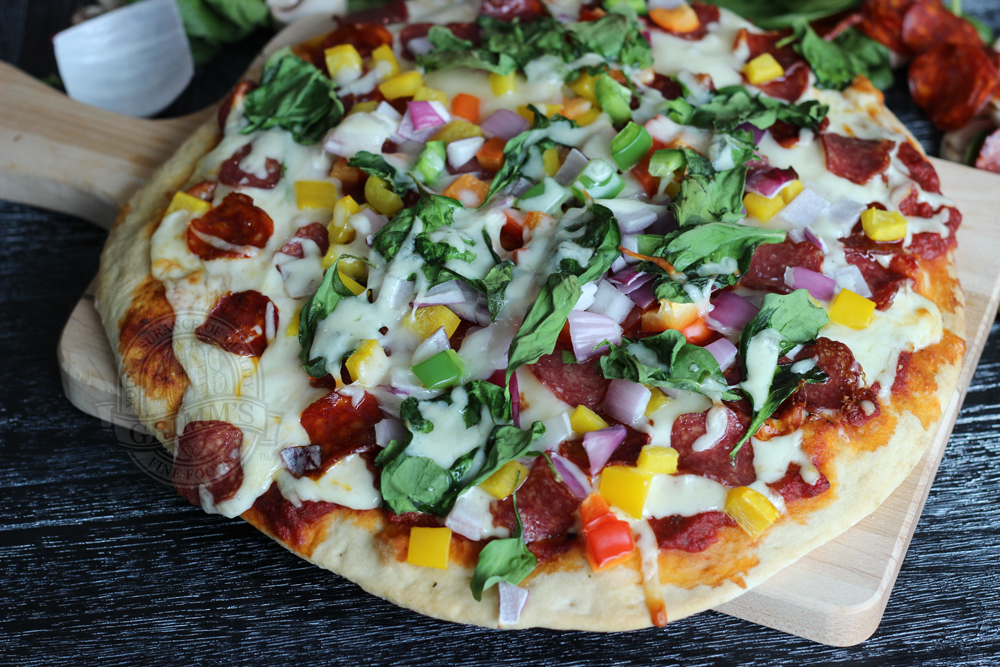 Our second flatbread pizza features a selection of fresh vegetables that adds crisp textures, harmonizing perfectly with the spicy flavours of the Capicolla. Our Toppers are conveniently sliced and ready to eat, making them an easy choice for other flatbread combinations or charcuterie boards. 
The last step is to bake the flatbread pizzas at 375° F until cheese is oozing and golden brown. The flavourful layers of meat create heartiness and depth for the perfect weekend afternoon dish to be shared with family and friends. From our sliced meat selection to our dried cured Toppers line, the flavour combinations are almost limitless.
 
Five Meat Flatbread Pizza
Preparation time: 15 Minutes
Cooking time: 20 Minutes
Servings: 10 Slices
Ingredients: 
3/4 block of grated Grimm's Mozzarella  
1/3 cup of Grimm's Pizza Pepperoni
1/3 cup of Grimm's Cervelat Salami
1/3 cup of Grimm's Capicolla
¼ package of Grimm's Breakfast Sausage
¼ package of Grimm's Chorizo Sausage
1 baked flatbread pizza base  
1/2 cup of tomato sauce   
1/2 chopped red onion
1/2 chopped green pepper
3/4 cup of thinly sliced mushrooms

Preparation: 
Cook crumbled sausages pieces on medium-high heat for 5-7 minutes then set aside
Grate Mozzarella
Dice vegetables into medium-sized pieces  
Spread a layer of tomato sauce to cover the entire pizza base
Top with a generous layer of Mozzarella
Assemble all toppings on top of the cheese
Bake at 375° Fahrenheit for 20 minutes or until cheese is golden brown 
Pepperoni Flatbread Pizza
Preparation time: 15 Minutes
Cooking time: 20 Minutes
Servings: 10 Slices
Ingredients: 
3/4 block of grated Grimm's Mozzarella  
3/4 cup of Grimm's Cervelat Salami 
3/4 cup of Grimm's Capicolla
1 baked flatbread pizza base  
1/2 cup of tomato sauce  
1/2 chopped red onion 
1/2 chopped green pepper 
​3/4 cup of thinly sliced mushrooms

Preparation: 
Grate Mozzarella
Dice vegetables into medium-sized pieces
Spread a layer of tomato sauce to cover entire pizza base
Top with a generous layer of Mozzarella
Assemble all toppings on top of cheese
Bake at 375° Fahrenheit for 20 minutes or until cheese is golden brown