We're kicking up the heat with Cajun flavouring, this is one of our favourite recipes to date!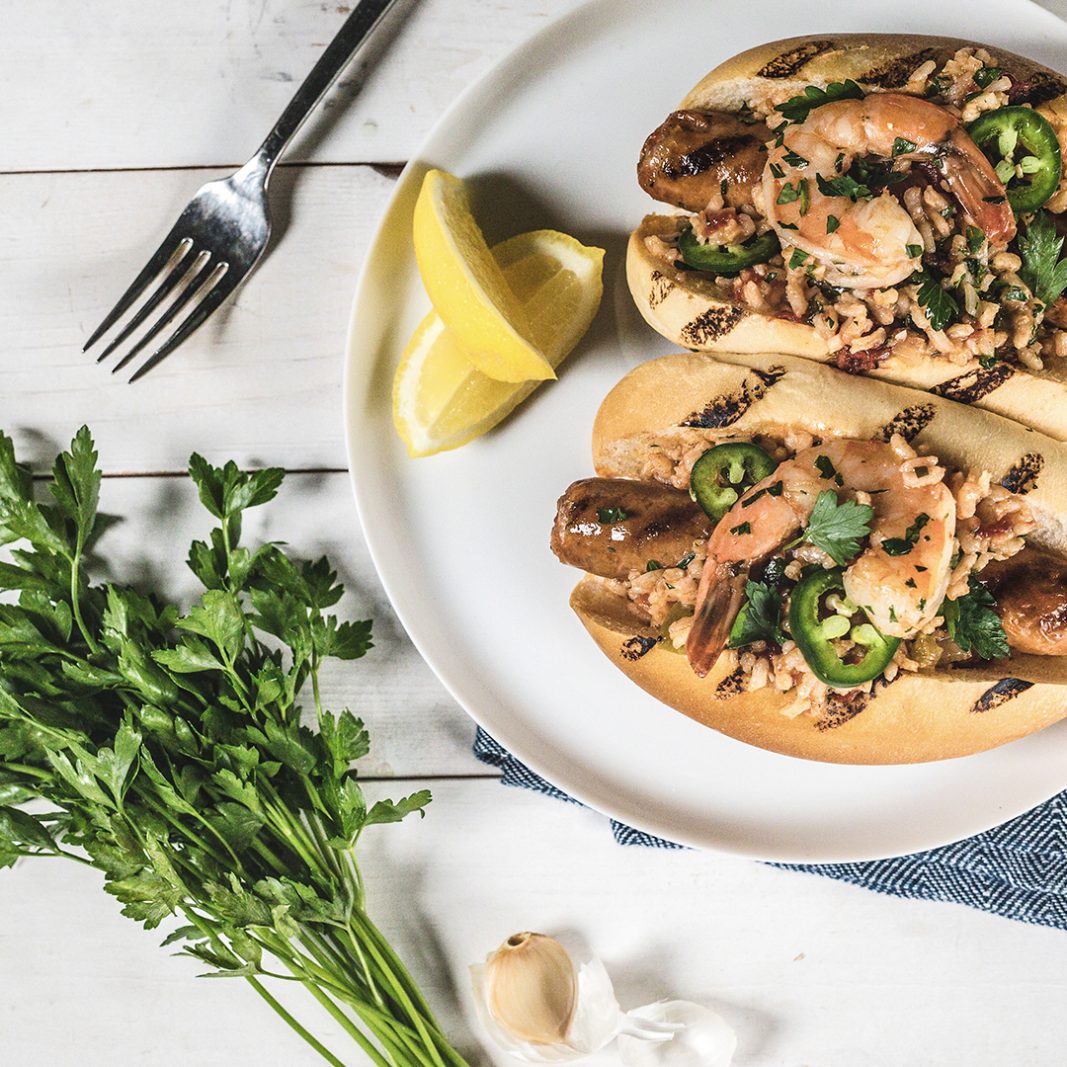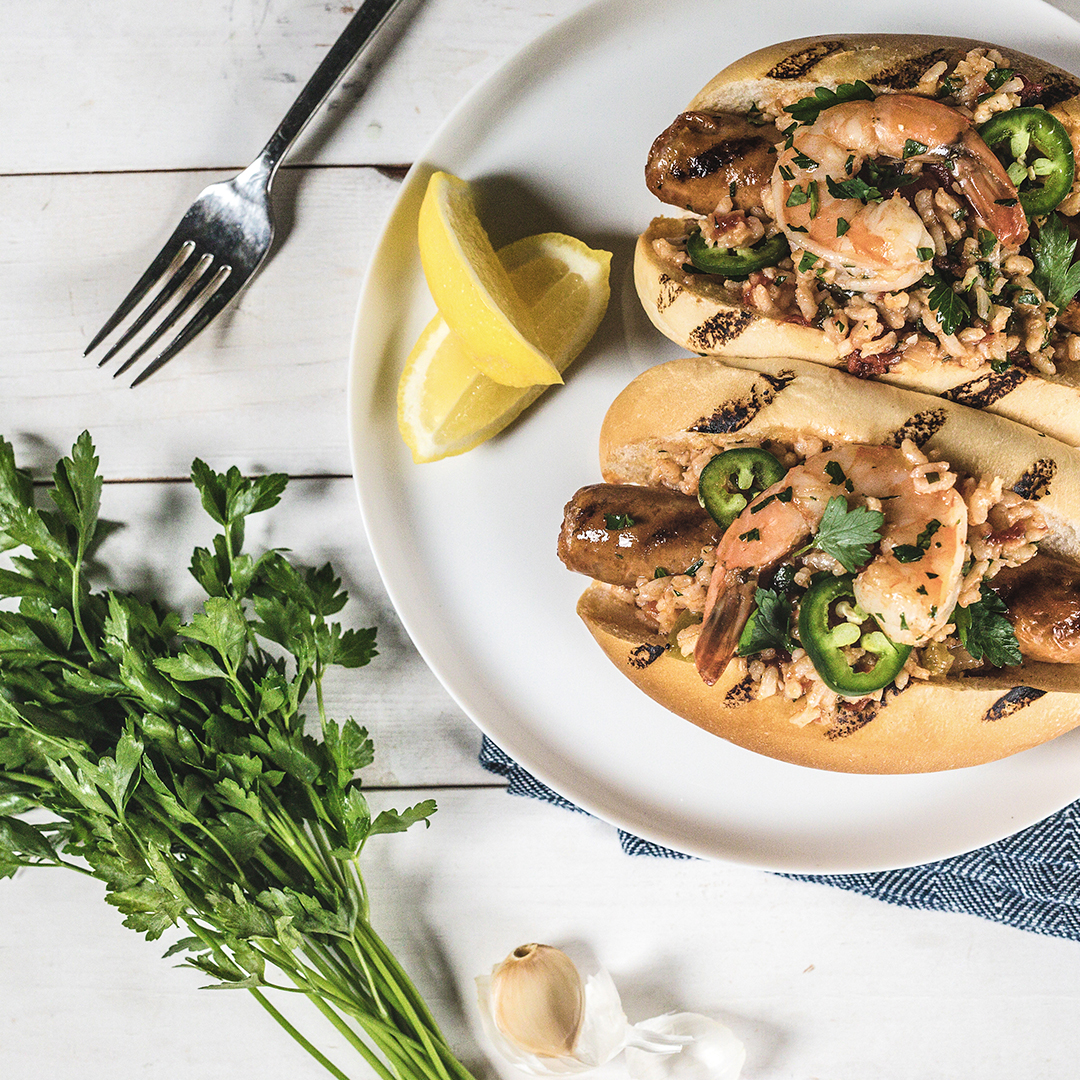 Put your ketchup and mustard away, we're using gumbo as our condiment in this recipe. Our #OwnTheGrill campaign is all about getting creative and thinking outside the box when it comes to dressing up your bun. We went way out of the box with this one and the result was a delicious combination bursting with flavour.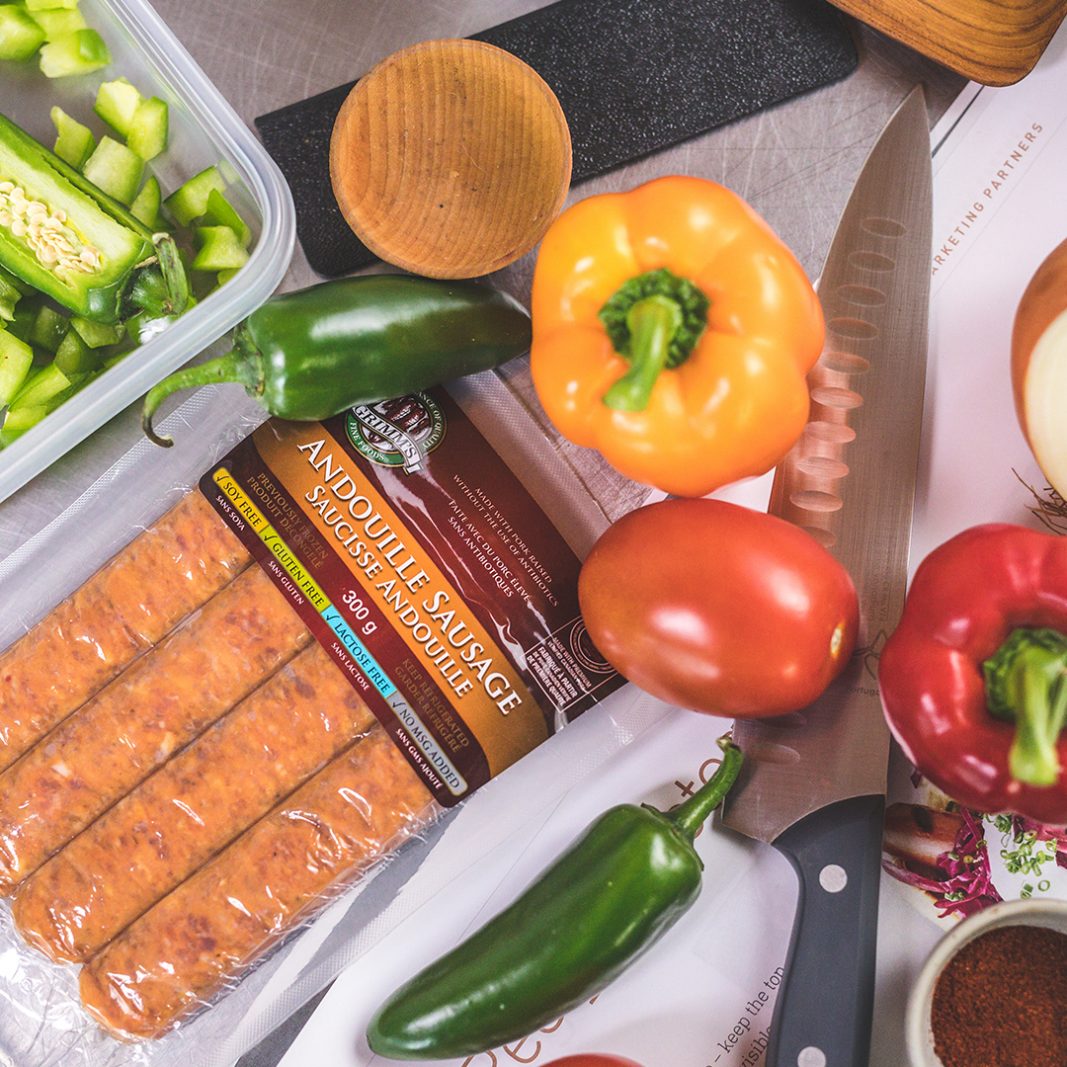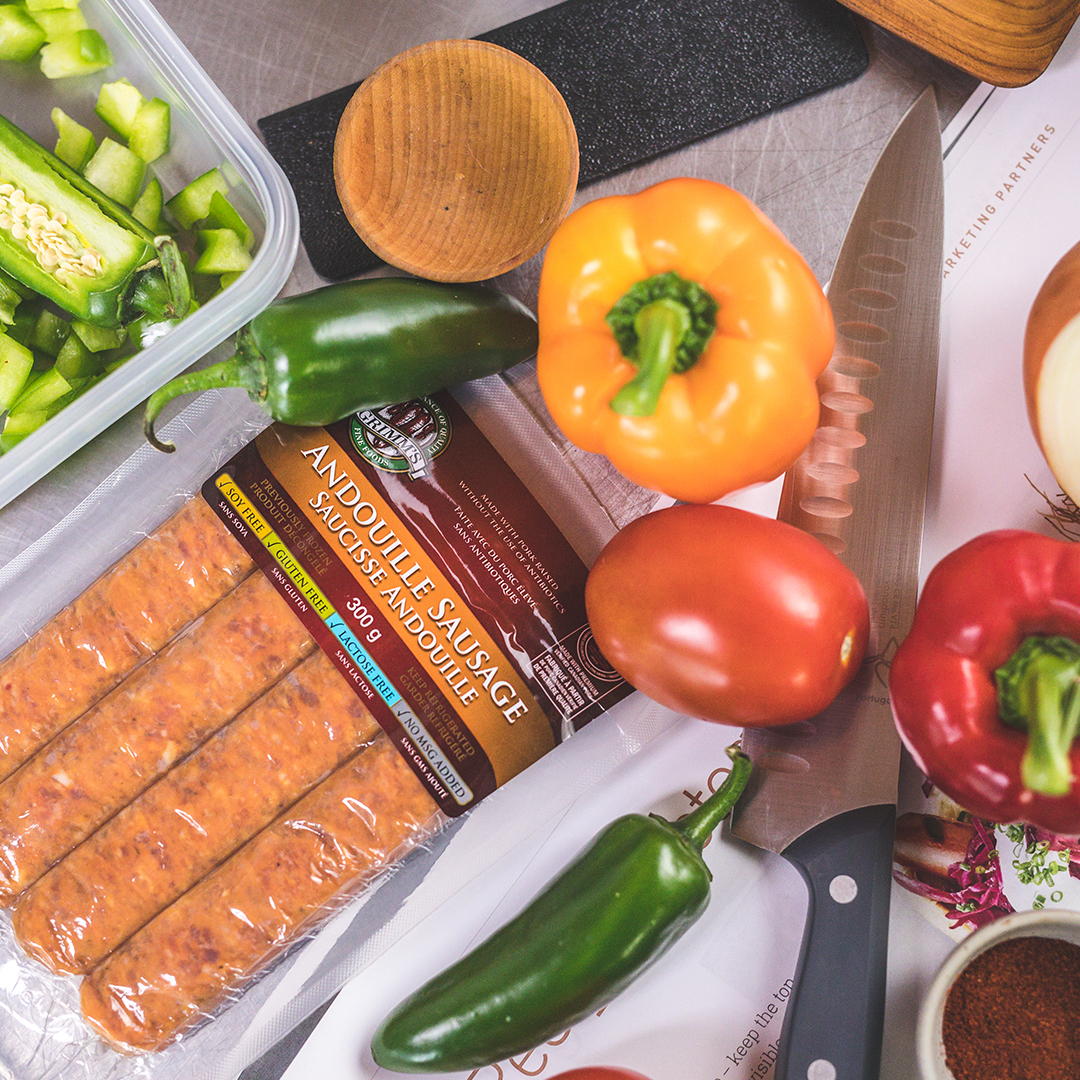 The first step is to make the gumbo,
a simple one pot dish containing crushed tomatoes, peppers, celery, rice, spices, chicken stock and shrimp.
This will be the longest part of the recipe as the rice needs time to cook.
It won't be long until your kitchen is filled with the smell of Cajun seasonings, garlic and oregano simmering away in a mixture of crushed tomatoes and chicken stock.
The great thing about this recipe is that you're making two meals in one. Once you're done dressing your bun you're left with a significant amount of gumbo that can either be used as a side or as a meal the next day. As with most one-pot meals, the flavours only increase if left to sit for a day.

While your gumbo is cooking you can fire up the bbq and start grilling the Andouille Sausage.
Our Andouille Sausage is packed with Cajun flavours of its own that complement the gumbo perfectly.
Andouille is part of our fresh sausage line that is made with 100% Verified Canadian Pork™ raised without the use of antibiotics. You will not see a lot of grease runoff from the sausage and it keeps its size when cooked, so fills out the brioche bun nicely.
When your sausages are grilled and your gumbo is done simmering, grab a bun and get to work on building your final creation.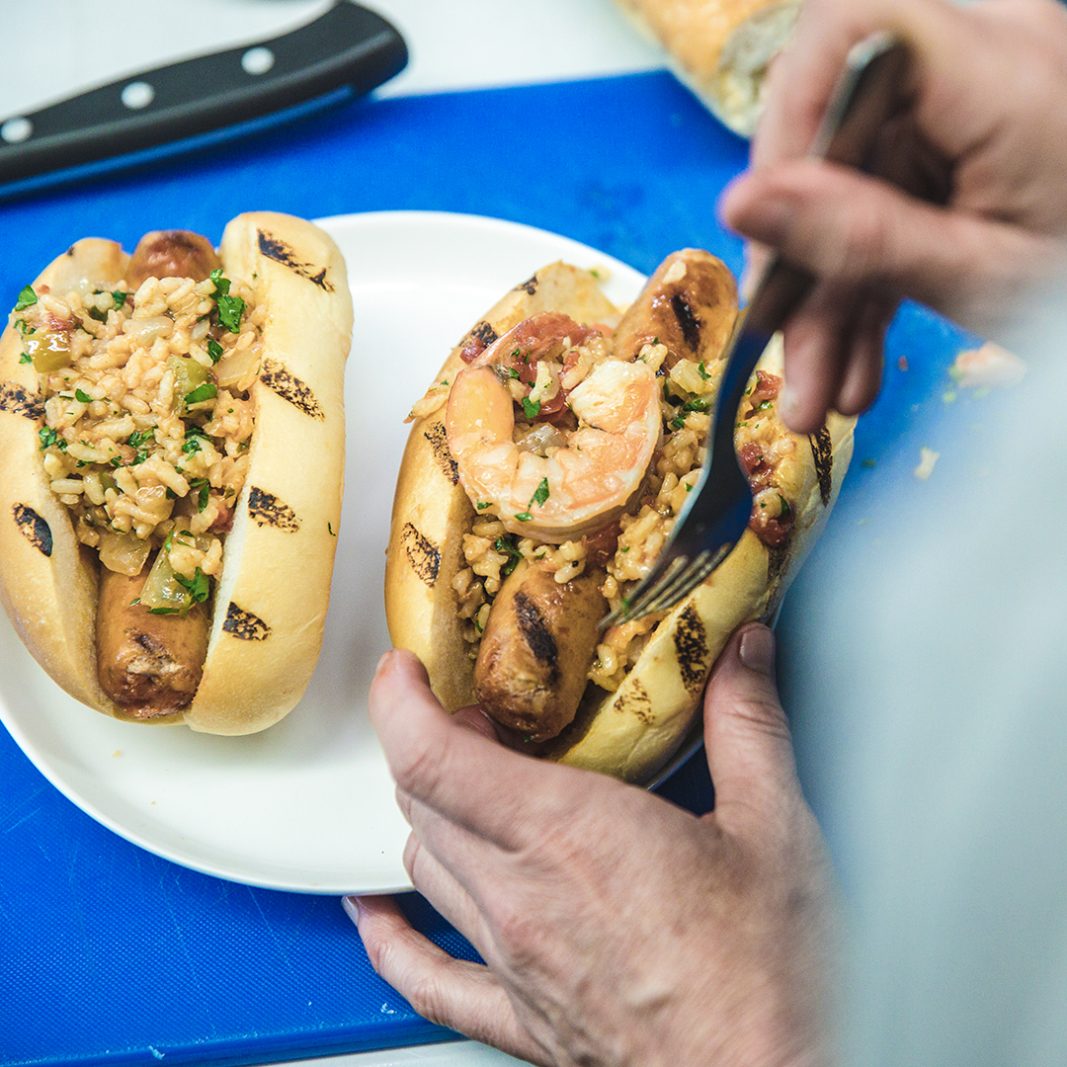 Top with a full shrimp, fresh jalapenos, and hot sauce for extra heat. Viola… that's how you #OwnTheGrill.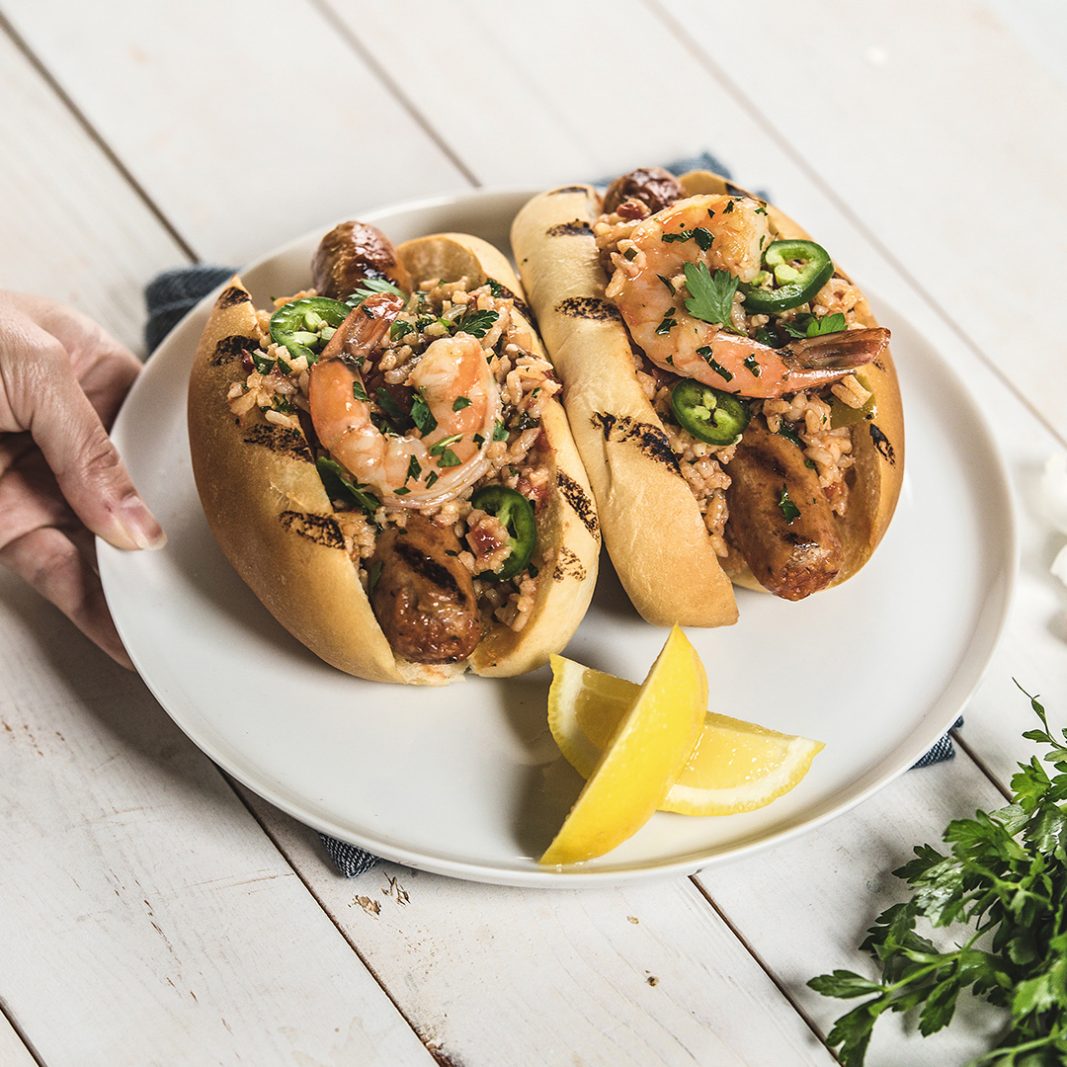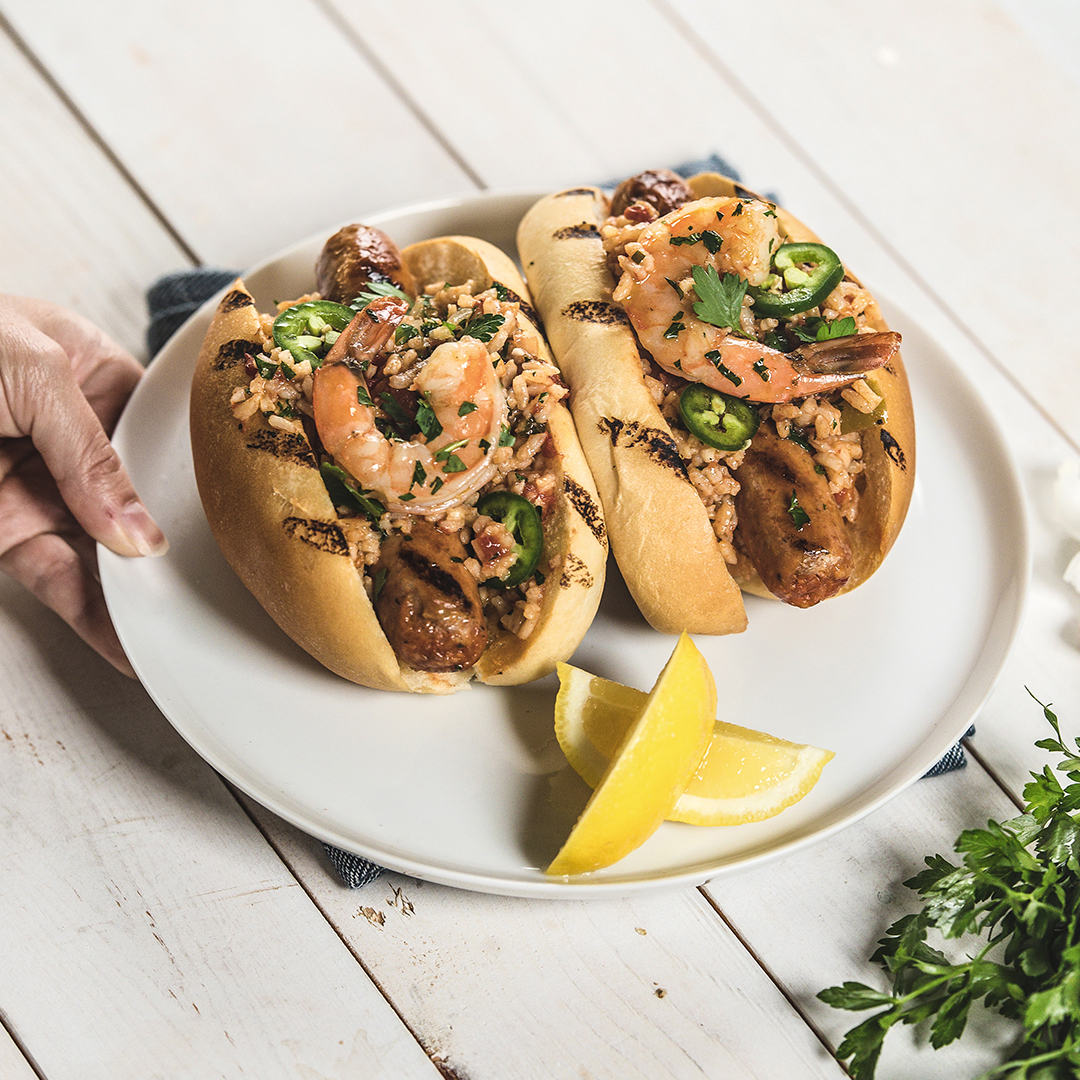 Preparation time: 15 Minutes
Cooking time: 40 Minutes
Servings: 4
Ingredients: 
4 Grimms Andouille Sausage (1 package)
4 brioche buns
2 tablespoons olive oil
2 small bell peppers, cored and diced (yellow, red or green bell peppers)
2 ribs celery, diced
1 jalapeño pepper, seeded and finely chopped
1 white onion, diced
3 cloves garlic, peeled and minced
1 (14-ounce) can crushed tomatoes
3-4 cups chicken stock
1 1/2 cups uncooked long grain white rice
2 tbsp Cajun seasoning seasoning
1 tsp dried oregano, crushed
1/4 tsp cayenne pepper
1 bay leaf
1 pound raw large shrimp, peeled and deveined
Salt and freshly-ground black pepper
Garnishes: sliced jalapeño rounds, chopped fresh parsley, thinly-sliced green onions, hot sauce
Preparation:
Heat 2 tablespoons of oil in a stockpot or a large, deep sauté pan over medium-high heat.
Add bell peppers, celery, jalapeño, onion, and garlic. Sauté for 6 minutes, stirring occasionally, until the onions are softened.
Add the crushed tomatoes, chicken stock, rice, oregano, cayenne, bay leaf, and any other cajun seasoning you may have on hand and stir to combine. Continue cooking until the mixture reaches a simmer. Then reduce heat to medium-low, cover, and simmer for about 25-30 minutes, stirring every 5 minutes or so along the way so that the rice does not burn.
While your gumbo is simmering, grill your Andouille Sausages on a grill pan or outdoor BBQ. If you don't have a grill, fry your sausages in the pot or pan you're using for the gumbo between steps 1 and 2. The flavour from the sausages will enhance your gumbo
Once your rice is nearly cooked through, add the shrimp and stir to combine. Continue to simmer, stirring occasionally, until the shrimp are cooked through and pink. Remove and discard the bay leaf.
Season the gumbo to taste with salt, pepper, and additional spices if needed. Remove from heat.
Spread a generous spoonful of gumbo over the Andouille Sausage on a fresh brioche-style bun. Garnish jalapeño rounds and extra hot sauce if you like it spicy! Serve extra gumbo as a side.