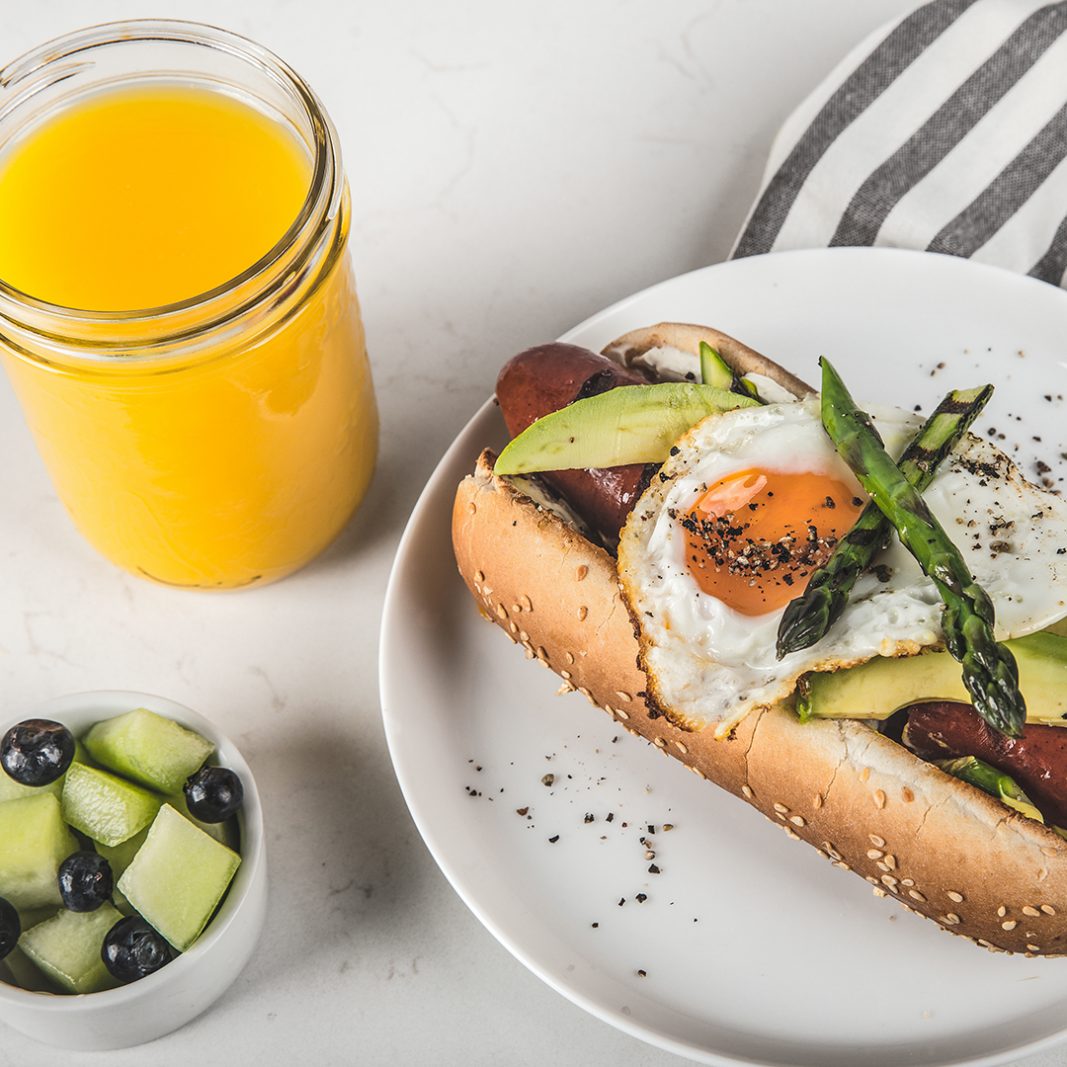 Happy Tuesday that feels like a Monday!
This past weekend was August Long, a holiday that has a different name from province to province.
Here in British Columbia, it is "BC Day."
To celebrate being off on a Monday morning we decided to put a breakfast spin on our latest #OwnTheGrill creation.
There's no denying the popularity of Avocado Toast. It makes its appearance on breakfast and brunch menus all over, especially in Vancouver, and it is widely associated with the millennial generation.
We wanted to incorporate creamy flavour and buttery texture of Avocado into our Breakfast Inspired Smokie along with the runny yolk from the fried egg and earthy green flavour of grilled asparagus.
Our Cheddar Bavarian Smokies are the centerpiece in this recipe; a juicy mixture of pork and beef that's packed with pieces of real cheddar cheese.  Like all of Grimm's Smokies, our Cheddar Bavarian is gluten and soy-free with No MSG added. We do recommend piercing the smokie a few times before consuming as they're packed with cheese that has been known to explode when bitten.
This recipe is relatively simple and a great way to incorporate the grill into breakfast time.
First you're going to want to prep your asparagus by cutting the ends off, brushing them with a small amount of oil and sprinkling with salt and pepper.
You can put these directly on the grill or in a tin foil pocket or a grill pan.
Put these on the grill alongside your smokies and heat both to the desired temperature and tenderness.
This will only take 5-10 minutes.
While your asparagus and smokies are grilling, fry your eggs.
 Add a little bit of water and cover with a lid in the last minute to perfect the yolk.
Spread cream cheese on a brioche bun, top with Smokie, sliced avocado, egg, and grilled asparagus, sprinkle with salt and pepper.
Pair with orange juice and a cup of fruit and breakfast is served!