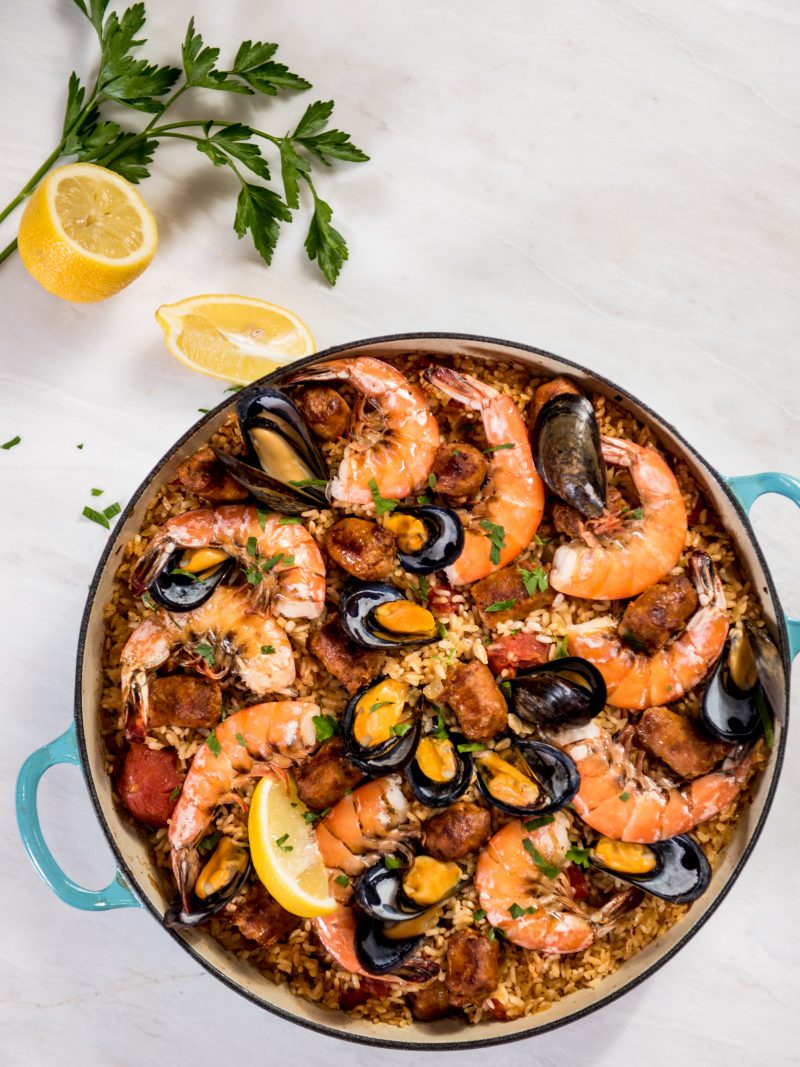 Looking for the perfect dish to serve on your patio this summer?
This Paella is bursting with Spanish flavours and pairs wonderfully with a glass of Rosé on a warm summer evening.
Paella (Pah-Eh-Yah) is a Spanish dish that originates from Valencia, an eastern region of Spain. Paella is made up of rice, meat, seafood, vegetables and spices. There are many different variations of the dish that can differ from family to family.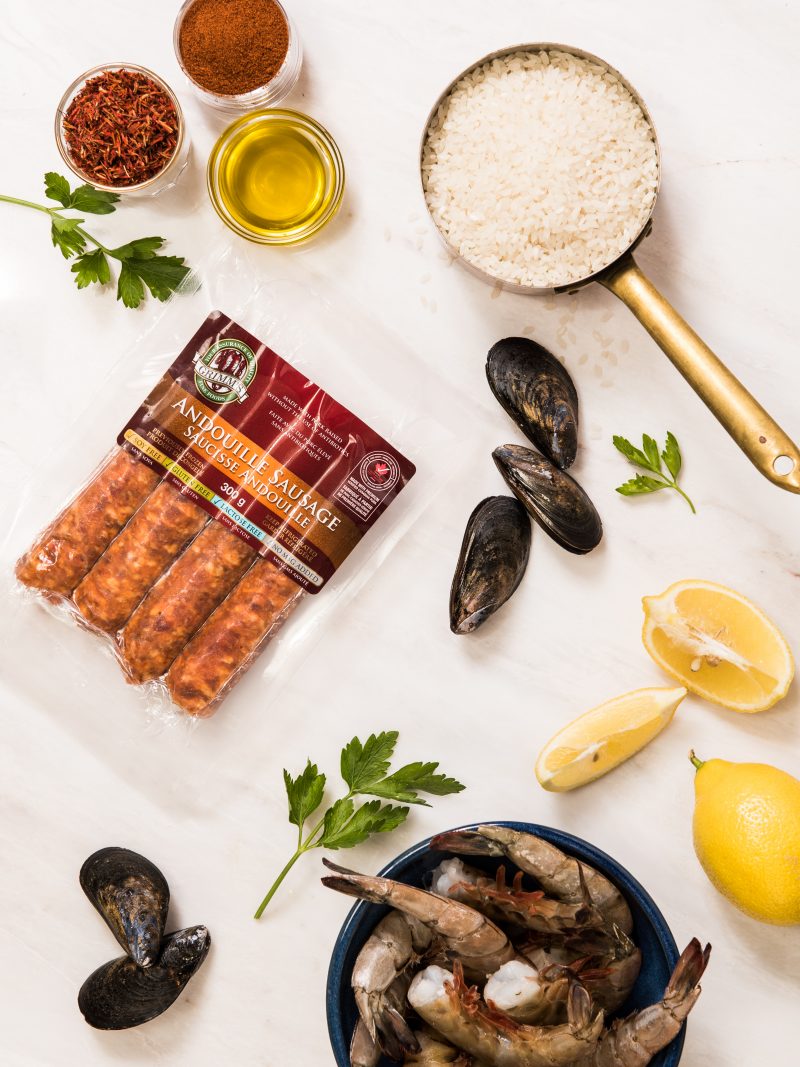 Our Paella recipe uses our Andouille Sausage, which is made with 100% Verified Canadian Pork™ raised without the use of antibiotics. For seafood, we used jumbo prawns and fresh mussels. Fresh mussels can be found in the seafood department at your local grocer and are usually sold by the pound. 
Saffron, paprika and garlic pair perfectly with the southern spice of the Andouille sausage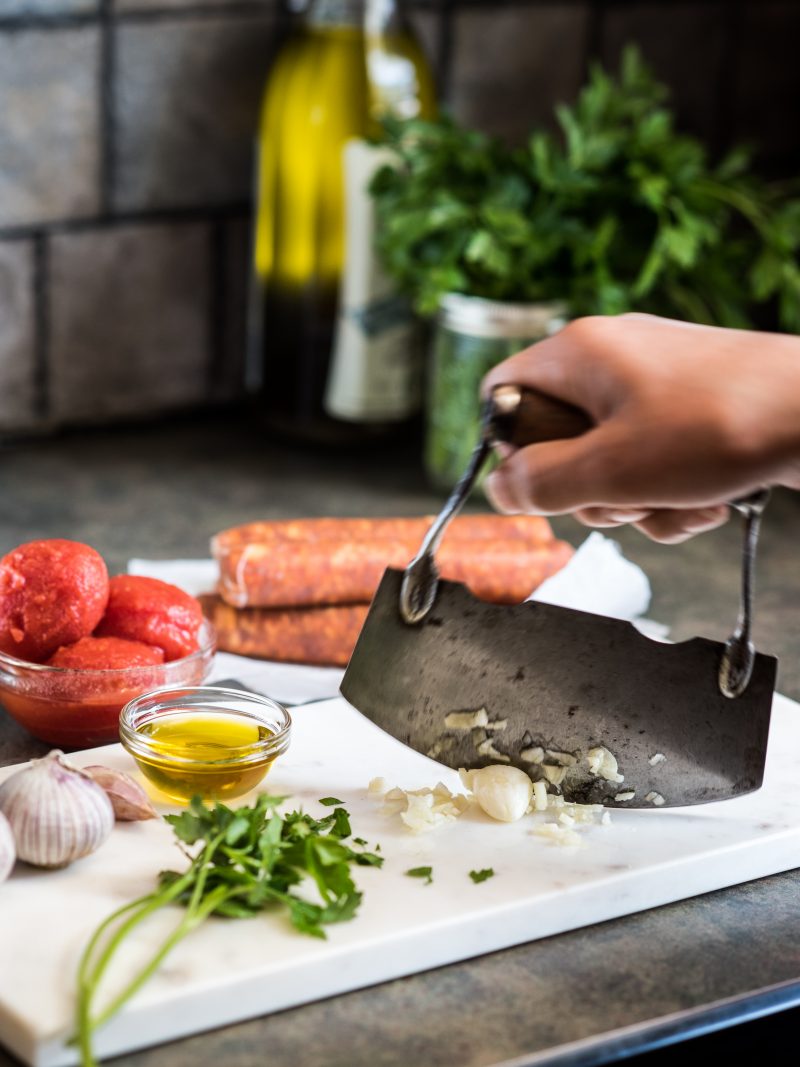 Make sure you have a large oven-safe dish that you can bake your Paella in.  
We love recipes that end up in one big pot. Not only does it allow all the flavours to meld together into a delicious union but it gives you a chance to tidy up the kitchen while it finishes in the oven! There's nothing worse than having a million dishes to clean just as everything is ready to serve.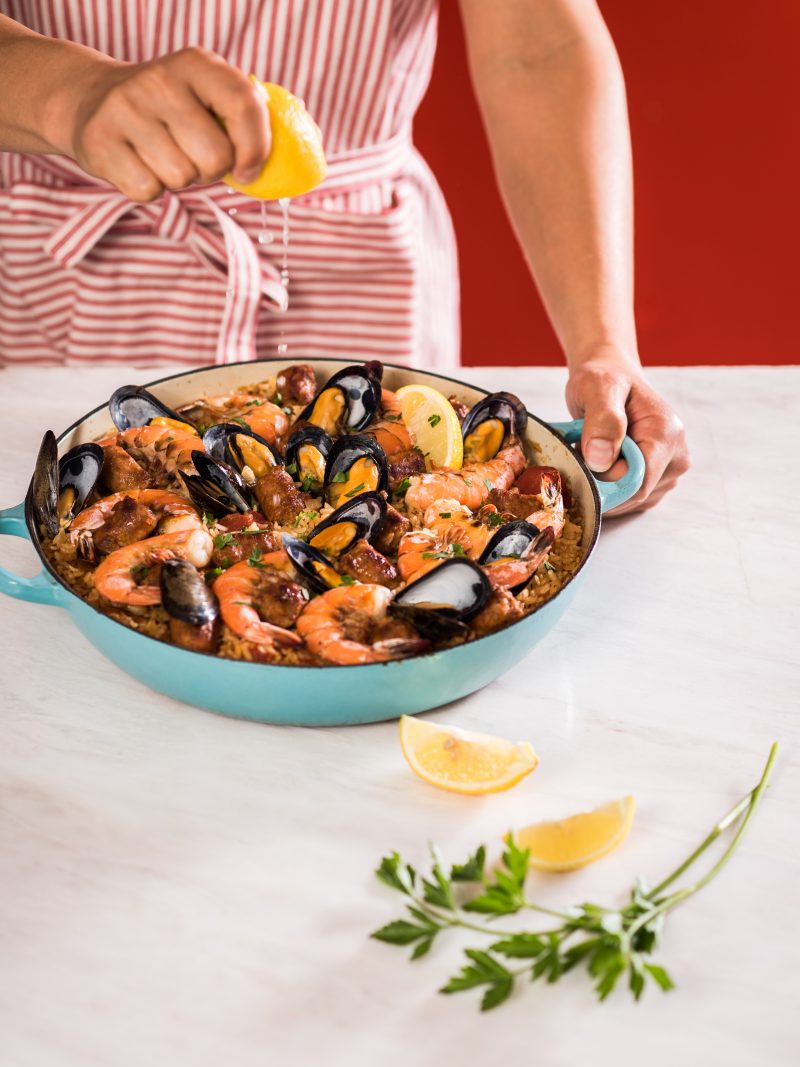 Recipe:
10 large prawns, rinsed and deveined 
1/2 lb mussels, scrubbed and debearded 
1 large yellow onion, finely chopped
3 garlic cloves, chopped 
4 tablespoons olive oil
14 oz can of whole tomato with liquid
2 cups chicken stock
1/2 teaspoon saffron thread 
1 teaspoon Spanish paprika 
Salt and pepper
2 x 300g packages Grimm's Andouille Sausage, casing removed and cut into a bite-size.
3 cups short-grain rice, washed and drained
1 tablespoon flat-leaf parsley, chopped
1 lemon, cut into wedges
Place prawns and 1 cup water in a medium pot, bring to a simmer and cook over medium heat until the prawns turn light pink, for about 2 minutes. Cool in the cooking liquid and set aside.
Warm 2 tablespoons of olive oil over medium-high heat and sauté 1/2 onion and 1/2 garlic for about 7 minutes or until translucent. 
Add whole tomatoes with liquid and the cooking liquid from the prawns, roughly crushing the tomatoes with a wooden spoon and cook for another 5 minutes.
Set aside the cooked prawns.  Add chicken stock, saffron, paprika, a pinch of salt and pepper, and simmer for 20 minutes.
Preheat the oven to 350F, in the meantime, warm up the rest of the olive oil over medium-high heat and sauté the rest of the onion and the garlic for 5 minutes or until soft
Add sausages and cook for 7 minutes or until golden brown, then add rice and cook for 5 minutes or until translucent. Add the tomato mixture, stir well, and bring to a boil. 
Remove from the heat and bake for 15 minutes with a lid on
Add the cooked prawns and mussels and bake with a lid on for another 7 minutes or until the mussels are open
Remove the lid and cook another 10 minutes. Take the pan out of the oven and let sit for a few minutes.
Garnish with lemon and fresh parsley.  Serve hot. 4-5 Slices of Grimm's Home Style Roast Beef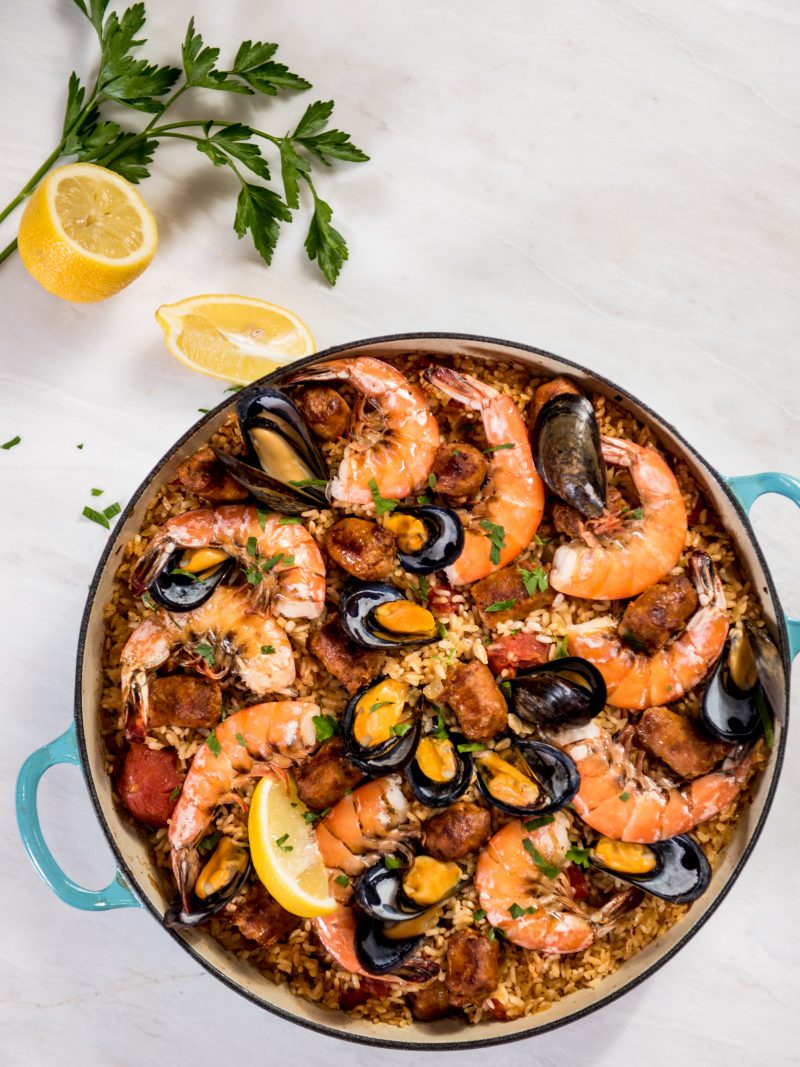 What is your family's favourite go-to meal for summer nights?