Simple and delicious. This recipe, made with our European Wieners, can be served as an appetizer or a light dish.
Ingredients
1 pkg Grimm's European Wieners
1 bunch asparagus, trimmed
2 tbsp lemon juice
1 tsp sugar
1⁄3 cup olive oil
1 tbsp wholegrain mustard
1 small shallot, minced
2 tbsp chives, sliced
1 tbsp parsley, chopped
salt and pepper
skewers
Preparation
Preheat grill.
In a small bowl, mix lemon juice, sugar, olive oil, mustard, shallots, chives, parsley, and season with salt and pepper. Set aside for later.
Put a skewer down the middle of the European wiener lengthwise. Cut into the wiener at a 45-degree angle, ¼ inch from the end. Make sure to cut until you hit the skewer in the middle. Roll the wiener away from you and continue to spiral cut, keeping a ¼ inch width, until you reach the end. Carefully remove the skewer, leaving your wiener with a spiral cut wiener.
Wrap the European wiener around the asparagus, stretching it to expose the asparagus between the spiral cuts. Grill the wieners, warming through and charring slightly, leaving the asparagus tender.
Remove from the grill, place on a platter, and drizzle with the lemon-mustard vinaigrette.
One of our favourites, @ChezChanelle puts an elegant European spin on a summertime classic. European Wieners, loaded with pickly sauerkraut and herbed ranch slaw on top of flavourful focaccia bread.
Ingredients
1 Pkg. Grimm's European Wieners
1 loaf Focaccia bread (homemade or store-bought)
1 tbsp olive oil
Ranch Slaw
3/4 cup mayo
1 tbsp honey
1 tbsp white wine vinegar
1 clove garlic, minced
1/2 tsp kosher salt and 1/2 tsp black pepper 
3 tbsp fresh summer herbs, chopped (1 tbsp chopped fresh dill, 1 tbsp chopped fresh parsley, 1 tbsp chopped fresh chives)
1 bag of chopped cabbage and carrot mix (about 6 cups)
Garnishes
Grainy Dijon mustard
Pickled red onion
Sauerkraut
Banana peppers
Preparation
Start by making the Ranch Slaw so that it can chill for as long as possible (or makeup to 8 hours ahead of time and keep it chilled). Combine all the ingredients except the cabbage and whisk until well combined. Taste and adjust salt and pepper to your taste.
Add dressing mixture to chopped cabbage and mix until well combined. Cover and chill until ready to eat (I recommend chilling for 1-2 hours if you can).
Preheat a BBQ or Grill pan to medium heat. Slice one loaf of focaccia into 4-6 rectangles depending on the size of your loaf (should be about 5-6 inches long and 3 inches wide). Brush each side with olive oil.
Add the wieners to preheated grill and cook until nicely charred (about 10 minutes). At the 5 minute mark, add the oiled focaccia to the grill (bottom down) and grill for about 5 minutes, until toasted.
Place the wiener on the focaccia (bottom side up) and dress your wiener with your favourite toppings, shown here with Grainy dijon, pickled red onion, sauerkraut, and pickled banana peppers.
Serve with a side of chilled Ranch Slaw (or if you're feeling adventurous, load up your link even more and put it right on top!). Enjoy!
Looking for the perfect low carb recipe? These salad wraps, made with our Bavarian Cheddar Smokies, are bursting with a flavour, low in carbs, and easy to make.
Ingredients
1 pkg Grimm's Cheddar Bavarian Smokies
1 tbsp ginger, minced or Microplaned
1 serrano chili, minced
1 garlic clove, minced
3 tbsp fish sauce
2 tbsp lime juice
½ cup cilantro, coarsely chopped
4 green onions, sliced on a long bias
½ cup parsley leaves picked
3 tbsp roasted peanuts, coarsely chopped
1 head bib lettuce, leaves separated
Preparation
Preheat grill.
Combine ginger, serrano chili, garlic, fish sauce, and lime juice, then set aside.
Grill the Bavarian smokies until cooked with even char marks, then remove from grill. When smokies are cool enough to handle, slice on a bias or into ¼ inch half-moons.
Combine the grilled Bavarian smokies with lime dressing, cilantro, green onions, parsley, and 3 tbsp of peanuts.
To assemble, place the ingredients on a bib lettuce leaf, roll up and enjoy!
Canadian sisters and queens of the grill @Maddieandkiki take this Portuguese favourite and add a fun summertime BBQ twist. This recipe has all the flavours of traditional Caldo Verde soup, grilled, and piled on top of our Sizzlin' Original Smokie.
Ingredients
1 pkg Grimm's Sizzlin' Original Smokies
2 tbsp. olive oil
1 small bunch of fresh kale, washed and finely chopped
1 small onion, finely chopped
3-4 cloves of garlic, minced
1 tsp. lemon zest
pinch of chili flakes
1/4 cup of chicken broth
3 tbsp. melted butter
2 tsp. grainy mustard
crushed regular potato chips
salt and pepper to taste
6 sausage buns, grilled.
Preparation
Preheat grill to medium-high heat. In a cast-iron pan, combine olive oil, kale, onions, garlic, chilies, zest, broth and salt, and pepper. Braids over indirect heat until kale is fully cooked, and onions and garlic are translucent – approximately 15-20 minutes. 
Grill sausages over direct heat for 4-5 minutes per side.
In a bowl, combine butter with mustard. Brush on grilled buns.
To serve: place sausage in a buttered grilled bun. Top with some of the kale mixture, and as many crushed chips and you can balance on top
Grilled Chorizo with Mexican Street Corn Cakes.
BBQ'd corn is such a summer staple. These Mexican Street Corn Cakes are so easy to make and pair wonderfully with the flavours of our Chorizo Sausage.
Ingredients
1 pkg Grimm's Chorizo Sausage
½ cup Grimm's Feta Cheese, crumbled
¼ cup mayonnaise 3 tbsp sour cream
¼ tsp black pepper
¼ tsp, plus
½ tsp garlic powder
¼ tsp, plus ½ tsp tajin chili powder
¼ tsp, plus ½ tsp lime juice
¼ tsp cayenne (optional)
3 tbsp cilantro, chopped
4 ears corn
4 tsp, plus 3 tbsp oil
Salt and pepper
¼ cup red onion, diced
1 tsp sugar
zest of ½ lime
2 large eggs, beaten
½ cup flour
¼ cup cornmeal
2 tsp baking powder
Preparation
Preheat grill with a griddle or cast iron pan.
In a medium bowl, prepare the Mexican crema by combing the feta cheese, mayonnaise, sour cream, black pepper, ¼ tsp garlic powder, ¼ tsp chili powder, ¼ tsp lime juice, cayenne, and cilantro, and set aside.
Lightly dress corn with 4 tsp oil, and season with salt and pepper. Place corn on the hottest part of the grill and char the outside until tender, then remove from the grill.
Slice the corn off the cobbs, yielding about 3 cups. In a medium bowl, toss in the corn, diced red onion, sugar, ½ tsp garlic powder, ½ tsp chili powder, ½ tsp lime juice, lime zest, and salt and pepper. When the corn is no longer hot, add in eggs, flour, cornmeal, and baking powder and mix.
Grill the chorizo sausage. Place 3 tbsp of oil on the griddle. Scoop a ¼ cup of the corn cake mixture onto the griddle and flatten slightly. Cook it for 2-3 minutes per side until golden brown. Once cooked, remove cakes and chorizo sausage from the grill.
Spread corn cakes on a plate, spoon over the Mexican crema, and serve with the hot chorizo sausage.
@Inafoodieskitchen bring us the traditional citrusy flavours of Senegalese Chicken Yassa grilled, and wrapped up in our Cheese Tortilla Wraps.
Ingredients
4 Grimm's Cheese Tortilla Wraps 
4 Chicken thighs
1 lemon (juice and zest)
2 tbsp of Dijon mustard
1 tsp of paprika
1 tbsp of garlic paste
A few slices of red onions
½ of a bell pepper sliced
A good handful of spinach
½ cucumber, sliced
Some garlic aioli
Salt & pepper to taste
Preparation
Marinate the chicken with lemon juice, Dijon mustard, paprika, garlic, salt, and pepper. Let it sit in the marinade for 1 hour or overnight.
Slice red onions, bell peppers, and cucumber then set aside.
On a hot grill, cook your chicken thighs for about 3-4 minutes on each side depending on the thickness of the chicken. Let cool, and slice.
Add the sliced onions and the sliced bell peppers on the grill for 3 minutes, just to get them a bit soften
Assemble your wrap with a spoon full of garlic aioli, the veggies, and the chicken.
Stuffed Poblano Peppers with Sizzlin' Cheddar with Bacon Smokies.
This Mexican inspired recipe is the perfect mix of spicy and creamy. Serve without the Tortillas for a delicious low carb option.
Ingredients
1 cup Grimm's Sizzlin' Cheddar with Bacon Smokies,  diced small
4 poblano peppers
1 cup mascarpone cheese
1⁄3 cup cream cheese
¼ cup sour cream
¼ cup cilantro, chopped
1 ½ tbsp red onion, minced
1 ½ tbsp tajin chili powder
1 ½ tbsp garlic powder
8 dashes tabasco sauce
1 cup Grimm's Cheddar Cheese, shredded
1 ½ tbsp jalapeño peppers, minced
1 tsp lime juice
1 cup jicama, julienned
¼ cup breadcrumbs
Grimm's Cheese Tortillas
Salt and pepper
Preparation
1. Preheat grill.
2. In a large bowl, combine the mascarpone cheese,  sour cream, diced Bavarian smokies, cilantro, red onion,  chili powder, garlic powder, tabasco, cheddar cheese, jalapeño, and lime juice.
3. Once thoroughly mixed, fold in the jicama and breadcrumbs.
4. Make a slit down the length of each poblano pepper. Remove what seeds you can, but make sure not to rip open the pepper.
5. Stuff the poblano peppers with the cheese mixture and wrap in aluminum foil.
6. Place aluminum foil packages on the grill and cook for 3-4 minutes on all four sides, until the pepper is tender and the mixture inside is warm. Lightly grill tortillas until warm.
7. Serve stuffed peppers with grilled tortillas, and salt and pepper to taste.
We believe in grilling at all hours of the day!
These Grilled Breakfast Quesadillas from loveinmyoven are a delicious way to start the day, and are completely gluten-free thanks to the use of our Gluten Free Rice Tortillas.
Ingredients
4 Grimm's Sizzlin' Cheddar Smokies
4 Grimm's Gluten Free Rice Tortillas
2 tbsp unsalted butter, divided
1/4 cup onion, diced
1/2 bell pepper, diced
4 eggs
2 tbsp milk
1 tbsp green onion, diced
1 cup cheddar cheese, shredded
1 cup mozzarella cheese, shredded
Optional sour cream and salsa for serving.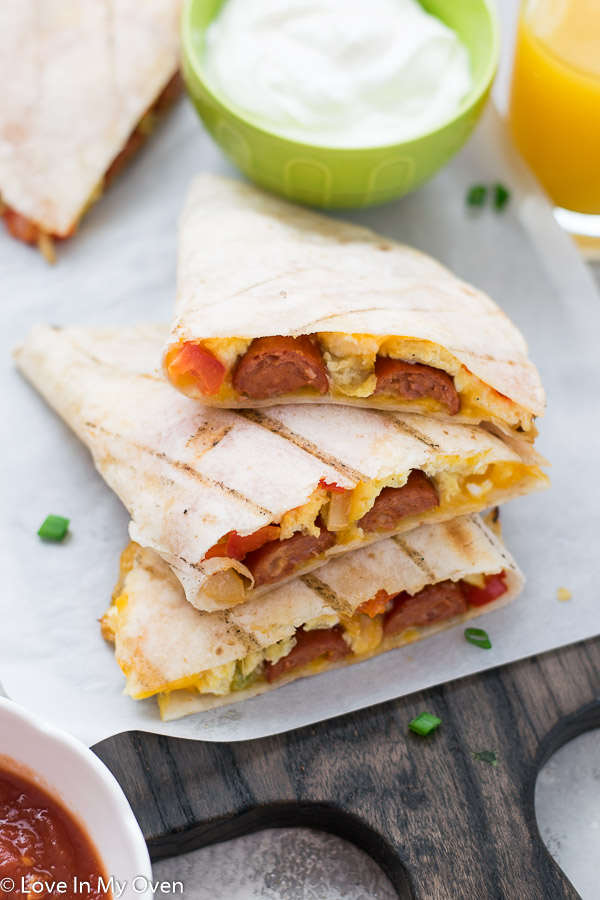 Preparation
Preheat the grill to medium high and cook the cheddar smokies until slightly crispy and just beginning to burst open. Remove from heat and allow them to cool for a few minutes before slicing them in half lengthwise. Set aside but keep the grill hot.
While the smokies are grilling, add 1 tbsp of butter to a frying pan and allow it to melt. Add the onion and bell pepper and sauté for a 5 minutes, or until softened. Remove the softened vegetables to a plate and add the second tablespoon to the pan, placing it back over the heat. In a small bowl, whisk together the eggs and milk with a fork. Empty the eggs into the pan and stir from time to time with a spatula, until the eggs are cooked and fluffy. Stir in the diced green onion to the eggs.
On one half of a tortilla, sprinkle a handful of cheddar and mozzarella cheese. Add a quarter of the onions and peppers, a quarter of the scrambled eggs, and top with 2 smokie halves. Add another handful of cheese, scattering it around. Fold the bare half of the tortilla gently over the loaded up half and carefully place the quesadilla back on the grill, flipping it over after a few minutes and cooking for another few minutes, until the cheese is melted. Cut in half and serve immediately, with sour cream and salsa.
Leftover quesadillas can be kept in the fridge for 2-3 days, in an airtight container, and either microwaved or warmed in the oven.
If making these quesadillas over the fire, use a metal grill over the fire to finish grilling them at the end.
Yakisoba anyone?
Mennonite Style Sausage, crunchy vegetables, soba noodles, and a sweet and tangy soy sauce.
Ingredients
1 pkg Grimm's Mennonite Style Farmer Sausage
2 tbsp vegetable oil
1 onion, cut lengthwise and sliced into 1/4 inch pieces
1 medium carrot, julienned
2 cups green cabbage, cut into 1 inch pieces
1 red bell pepper, thinly sliced
1 bunch green onions, sliced diagonally
1 pkg soba or buckwheat noodles (454 g)
aonori (dried seaweed flakes)
pickled ginger
Yakisoba Sauce
2 tbsp Worcestershire sauce
2 tbsp ketchup
4 tbsp BBQ sauce
2 tsp brown sugar
2 tsp tamari soy sauce
freshly ground black pepper
Chow Mein steamed noodles work well if Japanese soba or buckwheat noodles are not available.
Soba/buckwheat noodles, aonori seaweed, and pickled ginger are usually found at an Asian grocery store.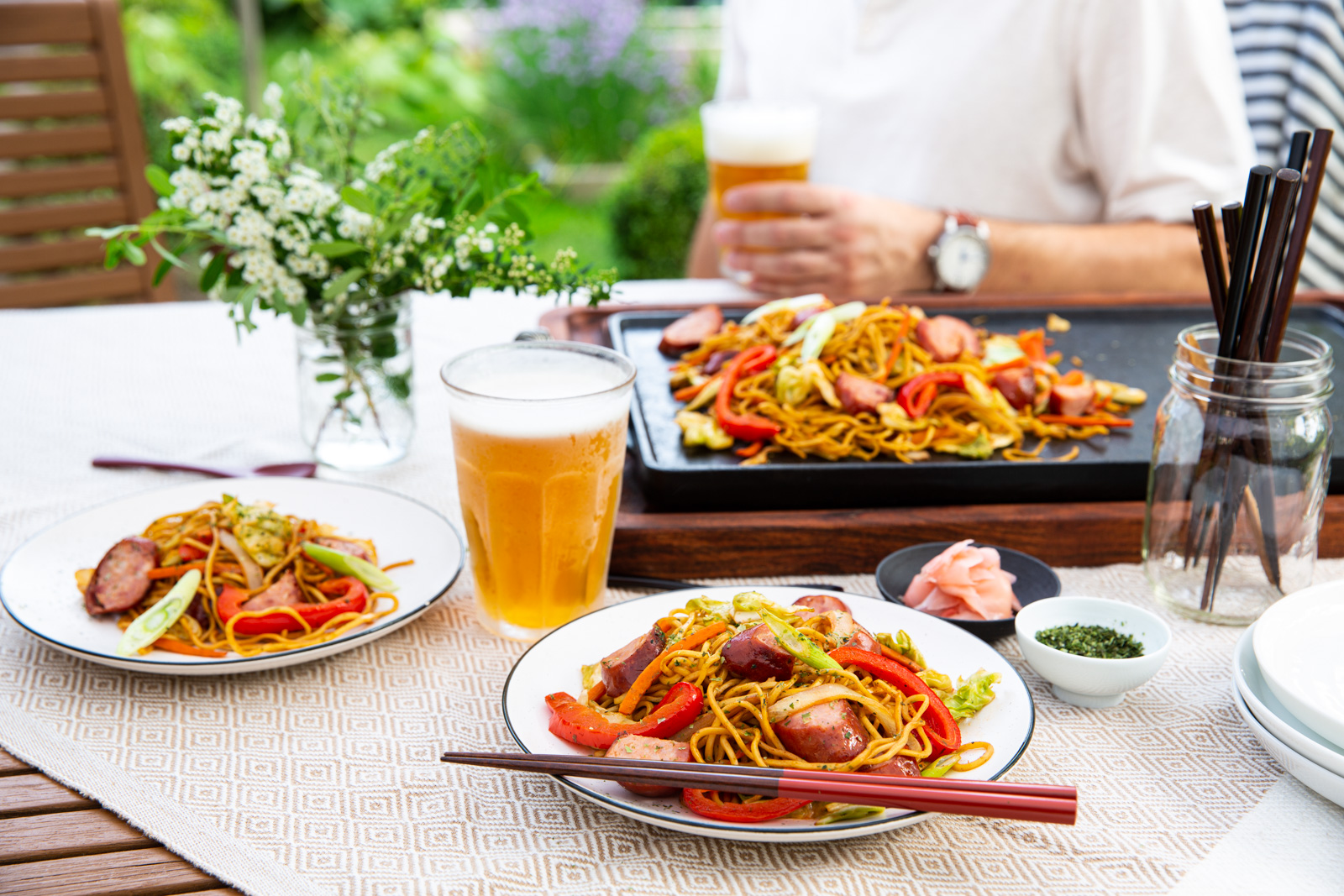 Preparation
Place all ingredients for the sauce in a small bowl and mix well. Set aside.
Cook noodles according to the package instructions. Set aside.
Score the sausage and grill over direct medium heat until browned, turning occasionally. Remove the sausage from the grill and cut into bite-sized pieces. Set aside.
Heat oil on a griddle over the grill, then saute the onions and carrots until soft. Add cabbage, bell peppers, and green onions and cook for a few minutes until cabbage becomes tender. Add a dash of water as needed to help the vegetables cook without burning. Season with black pepper.
Add the noodles and the sausage to the stir-fried vegetables and cook for a couple of minutes. Add the sauce and cook for a few more minutes while stirring well to combine the sauce and the rest of the ingredients.
Serve to individual plates. Garnish with aonori on top and pickled ginger on the side.
Our Bacon and Cheddar Bavarian Smokies takes the classic flavours of a traditional Cobb Salad and adds the crispy char of the grill.
Ingredients
1 pkg Grimm's Bacon and Cheddar Bavarian Smokies
1 large head green leaf lettuce, halved (5 cup yield)
4 hardboiled eggs, diced
1/2 cup Grimm's Medium Cheddar Cheese, grated
2 vine-ripened tomatoes, halved
2 firm avocados
2 ears of corn, whole and cleaned
6 tbsp oil and some for grilling
3 tbsp red wine vinegar
1 tbsp dijon mustard
1 tsp honey
1 garlic clove, minced
1 pkg Grimm's Cheese Tortilla Wraps, grilled
salt and pepper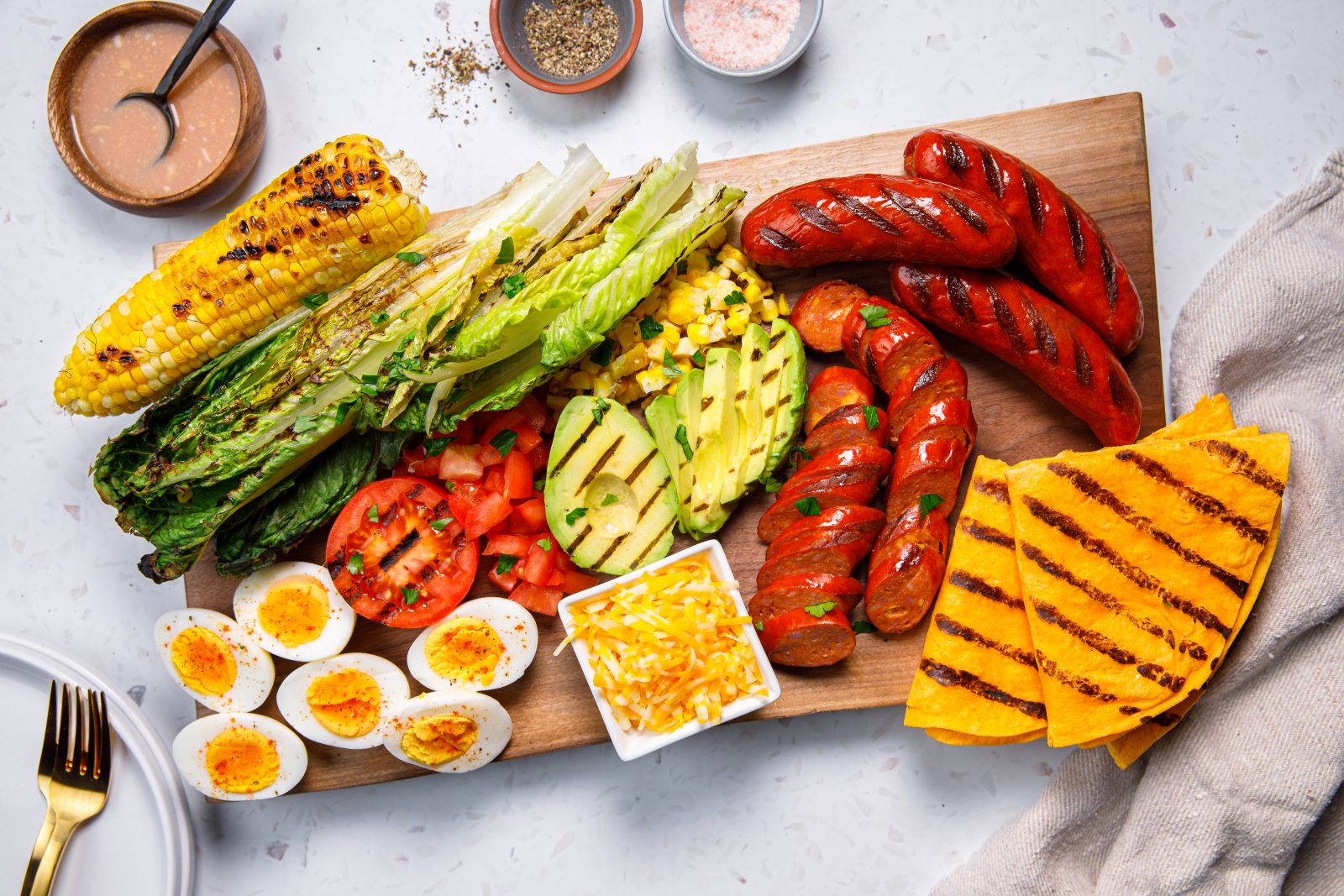 Preparation
Preheat grill. In a small bowl, combine 6 tbsp oil, red wine vinegar, dijon, honey, and garlic. Season with salt and pepper and set aside for later.
Toss lettuce halves with 2 tsp oil, salt and pepper. Toss the tomato halves with 2 tsp oil, salt and pepper. Split the avocado, remove the seed, and keep it in the skin. Season the inside of the avocado with oil, salt and pepper. Toss the corn with 2 tsp oil, salt and pepper
Place the smokies and corn on the grill, char the outside, and cook them all the way through. Now, on high heat, char the inside of the lettuce, tomatoes, and avocados. Keep them mostly uncooked, you just want the charred flavour.
Remove all the ingredients from the grill. Slice the smokies into half-moons, dice the tomato, remove the corn from the cob, and slice the avocado. Now it's time to assemble.
On a large platter, place the charred lettuce, followed by a row each of tomato, hardboiled egg, sliced smokies, cheddar, avocado, and finish it with the corn. Drizzle with the red wine vinaigrette and serve with grilled tortillas.
Vancouver Blogger @AheadOfThyme joins us for #OwnTheGrill, creating a simple summer meal using our Sizzlin' Original Smokies and a little Southern inspiration.
Ingredients
1 pkg of Grimm's Sizzlin' Original Smokies, sliced
1 lb tiger prawns (or jumbo shrimp), peeled and deveined
2 tbsp old bay seasoning (or any seafood seasoning blend), divided
2 medium ears of corn, husks removed and cut crosswise into 2 inch pieces
10 baby potatoes, halved
1 lemon, quartered
5 cloves garlic, crushed
1/2 cup melted butter, divided
3 tsp parsley, freshly chopped, divided
1 tbsp olive oil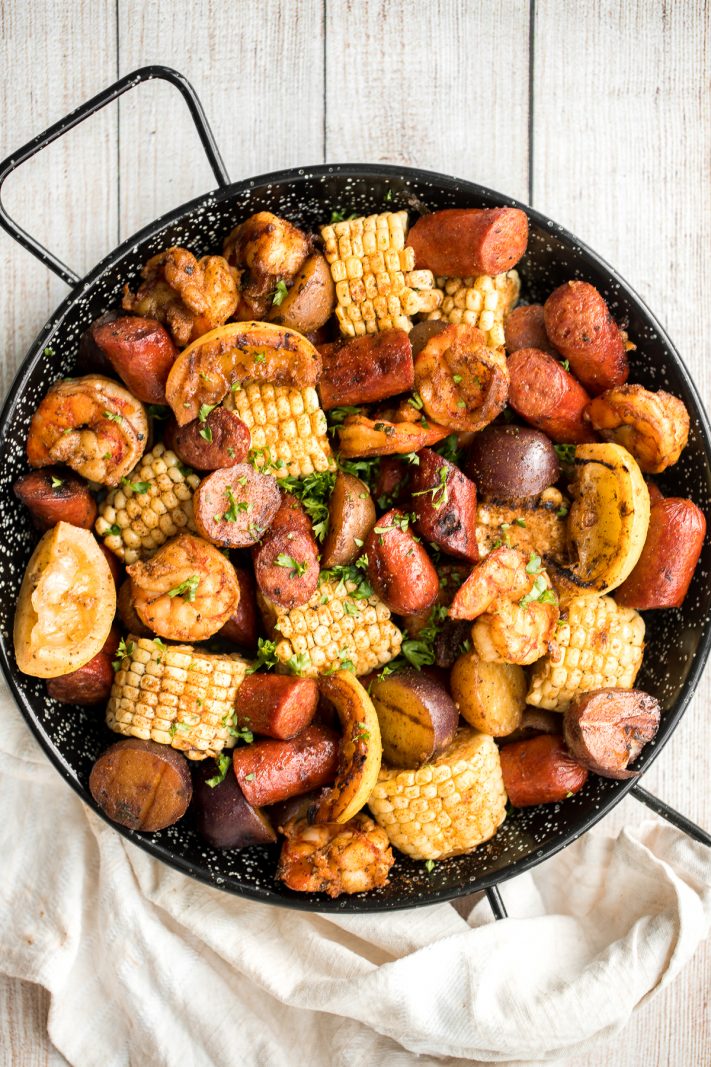 Preparation
In a medium bowl, combine prawns and 1 tbsp old bay seasoning. Let it sit for 5 minutes.
Meanwhile, in a large bowl, combine corn, baby potatoes, sausage, lemon, and garlic. Add in the seasoned shrimp. Add 1/4 cup melted butter, 1 tsp parsley, and remaining tbsp of old bay seasoning. Toss together and let it sit for 10 minutes.
You can grill on either a grill pan or an outdoor barbecue grill.
To cook on a grill pan: Brush grill with olive oil and heat on medium high heat. Add items on the grill, and gently brush the remaining butter on top. Grill for 5 minutes until you see some distinct grill marks. Then, reduce heat to medium, flip the items over, and add 1 cup of water. Cover with aluminum foil, and simmer for 15 minutes.
To cook on barbecue grill: Brush grill with olive oil or spray with cooking spray. Add items on the grill, and grill for a few minutes until you see some distinct grill marks. Remove items from the grill, and place into a large disposable aluminum tin, add in remaining butter, and cover with aluminum foil and seal the edges (OR divide on four 12 inch sheets of aluminum foil, and divide the remaining butter amongst them. Fold over to create a pocket and seal the edges by rolling them up). Place aluminum pan or foil packets on the grill and cook for 15-20 minutes, until everything is cooked through.
Serve with remaining chopped parsley on top and old bay seasoning.
The juicy flavours of grilled peaches pair perfectly with the sweetness of our Honey and Garlic Pepperoni in this salad that was made for summer.
Ingredients
1 pkg Grimm's Honey and Garlic Pepperoni (450 g)
2 peaches, halved
3 tbsp, plus 1 tbsp olive oil
1 tbsp balsamic vinegar
1/2 tsp honey
3 tbsp basil, whole leaves, picked
10-12 parmesan cheese shavings, using a vegetable peeler
salt and pepper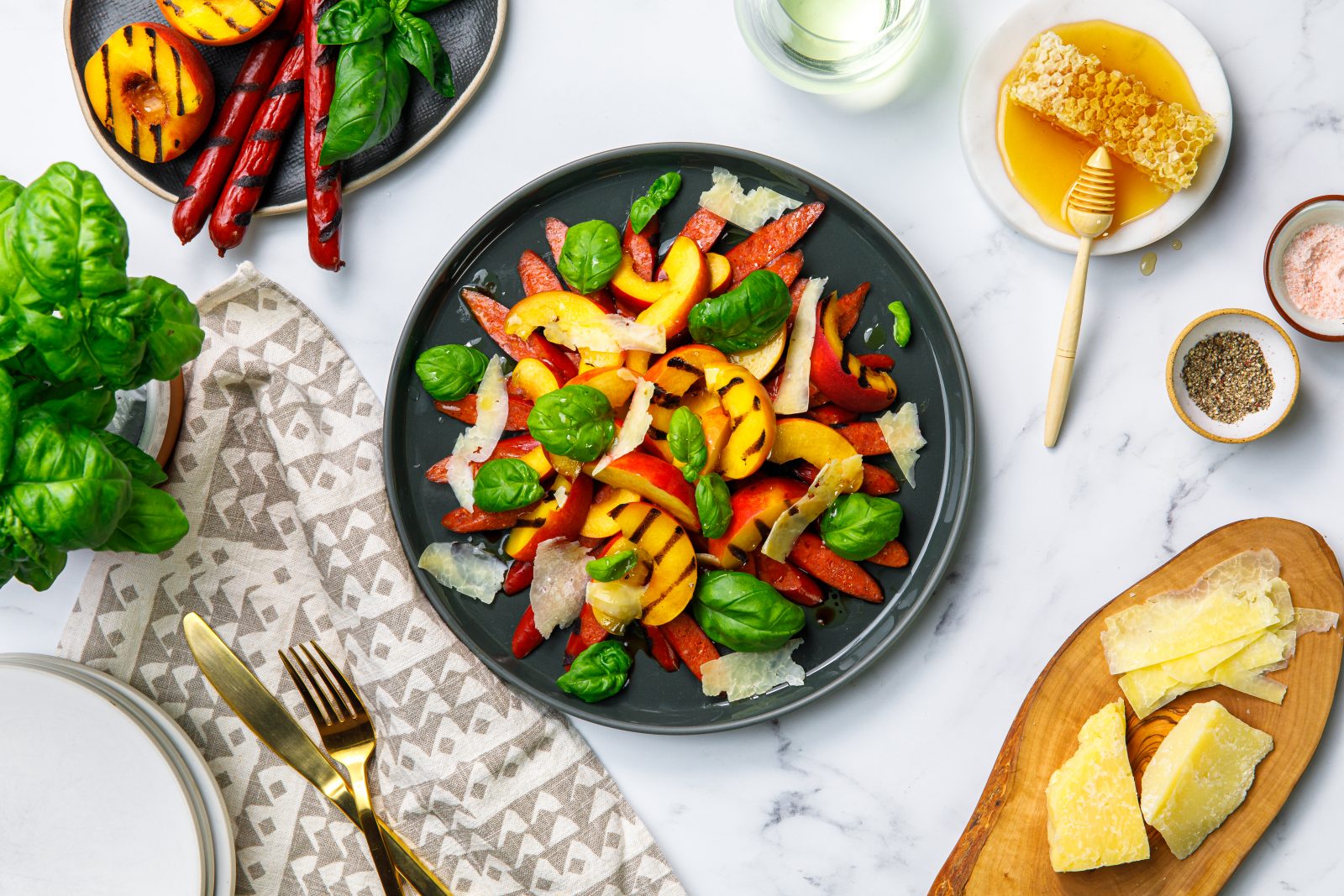 Preparation
Preheat the grill.
In a small bowl, mix together balsamic vinegar, honey, and 3 tbsp olive oil. Season with salt and pepper and set aside.
Toss peaches with 1 tbsp olive oil and salt. Now place pepperoni and peaches on the grill. Make sure to get a nice char on the peaches, just warming them slightly. Cook the pepperoni until heated and nicely charred on the outside.
Remove the peaches and pepperoni from the grill. Slice the peaches into wedges and thinly slice the pepperoni lengthwise or on a bias.
Layer pepperoni on the plate, then create a mound of the grilled peaches in the centre on top.
Drizzle the balsamic vinaigrette and parmesan shavings and finish with freshly torn basil leaves.