Nothing says summer like the smell of smokies and fresh corn on the grill! MasterChef Canada finalist, Chanelle Saks (@chezchanelle,  chezchanelle.com) mixes the heat of Grimm's Jalapeño & Cheddar Smokies together with refreshing corn and Tomatillo-Cilantro Crema dressing for an untraditional Mexican Street Corn Salad. There's no shortage of flavour with this recipe and since it's so simple, makes for a great weeknight meal.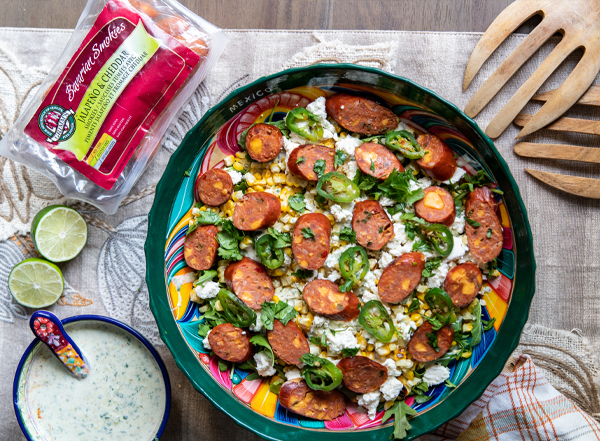 Ingredients
1 package Grimm's Jalapeño and Cheddar Bavarian Smokies (contains 5 smokies)
5 fresh corn on the cob, husked
1 package of arugula
125 g queso fresco*
1 jalapeño pepper
Tomatillo-Cilantro Crema dressing:
1/2 cup full-fat sour cream
Juice from 1 lime
3 tomatillos
1/2 cup fresh cilantro, stems removed (+ more for garnish)
1/2 tsp cumin powder
1/2 tsp garlic powder
Salt and Pepper to taste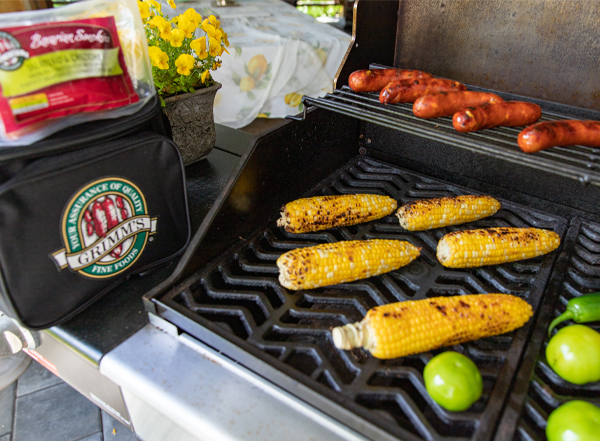 Preparation
Preheat an outdoor grill to medium heat.
To the preheated grill, add the corn on the cob and the smokies and cook for 10-15 minutes, turning 1-2 times until evenly grilled. For the remaining 5 minutes, add the tomatillos and the jalapeño to the grill to get a light char. Remove everything from the grill and set aside until cool enough to handle.
To make the Tomatillo-Cilantro Crema, in a food processor or blender, combine the sour cream, lime juice, grilled tomatillos, cilantro, seasoning, salt, and pepper. Blend until smooth and place in the fridge to chill while you prepare the salad.
Slice the Jalapeño Cheddar smokies, the jalapeño pepper, and cut the corn from the cob. In a large salad bowl, add the arugula, followed by the corn, and drizzle with the crema. Sprinkle on the queso fresco then layer the salad with the smokie slices. Finish by adding the grilled jalapeño slices and some fresh cilantro. Enjoy!