Sausage rolls are a classic party appetizer, our version is made with our Breakfast Sausage, balsamic caramelized onions and herbs.
Ingredients
1 pkg Grimm's Breakfast Sausage
1/4 tbsp ground nutmeg
1/2 tbsp fresh rosemary, finely chopped
1 large red onion, thinly sliced
3 garlic cloves, sliced
1 1/2 tbsp olive oil
2 tsp dijon-style grainy mustard
1 tbsp maple syrup
2 tbsp balsamic vinegar
1 tbsp tamari soy sauce
1 pack ready to roll Pillsbury crescent dough (235 g – the dough for 8 rolls)
flour for dusting work surface
1 egg
1 tbsp milk
white sesame seeds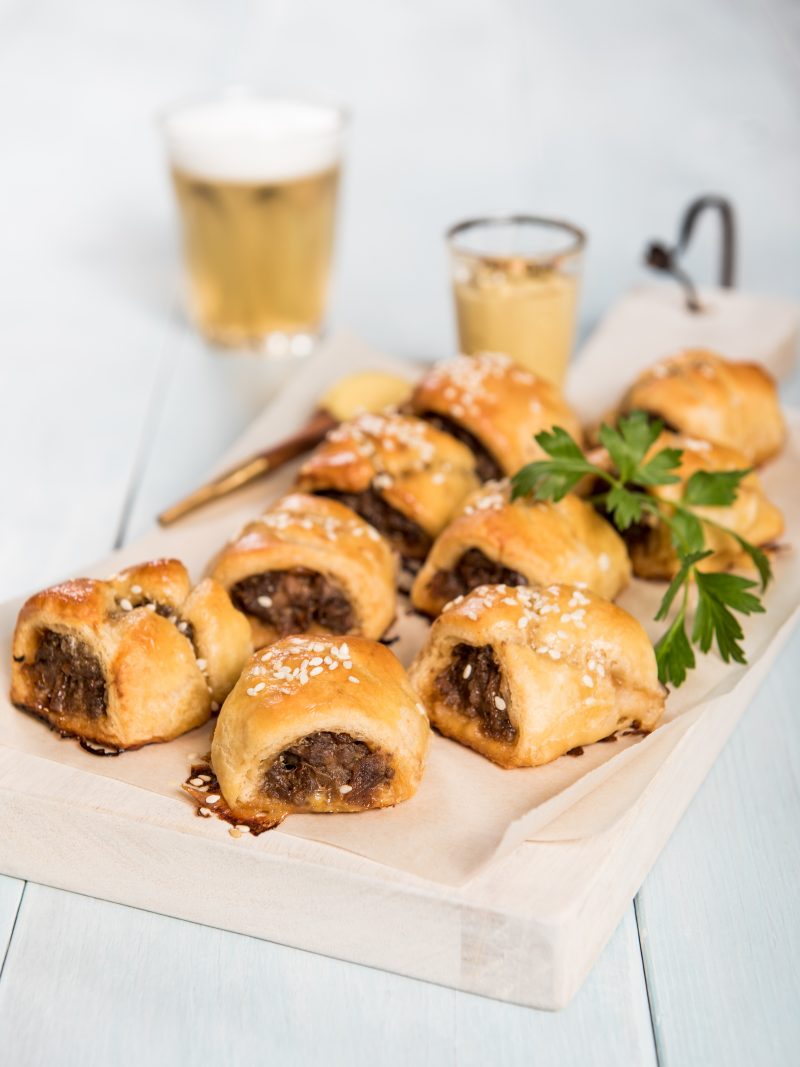 Preparation
Preheat oven to 350°F.
Warm olive oil in a frying pan over medium heat and sauté the onion for 2 minutes. Add garlic and continue sautéing until onions turn light brown. Add mustard, maple syrup, balsamic and tamari, then stir and cook until caramelized, about 3 minutes. Remove from heat and let cool.
Remove casings from sausages. Place the sausage meat in a bowl, add rosemary and nutmeg, mix well. Add the caramelized onion mixture and stir thoroughly to combine with sausage meat.
Dust flour on a work surface. Separate dough in half and roll into 1/4 inch rectangles (do not separate into triangles). Place the sausage and onion mixture lengthwise in the centre of the rectangles. Beat egg with milk and brush the egg and milk mixture onto one edge of dough and roll to close
Cut rolls into 1 inch pieces with a sharp knife and place on a lined baking sheet. Sprinkle with sesame seeds and bake for 20 minutes, until golden brown and cooked thoroughly. Transfer to a serving tray and enjoy.