This flavourful, New Orleans style sandwich, is loaded with layers of our Carved Classic Turkey Breast slices, provolone cheese, olive salad, and red pepper and sun-dried tomato pesto.
Ingredients
Olive Salad
1/3 cup pitted green olives, chopped
1/3 cup fresh parsley, finely chopped
2 tbsp olive oil
1 tbsp capers
1 tbsp red wine vinegar
1 garlic clove, minced
1/4 tsp each salt and pepper
Red Pepper and Sun-Dried Tomato Pesto
2 jars (350 ml) roasted red peppers, drained
6 sun-dried tomatoes, packed in oil
1 garlic clove
1/4 cup fresh basil, finely chopped
1/4 cup olive oil
1/4 cup parmesan cheese, grated
1/2 tsp dried oregano
1/4 tsp each salt and pepper
Sandwich
2 pkgs Grimm's Carved Classic Turkey slices
1 large peasant-style loaf of bread (10 to 12 inch diameter)
1 cup arugula lettuce, packed
250 g provolone cheese, sliced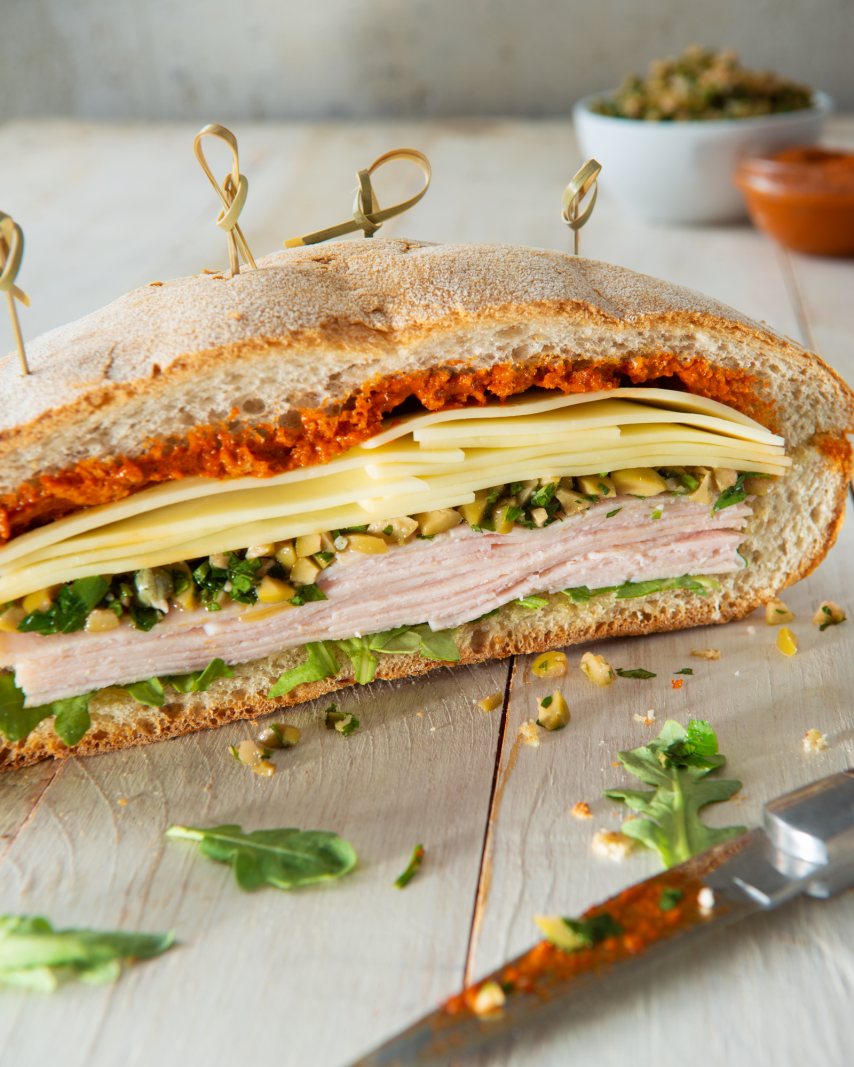 Preparation
Olive Salad
Stir together olives, parsley, olive oil, capers, red wine vinegar, garlic, salt, and pepper. Set aside.
Red Pepper and Sun-Dried Tomato Pesto
In a small food processor or blender, pulse together roasted red peppers, sun-dried tomatoes, garlic, basil, olive oil, parmesan cheese, oregano, salt and pepper, until coarsely ground.
Sandwich
Cut the loaf of bread in half, horizontally, then hollow out the bread, leaving a 1 inch border all around. Lightly brush the cut halves with olive oil from the olive salad. Layer the arugula lettuce, turkey slices, olive salad, provolone cheese, and half of the pesto in between the bread.
Wrap the closed sandwich in plastic wrap, pressing down gently, ensuring it is tightly sealed. Refrigerate for a minimum of 2 hours, then slice and serve immediately with remaining pesto, or store for up to 1 day