Perfect for any time of year, this cassoulet recipe using Bavarian Smokies makes for an easy weekday meal. There is a minimal amount of preparation required, just let the flavours meld!
Ingredients
4 Grimm's Bavarian Original Smokies
1 tsp olive oil
1 medium onion, minced
2 garlic cloves, minced
1/2 cup red wine
1 can diced tomatoes (796 ml)
1 can white kidney beans (540 ml), rinsed well
1/4 cup chopped Kalamata olives
2 tbsp capers
1 1/2 tsp sugar
1 1/2 tsp balsamic vinegar
1/2 tsp oregano
2 bay leaves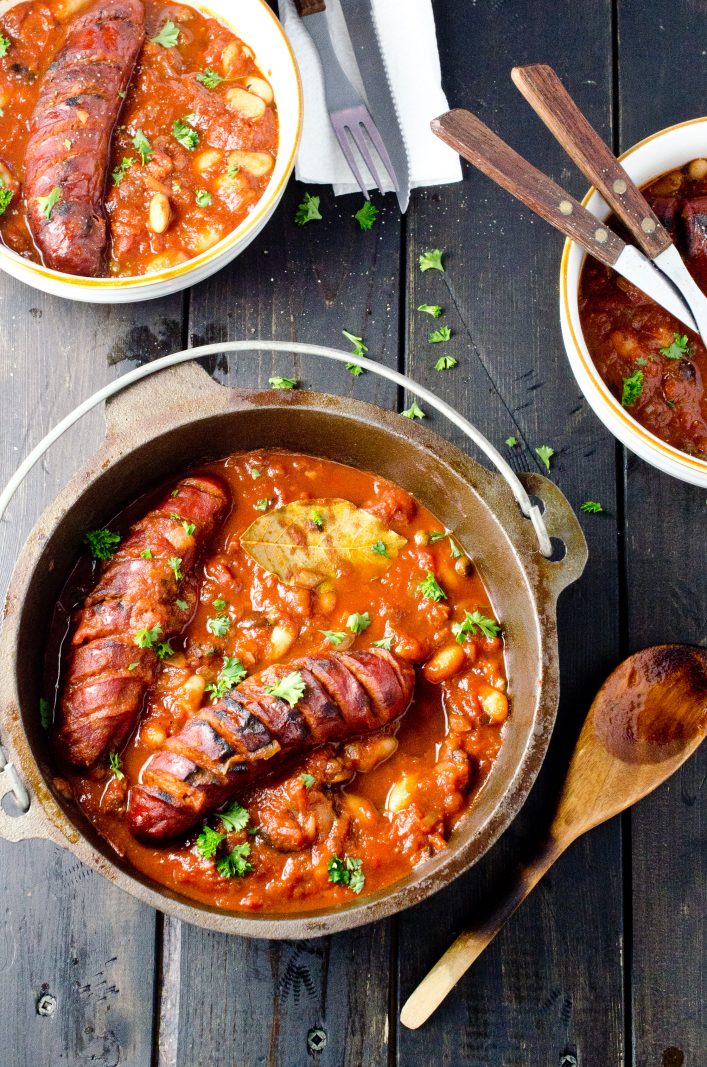 Preparation
Preheat your grill to medium high. Make several small cuts along the length of the  Bavarian Smokies. Try to make the cuts about 1/3 of the way through the smokie and each cut a 1/2 inch apart. This will give you lots of crispy spots on the smokies, and make it easy to cut apart and eat.
Grill the smokies for 8-10 minutes, turning a few times, until the smokies are covered in grill marks and heated through.
Heat the oil in a large pot over medium high heat. Add the onion and cook, stirring frequently, for 5 minutes. Add the garlic and cook for 1 minute more. Add the red wine to the pot and stir to scrape off any stuck-on bits.
Add all the remaining ingredients to the pot and stir well. Add the smokies to the pot and bring the pot to a boil. Reduce the heat and let it simmer, uncovered, for 10 minutes. Season to taste with sea salt and fresh cracked pepper.