Ingredients
Grimm's Hot Capicolli
1/2 cup cornmeal
1 purple cauliflower
1 white cauliflower
1 Romanesco broccoli or green cauliflower
1/2 cup shelled pistachios
1 cup basil leaves
1 cup mint leaves
1 cup olive oil
1/2 garlic clove
1 lemon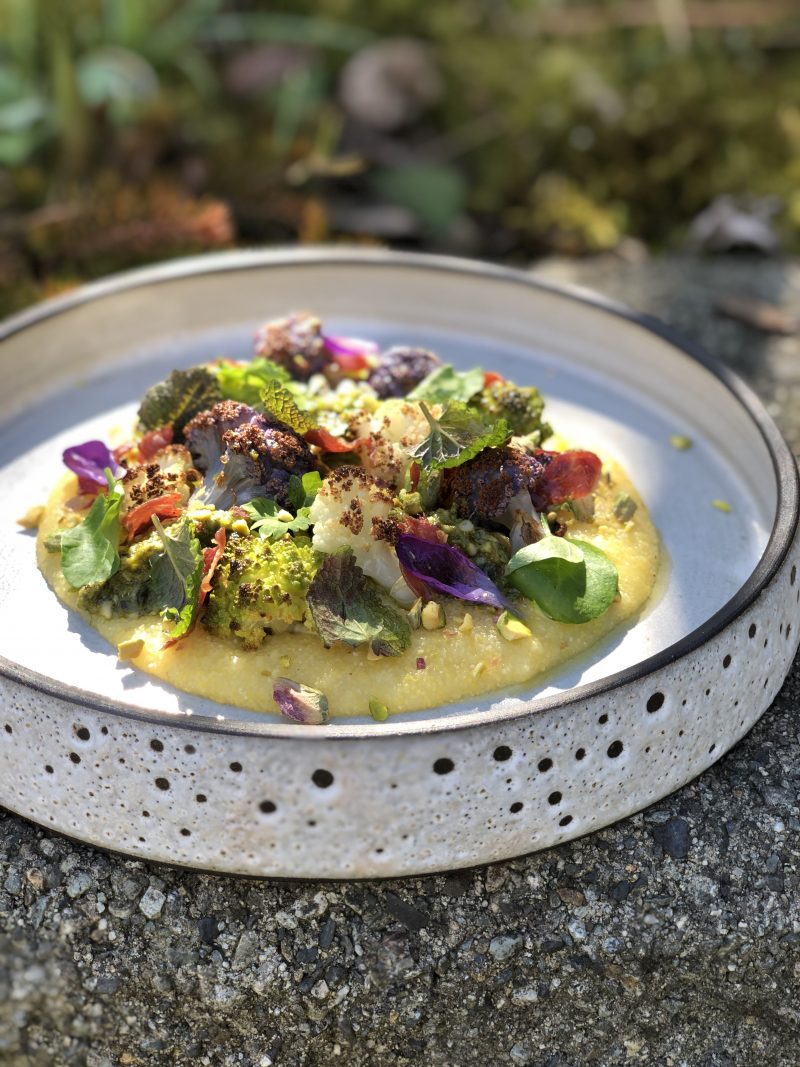 Preparation
Start by making the pesto. To a blender, add 3/4 cups each mint and basil leaves, 1/2 clove garlic, and most of a 1/2 cup of shelled pistachios. Slowly add the olive oil while blending on high speed and season with a pinch of salt and pepper.
Cut the cauliflowers into florets, drizzle with olive oil and a pinch of salt, place into a preheated oven at 475°F for 10-12 minutes, until browned and cooked through.
To make the polenta, start by thinly dicing the Capicolli. Add a splash of olive oil to a pot over medium high heat and cook the Capicolli until crispy, reserve. Bring 1 cup of water to a boil, slowly whisk in 1/4 cup of cornmeal and the oil from the Capicolli, cook for 10 minutes at a simmer until tender, season with salt and pepper.
To finish, spoon the polenta onto the plate. Toss the cauliflower with the crispy Capicolli, a splash of lemon juice and olive oil, and spoon over the polenta. Add a few dollops of the pesto, some crushed pistachios, and cover the dish in fresh mint and basil leaves.