Another recipe from the talented sweetsugarbean. Our British Banger Sausages lay the foundation for delicious balsamic caramelized onions and tangy sauerkraut.
Ingredients
1 pkg Grimm's British Banger Sausages
2 large onions, thinly sliced
1 tbsp canola oil
1 tbsp butter
1 tsp salt
1 tsp sugar
2 tbsp balsamic vinegar
1 cup sauerkraut
4 sausage buns
1 tbsp dijon mustard
parsley leaves for garnish, optional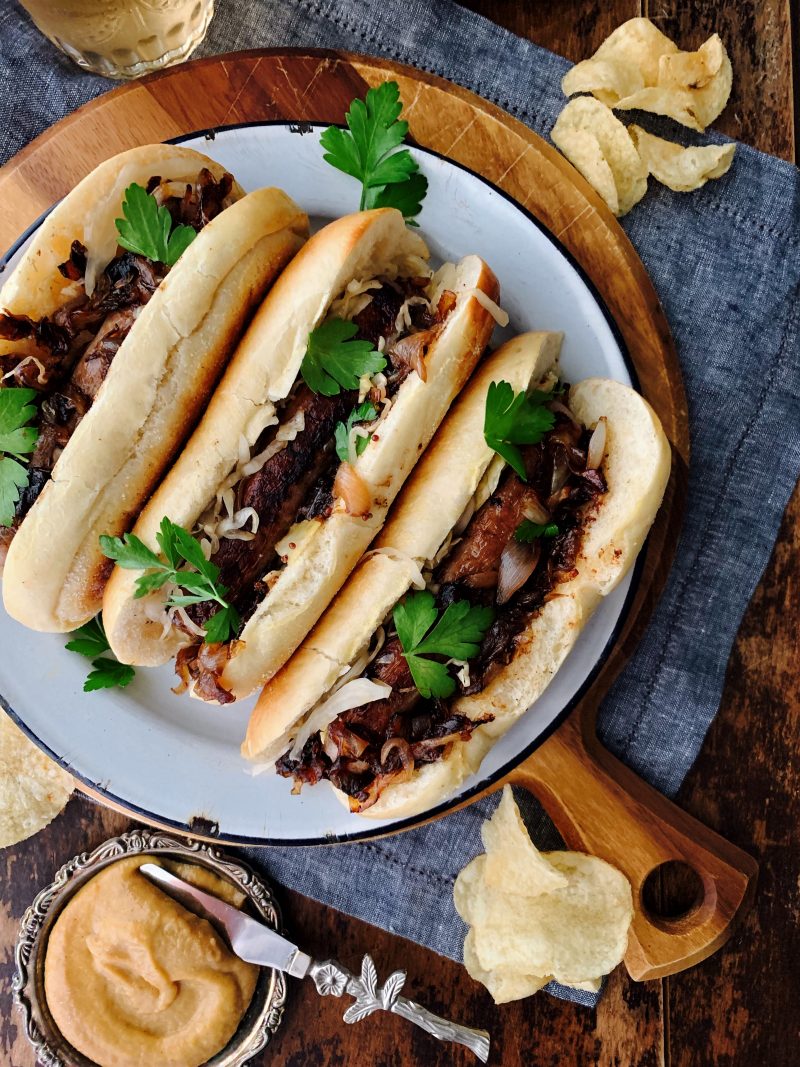 Preparation
Heat a 10 inch skillet over medium high heat. Add the oil and butter. Once the butter melts, add the onions. Stir around so they are coated, and let them cook for 10 minutes, stirring occasionally. Sprinkle on the salt and sugar, and turn the temp down to medium low. Let the onions cook until they begin to brown then stir a little. Don't stir too often otherwise the onions won't brown very much (every 3-4 minutes is fine). If the onions get too dry, add a bit of water into the pan. When the onions begin to get very brown and start sticking onto the bottom of the pan, you'll need to stir every minute. When happy with the colour, add the balsamic vinegar and scrape up the browned bits from the bottom of the pan. Remove from the heat.
While the onions are cooking, heat a small saucepan over low heat and add the sauerkraut. You just want to warm the kraut. A microwave would do the job nicely, too.
Preheat a grill or grill pan to medium heat. Add the Grimm's British Banger Sausage and grill until deeply browned and gorgeous – about 8-10 minutes, depending on your grill.
Warm the buns in the oven or on the grill. Slather with mustard. Snuggle in the grilled sausages and smother with the caramelized onions and sauerkraut. Eat immediately.