This recipe with our Belgian Beer and Smoked Gouda Bavarian Smokies is a true German-inspired feast.
Ingredients
1 pkg Grimm's Belgian Beer & Smoked Gouda Smokies
1 cup ketchup
2 tbsp curry powder
1 tsp onion powder
1 tsp Worcestershire sauce
1 tsp paprika
4 cups flour
2 large eggs, beaten
1 tsp + 2 cups water
2 tbsp parsley, chopped
2 tbsp chives, sliced
1 tbsp whole grain mustard
3 tbsp butter
Oil for tossing the spätzle
green salad
salt and pepper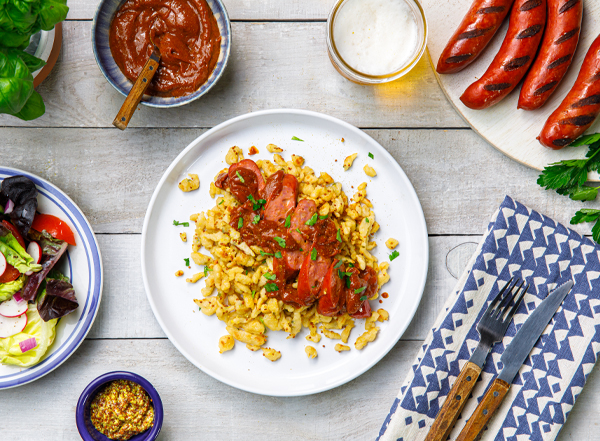 Preparation
Pre-heat grill and put a pot of water on that fits a strainer with large holes over the top (or a Spätzle maker if available).
In a small bowl combine ketchup, onion powder, curry powder, Worcestershire, 1 tsp water, and paprika. Set aside curry ketchup for serving.
In a large bowl mix together flour, eggs, and 2 cups water to make a loose sticky dough. Now add the chives and season with salt and pepper. Mix well together.
Push the spätzle dough through the strainer's holes using a rubber spatula or a bowl scraper into the simmering water. When the spätzle floats, remove with a skimmer into a bowl and toss with a little oil. You may need to do this in batches. Now set aside the spätzle for later.
Place smokies onto the grill. Grill until hot with nice char marks.
In a non-stick pan, melt butter on medium heat until butter is foaming. Add the spätzle and let crisp in the pan. Toss and then let the other side brown as well. Add the mustard and parsley to the spätzle, toss, and season with salt and pepper.
Place the spätzle on a platter, place the smokies on top and serve with curry ketchup and a green salad.