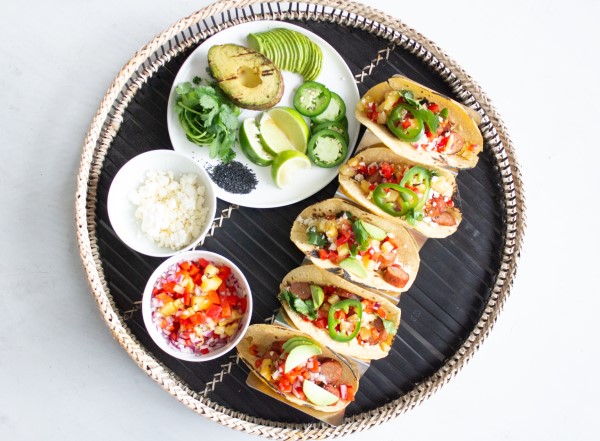 Fire up the grill! @VargaCooks created this brand NEW recipe to kick start our summer grilling! Try these Grilled Andouille Sausage Tacos with Pineapple Salsa and Lime Crema for all the flavours of summer. Add Grimm's Corn Tortillas for a gluten-free meal the whole family will love.
Ingredients
Grimm's Andouille Sausage
Grimm's Corn Tortillas
1 Fresh Pineapple
1 Pepper
1 Jalapeño
1 bunch Cilantro
1 small Red Onion
1 Avocado
1/2 cup Feta plus more for garnish
1/2 cup Mayonnaise
1/2 cup Sour Cream
2 Limes
Kosher Salt to taste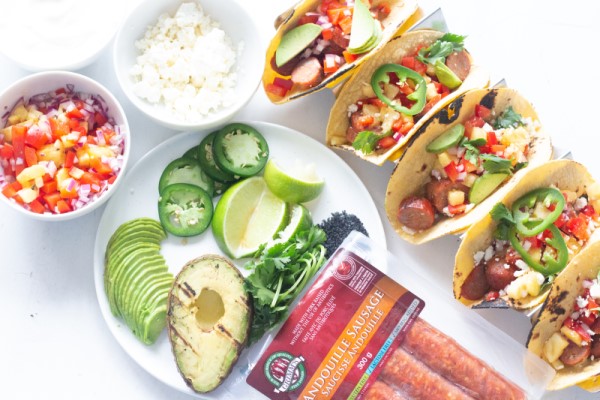 Preparation
Cook andouille sausages as directed on a preheated grill
Cut pineapple into strips about an inch thick
Place pineapple strips, pepper, jalapeño, and halved avocado flesh side down on the grill
Once veggies have grill marks, flip if needed. All together grill veggies for approximately 5 minutes and remove
Place corn tortillas on the grill until slightly softened with grill marks, remove and cover with a clean cloth until ready to use
Pineapple Salsa: Dice pepper, jalapeño, pineapple, 1 tablespoon of red onion, and 2-3 tablespoons of cilantro then squeeze fresh lime and toss with kosher salt
Lime Crema: In a food processor mix feta, sour cream, and Mayo. Add in lime juice and salt to taste
Place diced sausage in a corn tortilla, top with pineapple salsa, lime crema, cilantro, and a slice of grilled avocado! Enjoy!