A little Cajun flavour to spice up the grill! This recipe is a fun twist on a traditional gumbo, using the gumbo as a garnish to top off the bun alongside our Andouille Sausage.
Ingredients
1 pkg Grimm's Andouille Sausage (4 sausages)
4 brioche buns
2 tbsp olive oil
2 small bell peppers, cored and diced (yellow, red or green bell peppers)
2 stalks celery, diced
1 jalapeño pepper, seeded and finely chopped
1 white onion, diced
3 garlic cloves, minced
1 can crushed tomatoes (398 ml)
3-4 cups chicken stock
1 1/2 cups uncooked long-grain white rice
2 tbsp Cajun seasoning
1 tsp dried oregano, crushed
1/4 tsp cayenne pepper
1 bay leaf
454 g raw large shrimp, peeled and deveined
salt and freshly ground black pepper
Garnishes
sliced jalapeño rounds
chopped fresh parsley
thinly-sliced green onions
hot sauce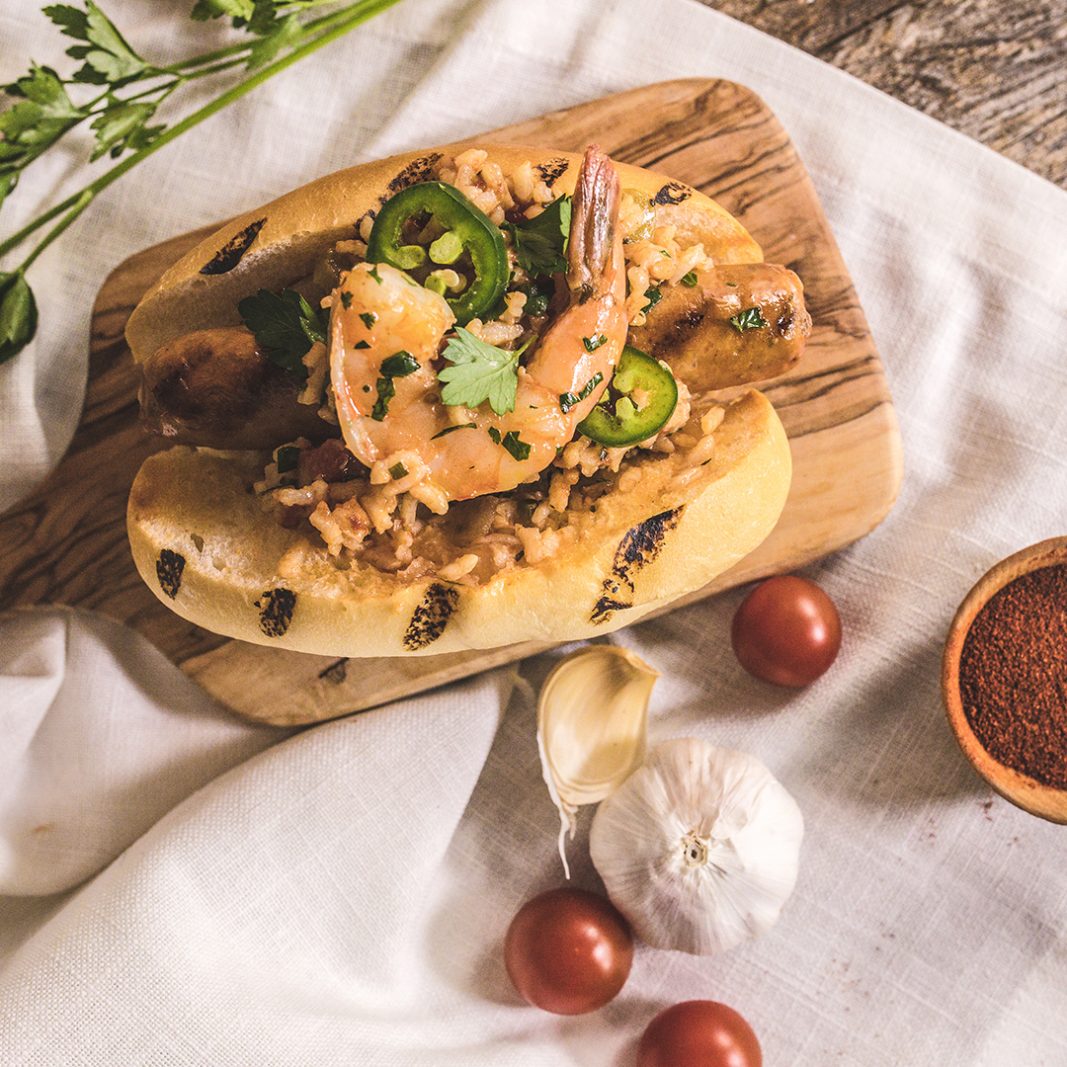 Preparation
Heat 2 tbsps of olive oil in a stockpot or a large, deep sauté pan over medium high heat.
Add the bell peppers, celery, jalapeño, onion, and garlic. Sauté for 6 minutes, occasionally stirring, until the onions are transparent.
Add the crushed tomatoes, chicken stock, rice, oregano, cayenne, bay leaf, and any other Cajun seasoning you may have on hand and stir to combine. Continue cooking until the mixture reaches a simmer, then reduce heat to medium-low, cover and simmer for about 25-30 minutes, stirring about every 5 minutes so the rice does not burn.
While your gumbo is simmering, cook the andouille sausages on a grill pan or outdoor BBQ. If you do not have a grill, fry the andouille sausages in the pot or pan you are using for the gumbo between steps 1 and 2. The flavour from the sausages will enhance your gumbo.
Once your rice is nearly cooked through, add the shrimp and stir to combine. Continue to simmer, occasionally stirring until shrimp is pink and fully cooked. Discard the bay leaf.
Season the gumbo with salt and pepper to taste, then remove from heat.
Place the andouille sausage on the brioche bun and spread a generous spoonful of gumbo over top and garnish with jalapeño, parsley, green onions and hot sauce. Serve the remaining gumbo on the side.