The heartiness of our Original Bavarian Smokie and refreshing cucumber salad is a unique flavour combination and a quick recipe for weekday meals.
Ingredients
1 pkg Grimm's Bavarian Original Smokies
2 English long cucumbers
¼ cup red onions, thinly sliced
¼ cup Greek plain yogurt
1 tbsp mint, chopped
2 tbsp flat leaf parsley, chopped
1 tbsp lemon juice
zest of 1 lemon
4 Grimm's Tortillas
½ tsp sumac
½ tsp cumin, fresh ground
salt and pepper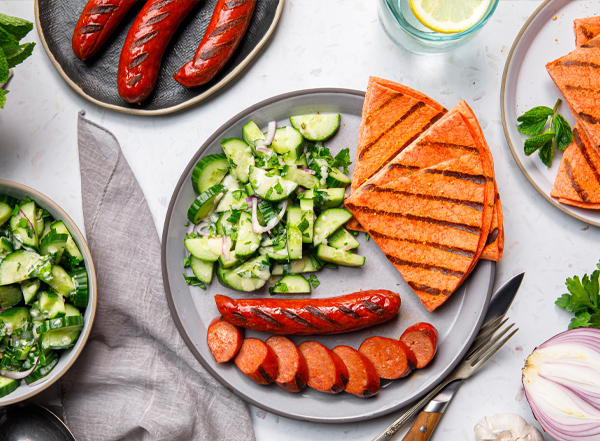 Preparation
Preheat Grill
In a small bowl combine yogurt, garlic, lemon juice, lemon zest, and 3 tbsp olive oil. Set aside for dressing the cucumbers.
Cut cucumbers in half and then slice into half-moons. Put cucumbers in a bowl with red onions, mint, and parsley. Now toss with yogurt dressing.
Grill Bavarian Original Smokies until hot and slightly charred on the outside. Also, warm tortillas on the grill. When tortillas are warm, brush with olive oil and dust with sumac and cumin. Fold into quarters.
Place the cucumber in a pile, place smokie next to the salad and finish with warmed tortilla.