Nothing beats a homemade meal made with love and this heart-shaped Bratwurst & Feta Phyllo Pie by ZimmysNook is bursting with it.
Ingredients
3 Grimm's Fine Foods Bratwurst Sausage (8 oz – casing removed)
3/4 cup Feta Cheese, crumbled
3 small leeks – white part only (rinsed, dried & diced – approximately 1 1/2 cups)
1 small red onion, diced
salt & freshly and ground pepper
2 tbsp olive oil, divided
1/2 cup roasted pickled red pepper, diced
1/2 cup ricotta cheese
1 egg
1 tbsp fresh oregano, finely chopped
12 sheets phyllo dough, thawed
1/2 cup butter, melted
1 egg
1/3 cup plain Greek yogurt
10 inch loose bottom heart pan (or 9 inch loose bottom round tart pan)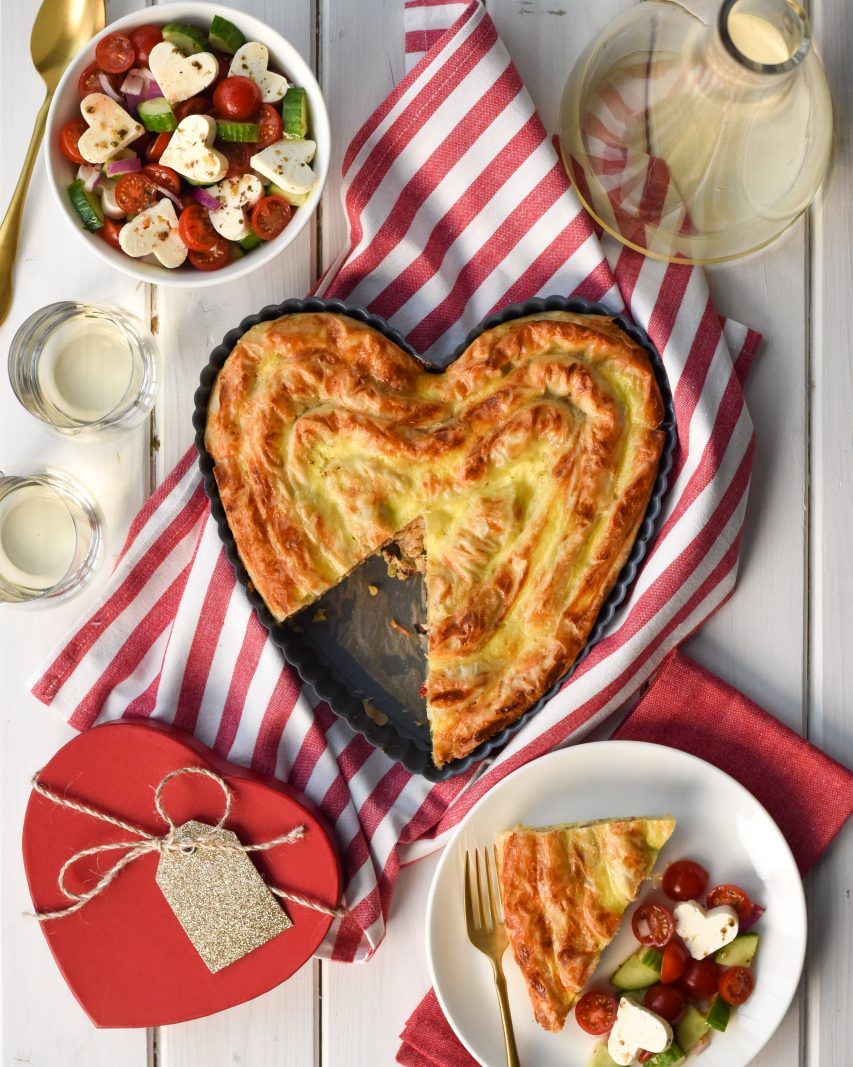 Preparation
In a pan over medium heat, add 1 tbsp olive oil, the chopped onion and leeks. Sprinkle with a little salt & pepper, then cook until soft and slightly golden. Add red pepper and mix to combine and cook (about 1 minute). Remove to a small sheet pan to cool.
In the same pan, over medium heat, add 1 tbsp olive oil and Grimm's Bratwurst Sausages. Using a spatula, break the sausages into little pieces and cook for 5 to 7 minutes until browned. Move the sausage to a plate lined with a paper towel to drain fat, then add the sausage to the vegetables.
In a small bowl, beat 1 egg, then add oregano and ricotta. Whisk until smooth, add Feta Cheese and mix to combine.
Pour the cheese mixture over the sausage and vegetables and combine.
The filling is complete.
Preheat oven to 375°F.
Prepare the baking pan, with a piece of parchment, cut to fit the bottom of the pan.
Lay a piece of phyllo on the work surface (length laid out left to right); using a pastry brush, lightly coat with butter, and then add the 2nd sheet of phyllo and brush the edges lightly with butter. Spread 1/6 of the filling straight across the phyllo near the edge of the sheet. Roll loosely up into a tube. Place the tube down one edge of the heart-shaped pan (if using a round pan, form into a tight swirl and place in the centre of pan). Continue brushing, filling and rolling, place all the rolls as you make them into the pan from the outside in (for a round pan, continue to swirl from the inside out).
In a small bowl, mix 1 egg and the yogurt together until smooth. Drizzle, the mixture over the pie and use a pastry brush to spread it evenly over the phyllo.
Bake at 375°F until golden brown (30-40 minutes).  Use tin foil to cover the edges if they begin to brown too quickly.
Perfect to make ahead of time and reheat before serving.