MasterChef Canada Finalist Chanelle Saks brings the holiday spirit to your household while turning the common charcuterie into edible art! Personalize your charcute-wreath by adding your family favourites to this decorative Holiday meat, cheese and veggie tray.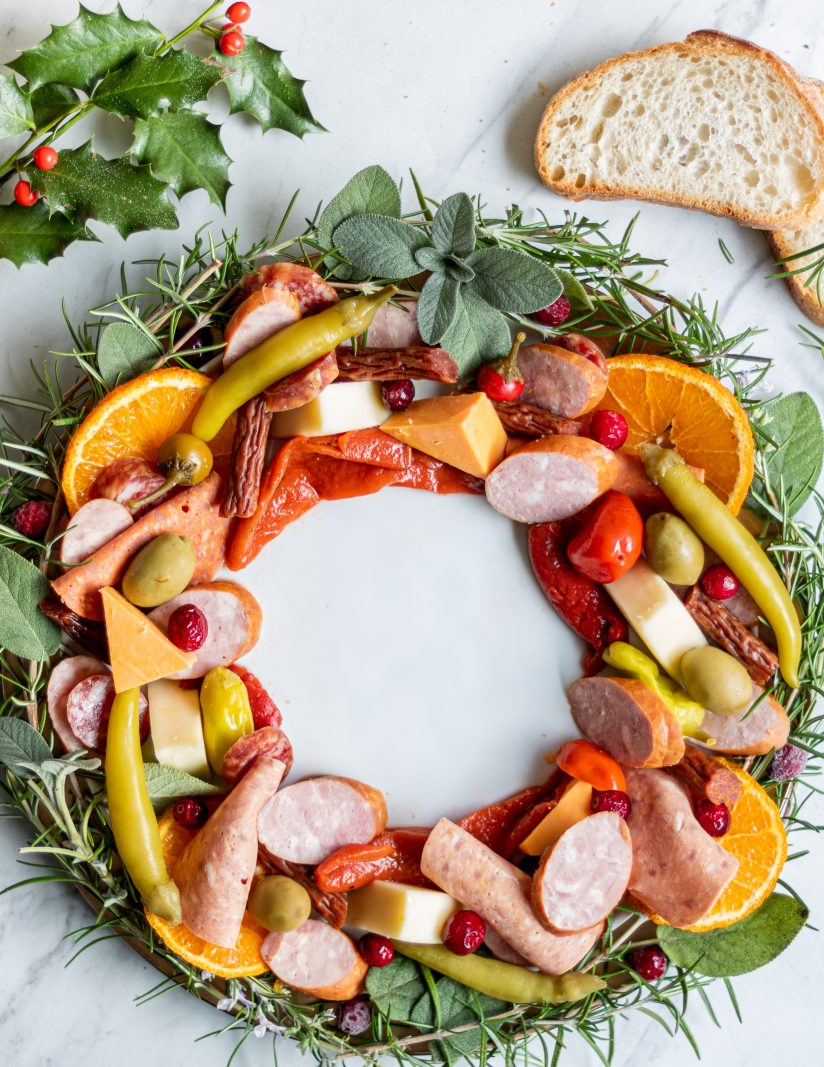 What You'll Need
Two plates, one slightly larger than the other by an inch or two (if you have a charger and a dinner plate, that works great too!)
Ingredients
Grimm's Pepperoni sticks, salami, sausage ring (any variety), chopped on an angle
Old cheddar cheese and mozzarella cheese, chopped into triangles
A large handful of rosemary, about 8-10 large stems (thyme would also be a lovely addition if you have on hand)
Handful of sage leaves
4 Orange slices
Pickled & preserved things: roasted red peppers, dill pickles, olives, and beans
Fresh or frozen cranberries for garnish
Assembly
Start by layering your two plates, the inch difference in plate sizes will create a ledge so the herbs can be slightly tucked in. Cover the "ledge" entirely with herbs and don't be shy! This is what really gives it that wreath look so you'll want to use a lot of herbs. Next, add the orange slices, one per 'corner'.
Next, start by adding one variety of meat at a time so that they can be evenly distributed. Once the meat has been added, add the cheese followed by the pickled and preserved foods. Reserve any longer ingredients (such as roasted red peppers) for the end so that you can shape into the inner circle, creating the wreath centre.
Top with cranberries and enjoy!