Ingredients
1 1/2 pkgs Grimm's Chorizo Sausage (450 g), cut
1/2 cup Grimm's Double Smoked Side Bacon, diced
908 g lean ground beef 
3 cans of kidney beans, rinsed
2 cans of diced tomatoes 
1 can tomato sauce
1 can tomato paste
1 yellow onion, chopped
3-4 stalks of celery, chopped
1 green pepper, chopped
1 yellow pepper, chopped
1 orange pepper, chopped
2 green chilies, chopped
4 cubes beef bullion
1/4 cup beer
1/4 cup chilli powder
1 tbsp Worcestershire sauce
1 tbsp garlic, minced
1 tbsp oregano 
2 tsp cumin
2 tsp Tabasco 
1 tsp basil
1 tsp salt
1 tsp cayenne 
1 tsp smoked paprika 
1 tsp sugar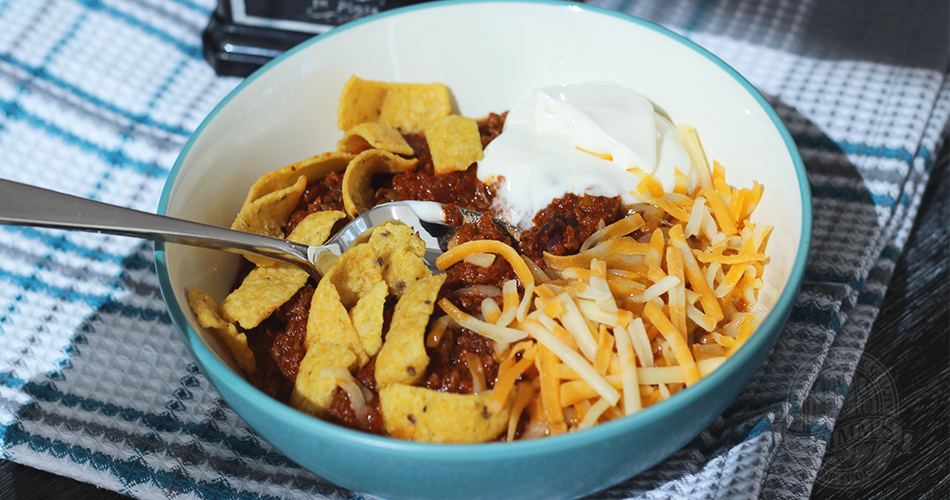 Preparation
Sauté ground beef and Chorizo with half the amount of spices. Place in pot 
Chop vegetables and sauté with green chilies and garlic. Place in a pot with remaining spices.
Chop bacon into small pieces, fry, drain and add to the pot.
Add kidney beans, diced tomatoes, tomato sauce and paste.
Add bullion, beer, Worcestershire, Tabasco, and sugar.
Bring to a boil.
Reduce heat and let simmer 2 hours.
Serve with corn chips and a dollop of sour cream.