This recipe is a true Canadian feast. Featuring a maple glazed sweet potato, our Double Smoked Side Bacon, and cheese curds on top of our naturally smoked Sizzlin' Wiener.
Ingredients
1 pkg of Grimm's Sizzlin' Wieners (8 pieces)
8 slices Grimm's Double Smoked Side Bacon
8 whole-grain hot dog buns
1 large sweet potato (or 2 medium sweet potatoes)
1 tbsp olive oil
1/2 tsp smoked paprika
coarse sea salt (to taste)
freshly cracked black pepper (to taste)
1 tbsp maple syrup
Garnishes
cheese curds
kale
honey mustard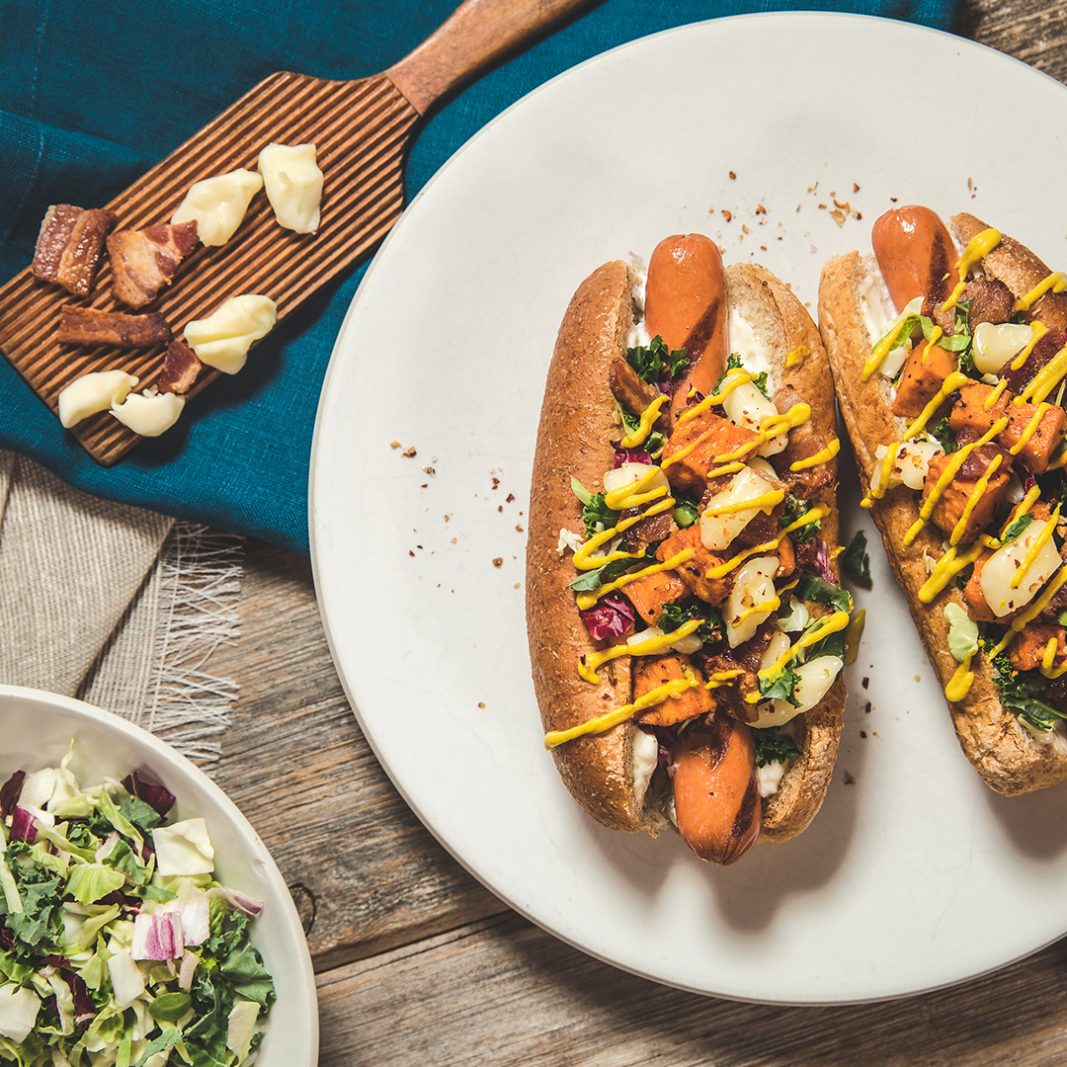 Preparation
Preheat oven to 400°F. Line a baking sheet with parchment paper. Wash sweet potatoes and dice into 1/2 inch size cubes. You can leave the peel on, or peel your potatoes if you prefer.
In a large bowl, toss the sweet potato cubes with olive oil and smoked paprika until evenly coated. Spread the sweet potatoes on the lined baking sheet, so they are not touching.
Roast the sweet potatoes for approximately 35 minutes, stirring every 10 minutes or so, until done. They should be crispy on the outside, but soft on the inside.
While the sweet potatoes are in the oven, fry the Double Smoked Side Bacon in a pan and grill the wieners.
After pulling the sweet potatoes from the oven, glaze with maple syrup, and season with salt and pepper to taste.
Assemble the wieners with roasted sweet potatoes, bacon, cheese curds, and garnish with kale. Serve with drizzled honey mustard on top.