Ingredients
1 pkg Grimm's Original Bavarian Smokies, sliced in to rounds
2 cups potatoes, diced
1 cup carrots, diced
1/2 cup celery, sliced
1 cup frozen green peas
1 medium onion, chopped
3 garlic cloves, minced
1 1/2 cup chicken stock
1 cup milk
2-3 tbsp olive oil
4 tbsp all-purpose flour
3 tbsp butter
2 tubes refrigerated biscuits dough (340 g each) or make your own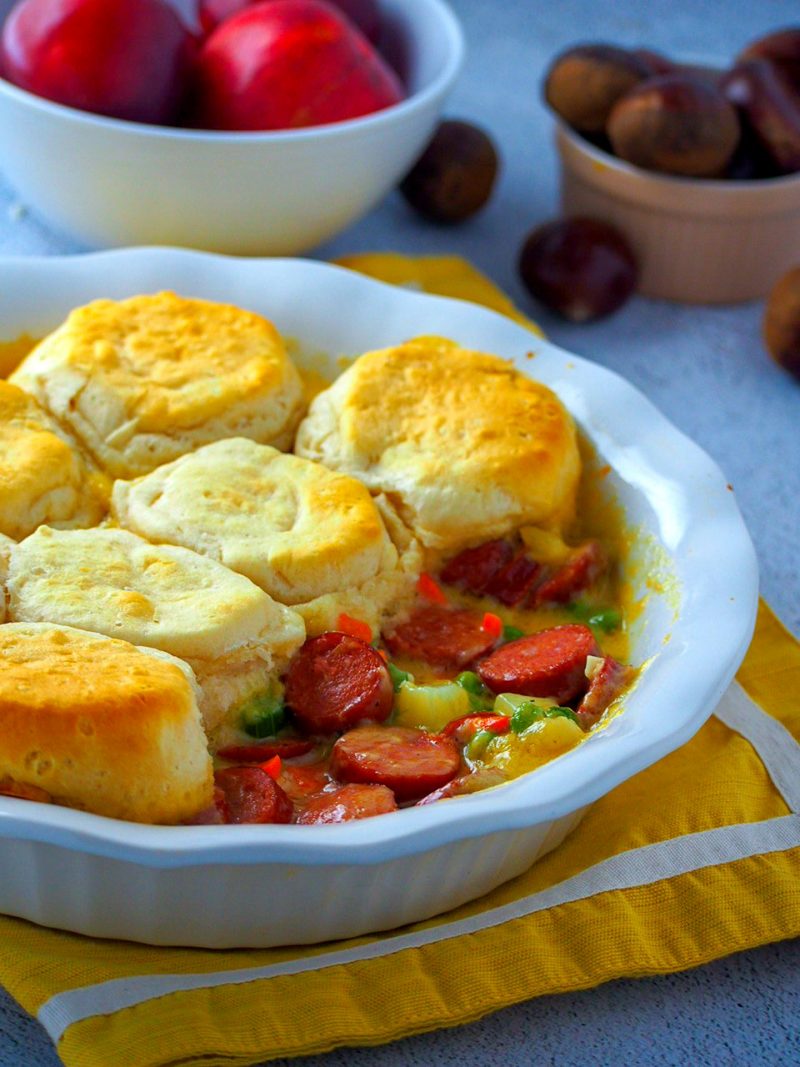 Preparation
Preheat oven to 400°F. Heat 2 tbsp of olive oil in a wide pan and cook the sliced Bavarian Original Smokies until they are lightly browned. Transfer to a plate and set aside.
To the same pan, sauté the garlic and onion until they are soft. Add more oil if needed and cook the potatoes, celery, and carrots until the carrots and potatoes are fork-tender. Add the butter to the skillet and stir it into the vegetables. When the butter is bubbly, add in the flour and keep stirring until no white streaks remain.
Once the flour has turned slightly brown, gradually pour in the chicken stock and the milk. Stir constantly until the liquid bubbles and thickens. Add the cooked smokies back to the pan with the peas. 
Stir everything for a few minutes more. Turn off heat and evenly divide the filling mixture into two 9 inch pie plates. Top with rounds of biscuits and bake for 20-25 minutes, or until the biscuits are golden and the sauce is bubbly.