Take the stress out of preparing a holiday meal with this flavourful recipe by Chanelle Saks.
The herb-apple dressing pairs beautifully with the sweetness of our Honey & Maple Ham.
Ingredients
2 Grimm's Honey & Maple Ham Halves (800 g each)
2 tsp maple syrup
1 chicken bouillon cube
1/4 cup unsalted chicken stock
1/4 cup hot water
 7 tbsp butter (divided)
1 large yellow onion, chopped
2 cups celery (about 5-6 stalks), chopped
4 cups apples, cubed (Ambrosia or similar variety)
2 cups white mushrooms, sliced
2 tbsp fresh sage, chopped
3 tbsp fresh curly parsley, chopped
1 tbsp fresh rosemary, chopped
1 tbsp fresh thyme, chopped
1 large firm baguette (about 7-8 cups, cubed)
salt and pepper to taste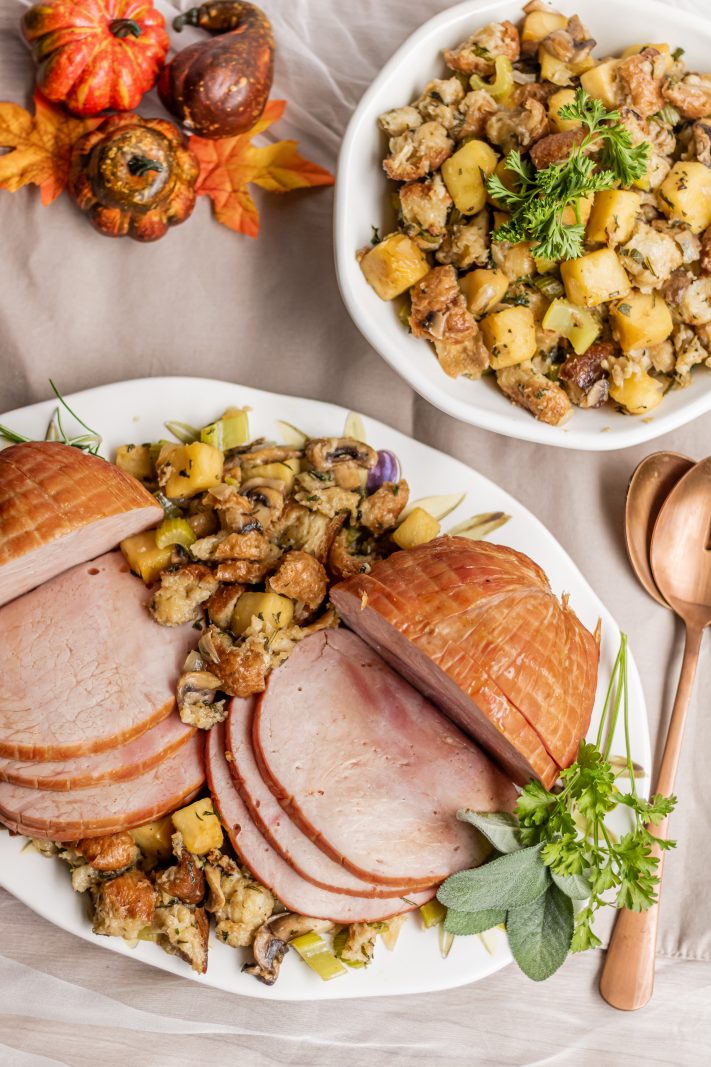 Preparation
Preheat the oven to 350°F.
In a small bowl, mix together the hot water and chicken stock and dissolve the bouillon cube into this mixture. Pour this into the base of a roasting pan and place a roasting rack over top. Place the hams in the centre of the rack, drizzle with the maple syrup and cover with foil.
Place in the preheated oven for about 25-30 minutes, or until the hams are warmed through. Baste hams halfway in order to keep from drying out.
Meanwhile, start on the dressing. Cut the bread into roughly 1/2 inch cubes, place in a large mixing bowl and set aside. Cut the apples into roughly the same size cubes and set aside separately. Slice the mushrooms and dice the onions and celery, set aside. Roughly chop the herbs and set aside.
Melt 4 tbsp butter in a large heavy skillet over medium high heat. Add onions and celery; sauté until tender and beginning to brown, about 10 minutes. Season (sparingly) with salt and pepper. Add apples and sauté until tender and beginning to brown, about 10 minutes. Add mushrooms and sauté until tender, about 3 minutes. Add the bread cubes to the mixture and mix gently until well incorporated, reduce to low heat.
Meanwhile, in another pan, melt 3 tbsps of butter in a skillet on medium heat. Once melted, add the herbs and sweat (on low heat) for about 5 minutes, until fragrant. Remove from heat and pour over the bread mixture, mixing everything together over low heat. Cover.
Remove the ham from the oven and allow to rest for a few minutes. Immediately pour the liquid from the pan over the dressing and cook covered for 5 minutes or until all the liquid has been absorbed.
Slice ham and enjoy immediately!