This sweet and tangy baked ham with Asian-inspired flavours will please any holiday crowd.
Ingredients
1 Grimm's Festive Ham Half
1/2 cup brown sugar, packed
1/4 cup prepared tamarind paste
1/4 cup pineapple juice
2 tbsp fresh ginger, minced
2 whole star anise
1 Thai chili pepper, minced
500 g Brussels sprouts, halved
4 shallots, halved
2 tbsp canola oil
2 garlic cloves, minced
1 tsp soy sauce
1 tsp sesame oil
1 tsp honey
1/4 tsp each salt and pepper
1/2 cup toasted cashews
1/2 tsp lime zest
2 tbsp lime juice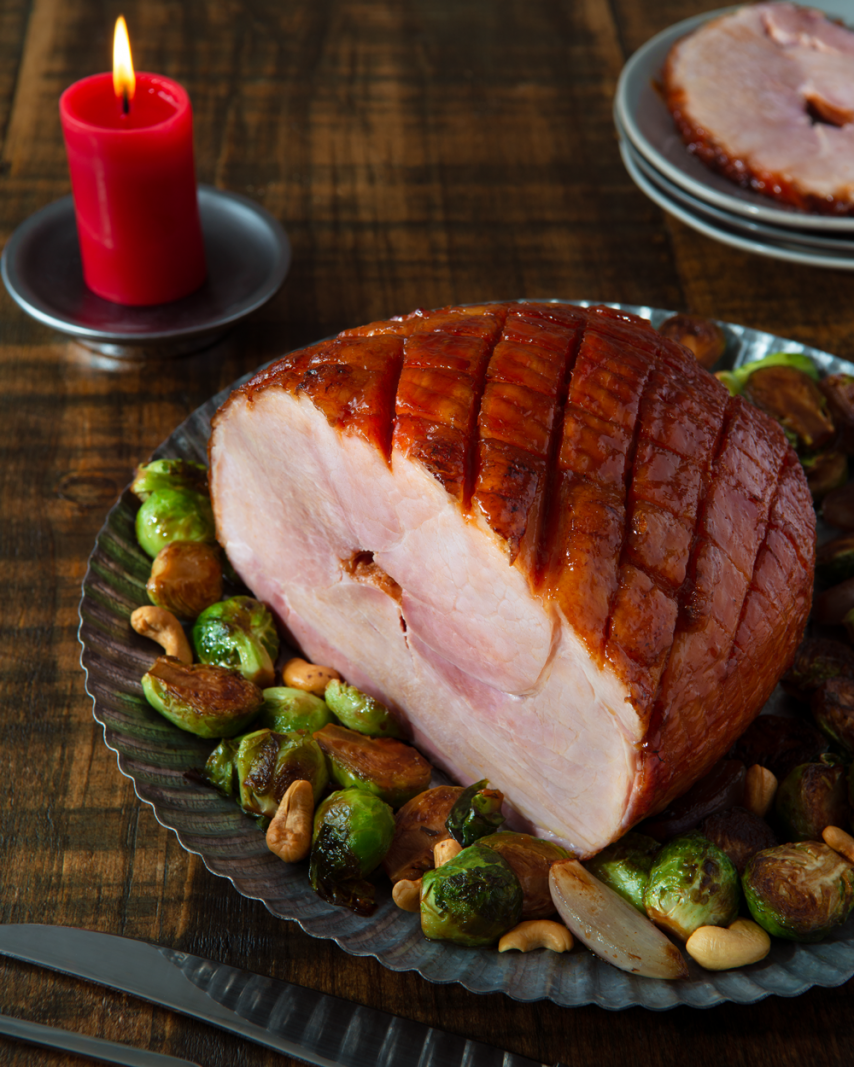 Preparation
Preheat oven to 350˚F. Let ham stand at room temperature for 20 to 30 minutes.
Meanwhile, combine brown sugar, tamarind paste, pineapple juice, ginger, star anise, and Thai chilli in a small saucepan set over medium heat. Bring to a simmer. Cook for 3 to 5 minutes or until sugar dissolves and the mixture is syrupy. Let cool and set aside.
Score top of ham into 1 inch diamond pattern. Place in roasting pan fitted with a rack. Add 1 cup of water to the pan. Cover with heavy-duty foil and bake in the lower third of the oven for 1 to 1 1/2 hours or until internal temperature reaches 110˚F, adding more water if the pan is dry.
Uncover ham and brush with some of the tamarind-ginger glaze. Bake, brushing with glaze every 10 minutes, for 30 to 40 minutes until internal temperature reaches 140˚F. Let stand for 15 minutes before slicing.
Meanwhile, increase oven temperature to 425˚F. Toss together Brussels sprouts, shallots, canola oil, garlic, soy sauce, sesame oil, honey, salt, and pepper. Arrange in a single layer on a parchment paper-lined baking sheet. Roast for 15 to 20 minutes or until tender. Toss with cashews, lime zest, and lime juice. Serve with ham.