With rich homemade bread, creamy Manchego cheese and our flavourful Chorizo Sausage, this impressive breakfast wreath is a showstopper for breakfast or brunch.
Ingredients
Dough
1 cup 2% milk, warmed
2 tbsp granulated sugar
1 pkg active dry yeast (8 g)
3 cups, plus 2 tbsp all-purpose flour
1 tsp salt
1/3 cup unsalted butter, softened
2 egg yolks
Filling
3 tbsp olive oil
2 pkgs Grimm's Chorizo Sausage, casing removed
2 tbsp fresh rosemary, finely chopped
2 tbsp fresh parsley, finely chopped
2 cups Manchego cheese, grated
1 egg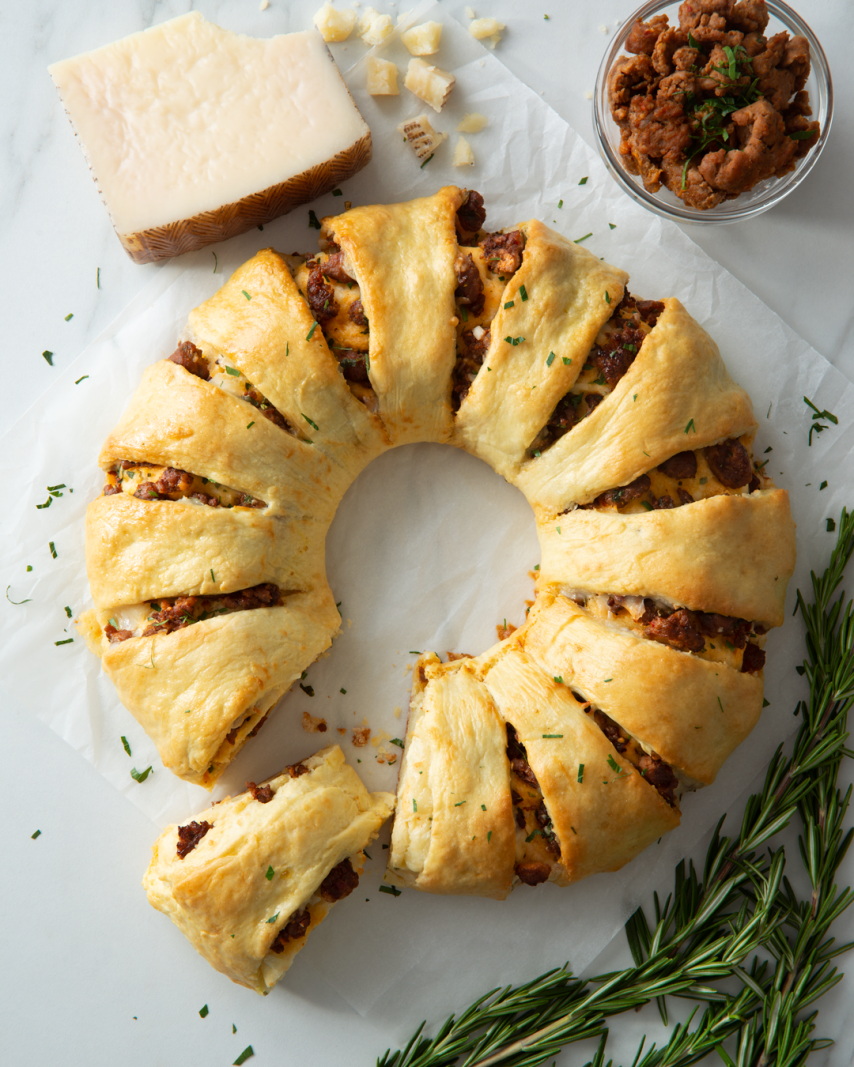 Preparation
Dough
Combine warm milk, sugar, and yeast. Let stand for about 10 minutes or until foamy. Mix in flour and salt.
In a large bowl, combine flour mixture, butter, and egg yolks until a shaggy dough starts to form. The dough will be soft (if too sticky, add up to 2 tbsp extra flour as needed). Transfer to lightly floured work surface, then knead for 8 to 10 minutes or until smooth and elastic.
Place dough in a greased bowl. Cover and let rise for 60 to 90 minutes or until doubled in volume.
Filling
Meanwhile, heat oil in a large skillet set over medium heat and cook chorizo and rosemary for 8 to 10 minutes or until browned and cooked through. Let cool completely. Stir in parsley.
Preheat oven to 375˚F. Line rimless cookie sheet with parchment paper and set aside. Lightly beat together egg and 1 tbsp water.
Roll out dough on a lightly floured surface into 17 x 11 inch rectangle, about 1/4 inch thick. Scatter Manchego cheese and chorizo over the top, leaving 1/2 inch border. Starting from the long end, roll up tightly into a log. Pinch ends of the log and seal together to form a ring. Transfer to cookie sheet.
Without cutting all the way through and keeping ring intact, make 12 cuts into the ring at 1 inch intervals, starting from the outer edge. Gently pull and twist cut pieces to reveal pinwheel filling.
Cover dough and let stand for 45 to 60 minutes or until doubled in size. Bake for 20 to 30 minutes or until golden brown.