You'll need to fire up the grill for this one. Toronto food blogger and barbecue aficionado, James Synowicki (zimmysnook), takes our Festive Ham to the grill with a mouth-watering cranberry maple glaze.
Ingredients
1 Grimm's Festive Ham (4.5 – 6.8 kg)
3 fresh rosemary sprigs
Cranberry Maple Glaze
1/2 cup cranberry juice
1/2 cup orange juice
3/4 cup pure maple syrup
2 cups fresh cranberries
1/4 cup dijon mustard
1 tbsp rosemary, chopped
Jalapeño Cranberry Sauce
2 jalapeño peppers, seeded & diced (or keep seeds for extra heat!)
1/2 tsp kosher salt
1/2 cup brown sugar
1/4 cup granulated sugar
1/2 cup orange juice
1/2 cup water
1 tsp orange zest
3 cups fresh cranberries
Garnish
orange slices
pomegranate
rosemary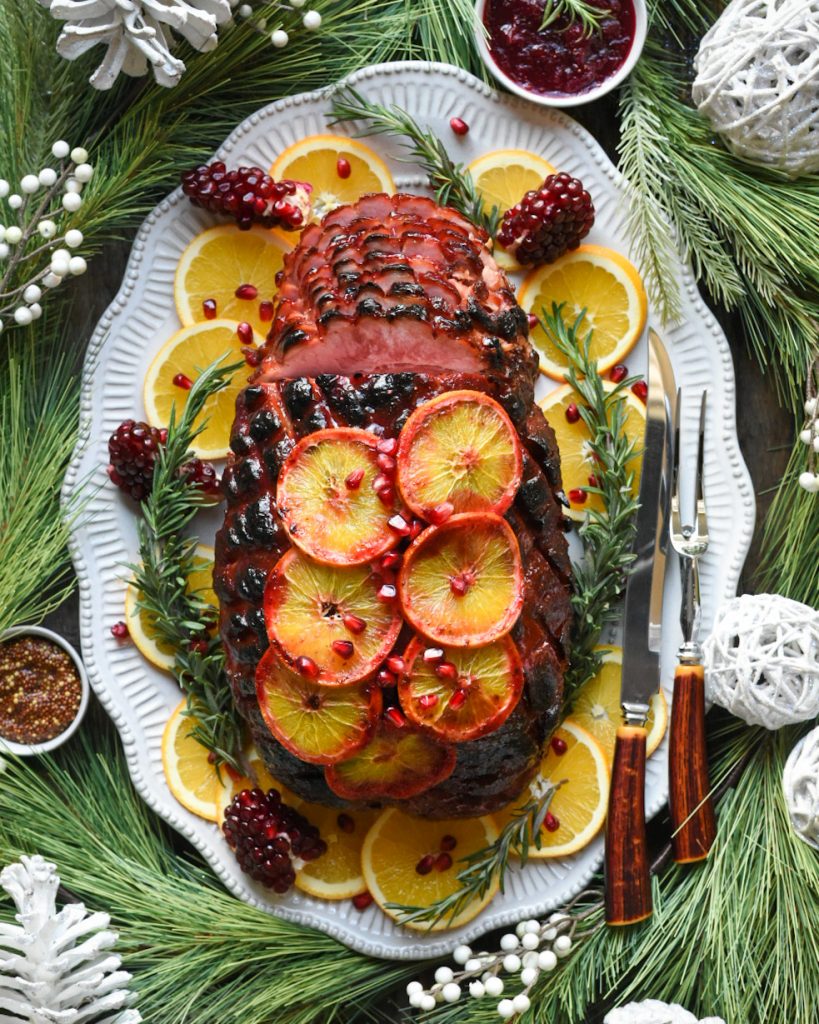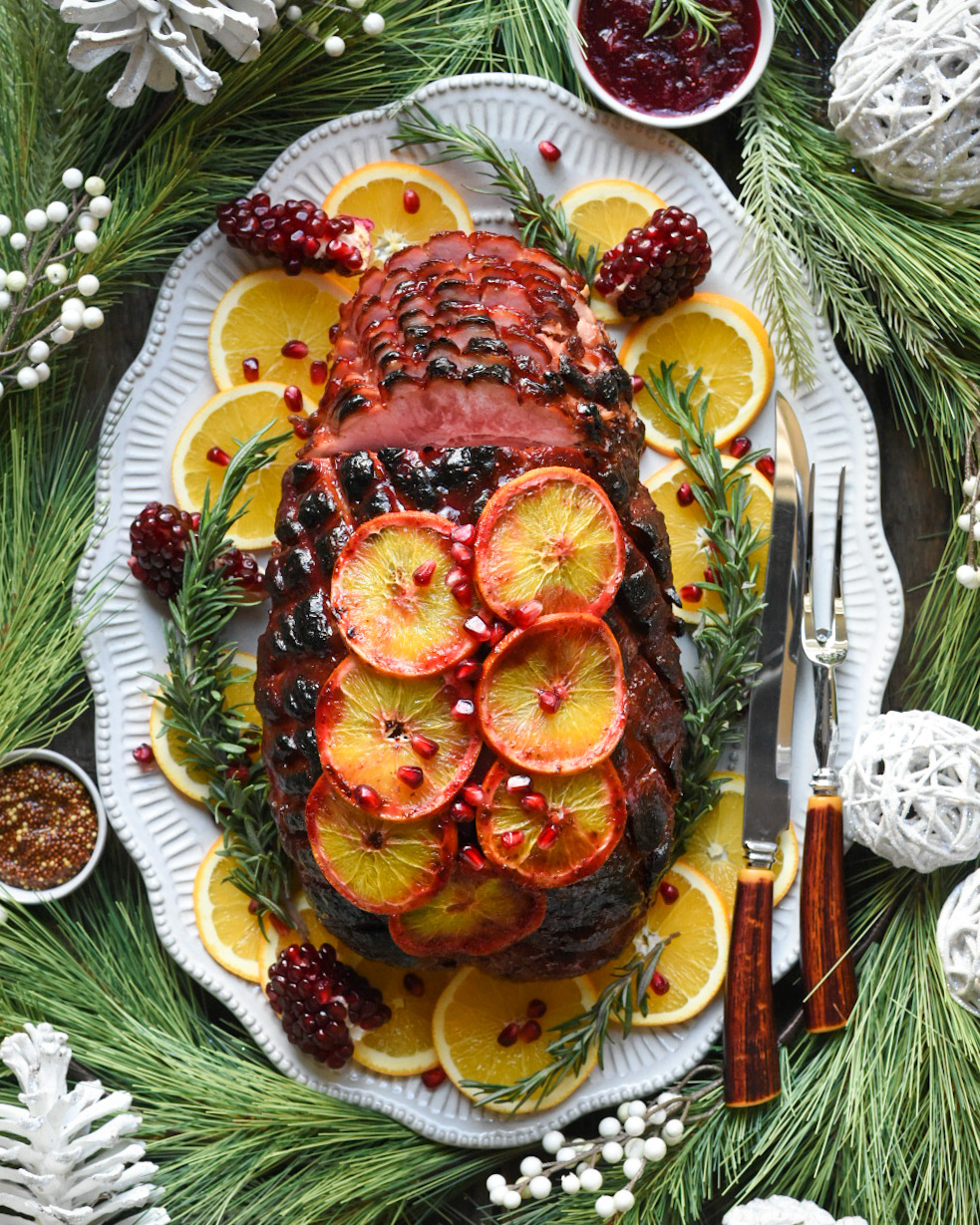 Preparation
Ham
Unwrap ham and let it sit at room temperature for 30-60 minutes. To prepare the grill for indirect cooking, place a shallow roasting pan under the portion of the grill that will not have direct heat. Pour 2 cups of water into the pan, add a few orange slices, and a few fresh rosemary sprigs. Preheat the grill to 325°F.
Score the ham fat with a sharp knife in a 1-inch crosshatch pattern without cutting through to the meat. Place the ham, fat-side up, directly on the grill above the roasting pan.
Bake for 2 – 2 1/2 hours, until a thermometer inserted into the ham registers at 110°F, 2 to 2 1/2 hours, adding another 1 cup water to the pan if the liquid evaporates. While the ham is baking, prepare the glaze (recipe below).
Combine all the ingredients of the cranberry maple glaze in a small bowl and mix well. Brush the glaze over the entire ham.
Continue cooking for 1 1/2 – 2 hours, brushing with the glaze twice, until the glaze caramelizes and the thermometer registers 140°F (total cooking time will be 15-18 minutes per pound). For a beautiful presentation, at 40 minutes before completed cooking time, arrange 6-8 orange slices on top of the ham and continue to cook.
Transfer the ham to a cutting board or platter and let rest 15-20 minutes. Carefully remove the grill grate, strain the remaining pan juices into a saucepan and boil until slightly syrupy. Spoon the reduced pan juices over the ham and serve with any remaining glaze.
Cranberry Maple Glaze
In a saucepan on medium heat, bring the cranberries, cranberry juice, orange juice, maple syrup, and the dijon mustard to a boil for 10-15 minutes, until syrupy.
Remove from the heat and stir in the chopped rosemary. Set aside until ready to glaze the ham.
Jalapeño Cranberry Sauce
In a large saucepan on medium heat, simmer the jalapeños, salt, sugars, orange juice, water, and orange zest.
Add the cranberries and simmer for 15 minutes, stirring occasionally.
Remove from heat and cool to room temperature. Transfer to a sealed container and chill for a minimum of 4 hours before serving.