Executive Chef Josh Gale (thechefoutwest) sears our Salami Bites® and adds them to this gourmet paella bursting with clams, mussels, prawns.
The dish gets its beautiful colour from squid ink added to the crispy Calasparra rice.
Ingredients
1 pkg Grimm's Salami Bites®, cubed
1 1/2 cups short-grain rice (bomba, Calasparra or arborio)
3 cups chicken stock
1/4 cup white wine
1 garlic clove, diced
227 g clams
227 g mussels
227 g prawns
12 threads saffron
2 tbsp smoked paprika
1/3 cup greens peas
1/3 cup sun-dried tomatoes, diced
1/2 cup mayonnaise
1 lemon
Optional: 2 tbsp squid ink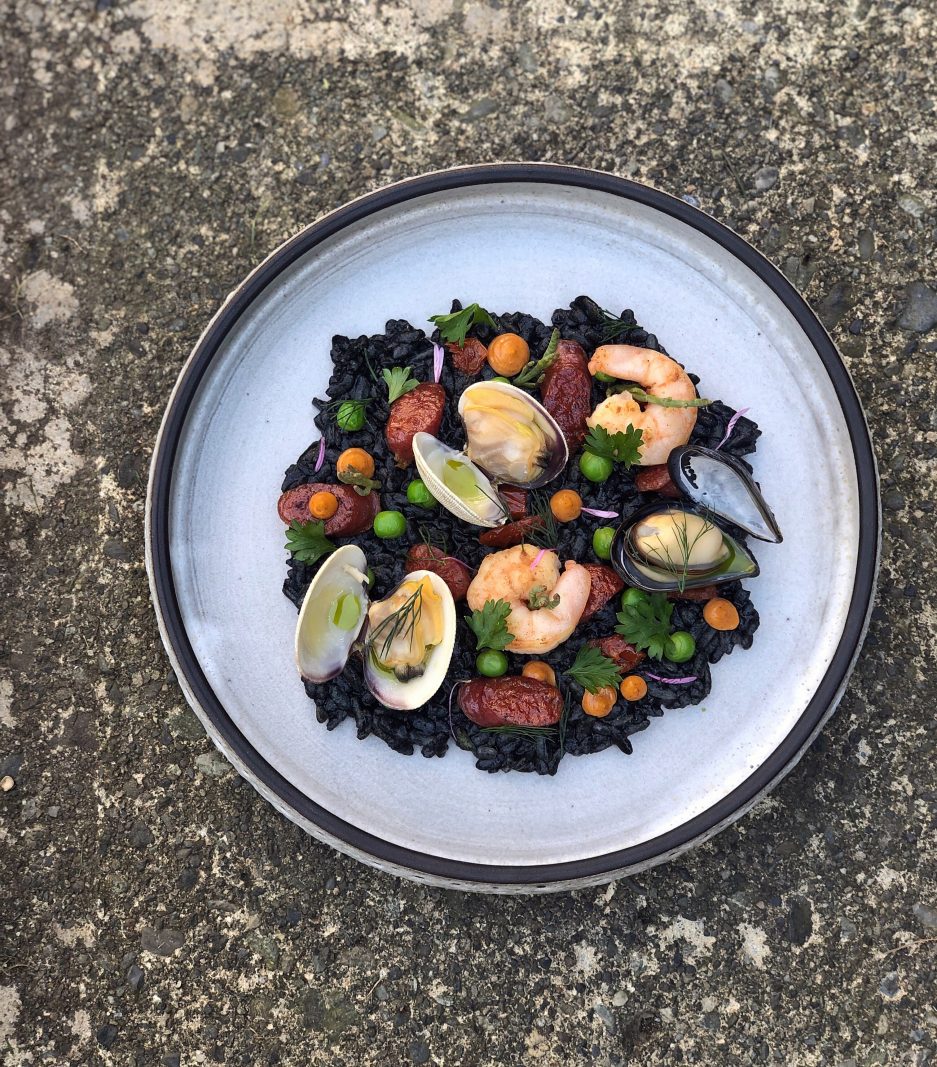 Preparation
Heat olive oil in a large cast-iron pan, sear Grimm's Salami Bites until browned and crispy. Add tomatoes, garlic, 1 tbsp paprika, and rice, sauté for 1 minute, then add white wine. Cook for 2 minutes until the wine reduces.
Pour in chicken stock and squid ink, stir to incorporate and then cook on medium heat for 20 minutes uncovered, do not stir.
To a blender, add saffron, 1 tbsp smoked paprika, and 1/4 cup of boiling water. Let sit for 5 minutes, then add mayonnaise, lemon juice, and blend.
After 20 minutes, add clams, mussels, prawns, and green peas to the paella, cover, and cook until all the shells have opened about 5 minutes.
Remove lid and continue cooking until the rice is frying and crispy. Do not stir, and serve the paella hot, in the cast iron pan it was cooked in. Enjoy!