Ingredients
1 pkg Grimm's Double Smoked Side Bacon, diced
1 large gala apple, cored and diced
1 large yellow onion, diced
2 shallots, sliced
1 tbsp dijon mustard
2 1/2 tbsp brown sugar
1/4 cup balsamic vinegar
1 shot espresso
​salt & pepper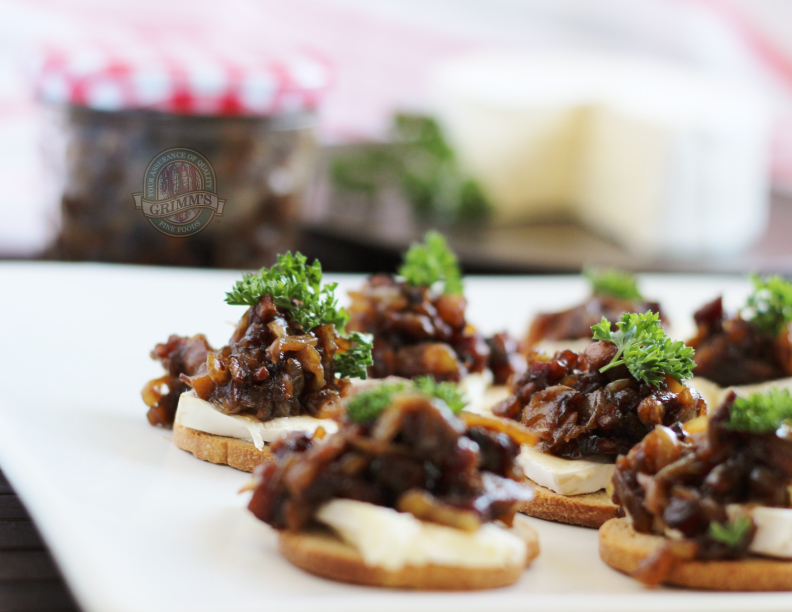 Preparation
In a large skillet, cook bacon until fat is rendered and bacon has started to crisp (about 12 minutes).
Drain all but 1 tbsp of the fat and add in remaining ingredients except for garnish.
Stir to combine the mixture, cover the pan and reduce heat to low.
Allow the flavours to cook and meld together undisturbed about 15-20 minutes.
Remove the cover, stir again and then partially cover the pan.
Continue to cook until most of the liquid is gone and the onions have achieved a deep brown colour.  The texture should start to resemble a chunky jam-like texture.
Taste the jam (try not to devour the entire batch) and add salt & pepper if necessary.
Remove the jam from the heat and allow to cool slightly.
Spoon the jam into jars, then allow to cool completely.
Serve bacon jam atop a canapé cracker with sliced brie and apple, top each with a sprig of parsley for garnish and a hit of freshness.
​Tip: Let the bacon jam come back to room temperature before use if stored in the refrigerator, this will allow the fat to dissolve back into the jam.