Saskatoon food writer and culinary enthusiast, Renee Kohlman of sweetsugarbean, created this Vietnamese classic inspired recipe with our All Beef Sizzlin' Smokies, loads of fresh ingredients and jalapeños for an added kick.
Ingredients
Quick Pickled Carrots
3/4 cup rice vinegar (or substitute for white vinegar)
2 tbsp granulated sugar
1 tsp salt
1/4 inch slice fresh ginger, sliced
227 g carrots, cut into matchsticks
Sriracha Mayo
6 tbsp mayo
4 tsp sriracha
1/2 tsp garlic powder
the rest
6 panini buns
3 mini cucumbers, sliced in quarters lengthwise
6 radishes, thinly sliced
1-2 jalapeño pepper, thinly sliced or seeded and diced
1 pkg Grimm's Sizzlin' All Beef Smokies (6 smokies), grilled
1/2 cup fresh cilantro sprigs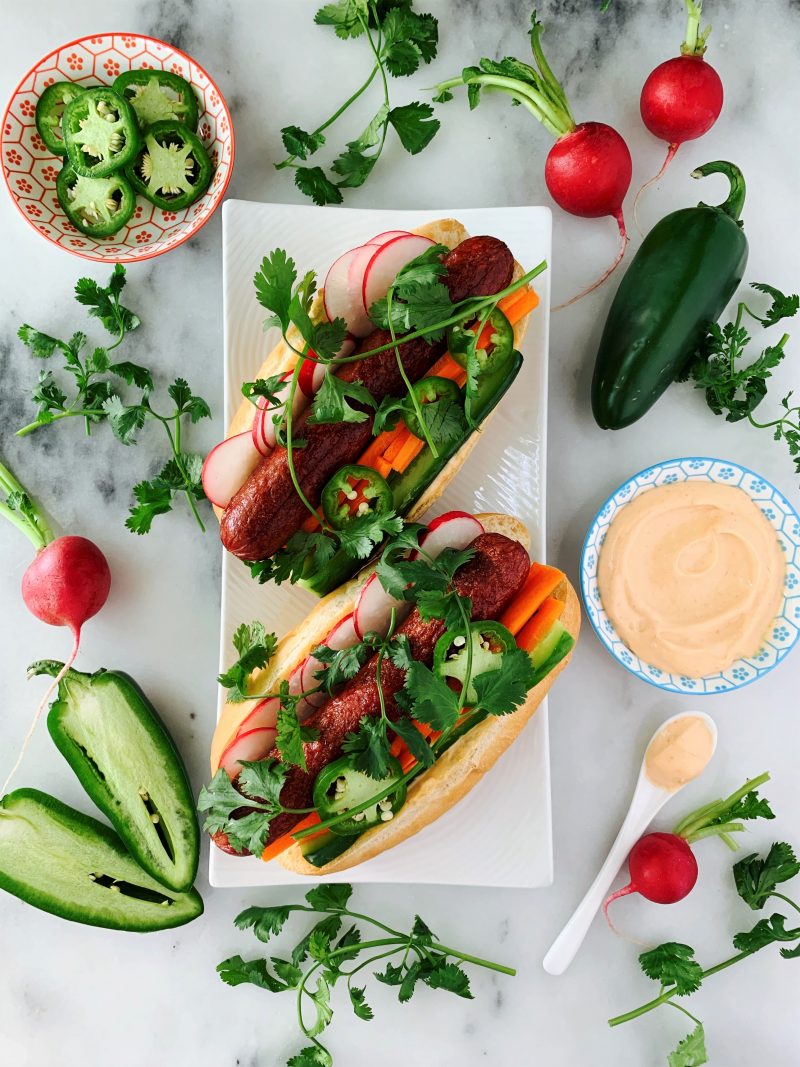 Preparation
Pickled Carrots
Combine the rice vinegar, sugar, salt, and 1/2 cup water in a small saucepan and bring to a boil while stirring often. Once sugar has dissolved, remove from heat, add the ginger, cover and set aside to let the flavours infuse.
Pack the matchstick carrots into a 1 pint (500 mL) jar, pour the brine over and seal. Allow the carrots to cool completely at room temperature before refrigerating. Ideally, let the carrots pickle for about 24 hours before eating, but if you can't wait that long, an hour or two is fine.
Sriracha Mayo
Stir together all the ingredients for the sriracha mayonnaise and set aside.
Banh Mi
Grill the smokies on a preheated grill.
Spread the sriracha mayonnaise on both sides of the bun, then add the cucumber, radishes, pickled carrots, jalapeños. Top with the grilled smokie and garnish with cilantro.