Yakisoba anyone?
Mennonite Style Sausage, crunchy vegetables, soba noodles, and a sweet and tangy soy sauce.
Ingredients
1 pkg Grimm's Mennonite Style Farmer Sausage
2 tbsp vegetable oil
1 onion, cut lengthwise and sliced into 1/4 inch pieces
1 medium carrot, julienned
2 cups green cabbage, cut into 1 inch pieces
1 red bell pepper, thinly sliced
1 bunch green onions, sliced diagonally
1 pkg soba or buckwheat noodles (454 g)
aonori (dried seaweed flakes)
pickled ginger
Yakisoba Sauce
2 tbsp Worcestershire sauce
2 tbsp ketchup
4 tbsp BBQ sauce
2 tsp brown sugar
2 tsp tamari soy sauce
freshly ground black pepper
Chow Mein steamed noodles work well if Japanese soba or buckwheat noodles are not available.
Soba/buckwheat noodles, aonori seaweed, and pickled ginger are usually found at an Asian grocery store.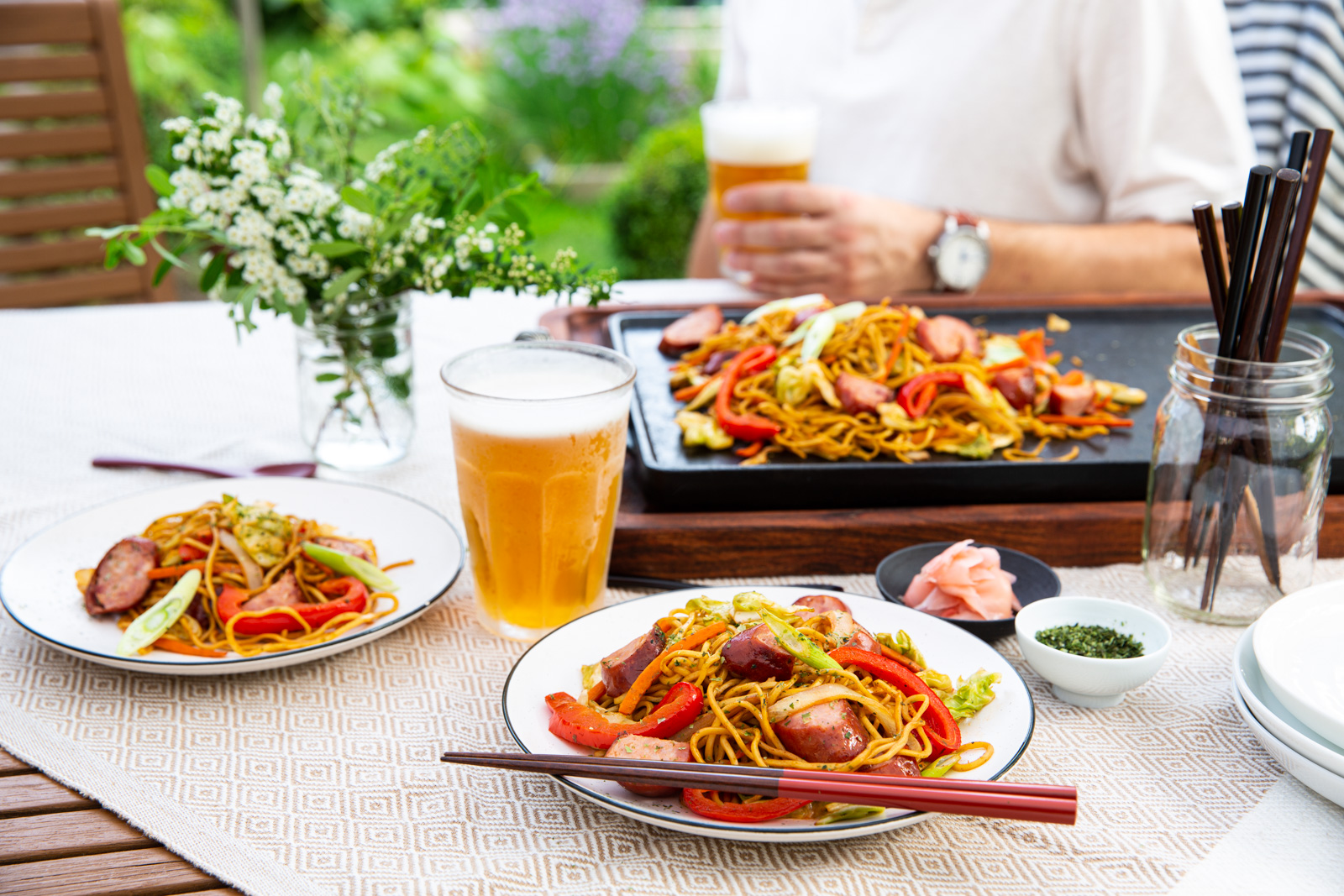 Preparation
Place all ingredients for the sauce in a small bowl and mix well. Set aside.
Cook noodles according to the package instructions. Set aside.
Score the sausage and grill over direct medium heat until browned, turning occasionally. Remove the sausage from the grill and cut into bite-sized pieces. Set aside.
Heat oil on a griddle over the grill, then saute the onions and carrots until soft. Add cabbage, bell peppers, and green onions and cook for a few minutes until cabbage becomes tender. Add a dash of water as needed to help the vegetables cook without burning. Season with black pepper.
Add the noodles and the sausage to the stir-fried vegetables and cook for a couple of minutes. Add the sauce and cook for a few more minutes while stirring well to combine the sauce and the rest of the ingredients.
Serve to individual plates. Garnish with aonori on top and pickled ginger on the side.