Our Belgian Beer and Smoked Gouda Bavarian Smokie is loaded with sour cream, grainy mustard, sauerkraut, caramelized onions, pickled beets and of course, a pierogi!
Ingredients
1 pkg of Grimm's Belgian Beer & Smoked Gouda Bavarian Smokies
5 hot dog buns
5 pierogies
several medium or large onions, yellow, white, or red
olive oil
salt
Garnishes
grainy mustard
sour cream
green onions, diced
sauerkraut
pickled beets, sliced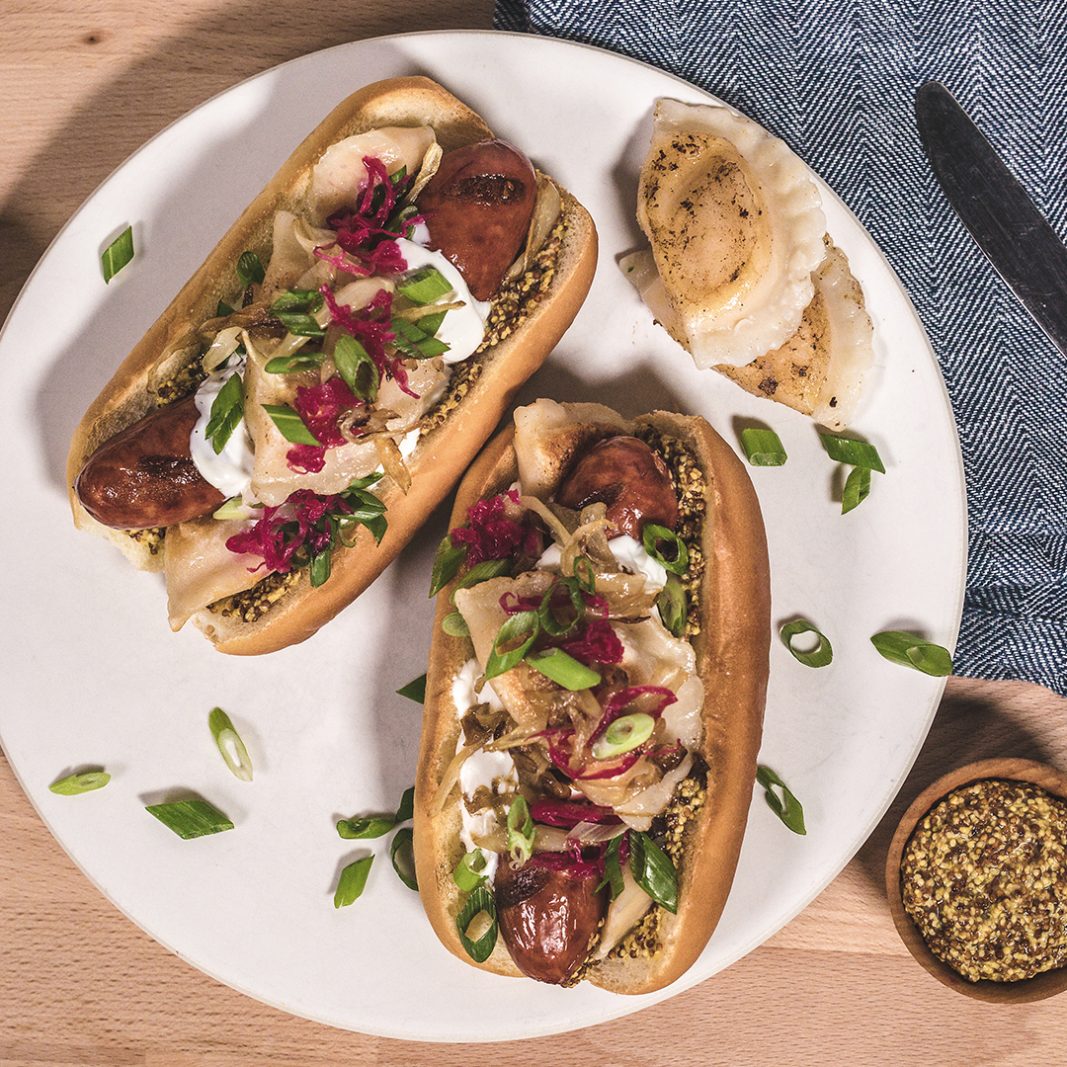 Preparation
Slice the onions in half, from tip to root, and then cut lengthwise. Tip: if you don't cut through the root end, it will help hold the onion together as you slice it.
Heat the olive oil on medium, using a thick aluminum bottom sauté pan that evenly distributes heat. Spread onion slices on the pan and let cook for 30-60 minutes. Stir occasionally and reduce the heat to medium-low if necessary, to prevent onions from burning.
Add additional olive oil if the onions begin to dry out or burn. It's essential to leave them alone long enough to brown, but not so long that they burn. Continue to cook and stir until the onions are a rich, caramelized colour.
While you are cooking the onions, bring a large pot of water to a boil, then add pierogies to the pot. Cook for 4-5 minutes, until pierogies float to the top, then remove from heat and drain.
Place smokies in a large, oiled grill pan to cook. Once the smokies begin to brown, add the drained pierogies and sauté over high heat until both the smokies and pierogies are cooked and golden in colour.
Spread the grainy mustard, then place the smokie and caramelized onions on the bun. For a dramatic and tasty smokie, top with sauerkraut, sliced pierogi pieces, sour cream, green onions, and pickled beets. Season with salt and pepper to taste.