Our spin on a traditional British meal, comfort food at it's best. Our British Banger Sausages smothered in onion and mushroom gravy on top of fluffy mashed potatoes.
Ingredients
1 pkg of Grimm's British Banger Sausage
1 medium yellow onion, thinly sliced
1 cup of cremini mushrooms, sliced
1 tbsp olive oil
2 tbsp butter
1 tbsp flour
1 1/4 cup water
1 cup beef broth
1 tbsp Worcestershire sauce
1 tbsp soy sauce
1/2 tsp freshly ground black pepper
1 cup frozen or fresh peas
2-3 large potatoes (for your favourite mashed potatoes recipe)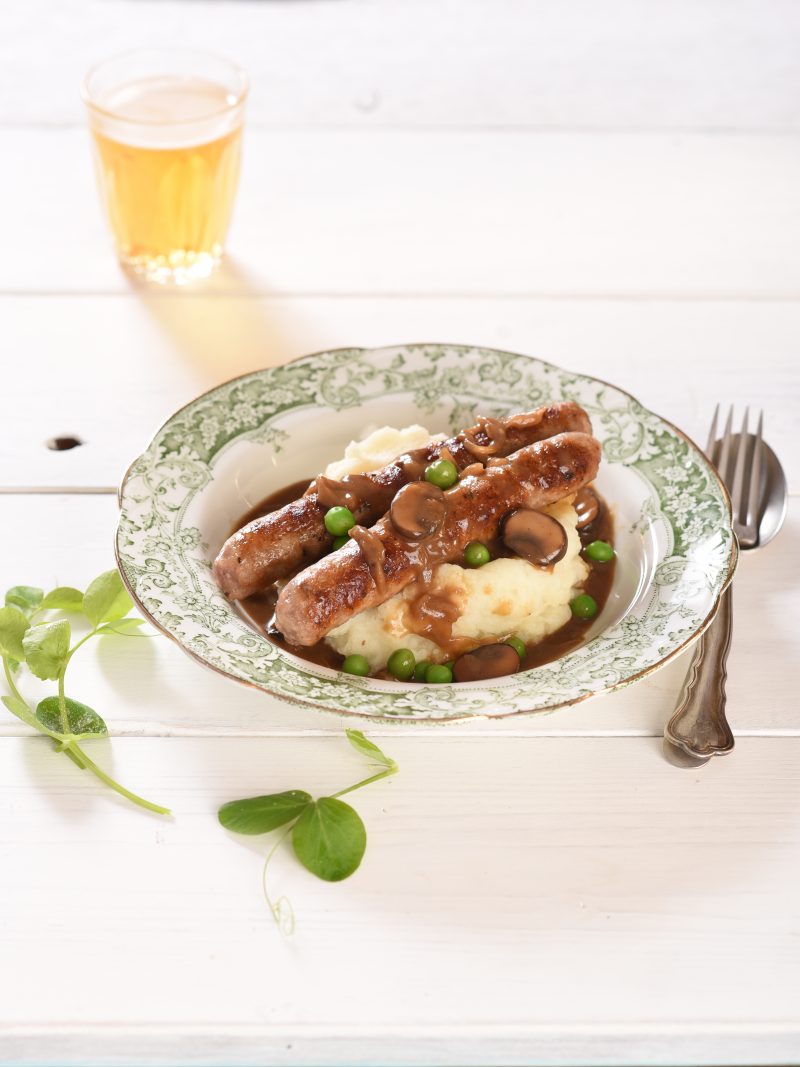 Preparation
Mashed Potatoes:
Make your favourite mashed potatoes recipe.
You can also substitute with cauliflower mash or sweet potatoes.
British Banger Sausage:
On medium heat, warm 1 tbsp olive oil and cook sausages until they are lightly crisp and golden brown on the outside.
Mushroom and Onion Gravy:
In a heavy skillet over medium heat, caramelize onion and mushrooms in olive oil & butter. Stir frequently, until browned (about 10 minutes). Add flour and stir for 1 minute.
Stir in water, beef broth, Worcestershire, soy sauce, pepper and reduce, scraping up brown bits until gravy is thickened (about 8 to 10 minutes). Add additional Worcestershire or Soy sauce to taste.
To finish, toss in a cup of fresh or thawed frozen peas and serve over the sausages and mashed potatoes.