Yes, you read that right… Bacon and Doughnuts brought to you by the talented ibake.yeg, just in time for Valentine's Day.
Ingredients
Doughnuts:
1 cup all-purpose flour
1/2 cup brown sugar
2 tbsp cocoa powder
1/2 tsp baking soda
1/4 tsp salt
3 tbsp melted unsalted butter
1 egg
1/2 cup buttermilk
1 tsp vanilla
1 tsp red food colouring
Doughnut Glaze:
2 1/2 oz cream cheese
2 1/2 tbsp butter (room temperature)
1 cup powdered sugar
1/2 tsp vanilla
1 tbsp cream or milk
Candied Bacon:
4 thick strips of Grimm's Double Smoked Side Bacon
4 tbsp of brown sugar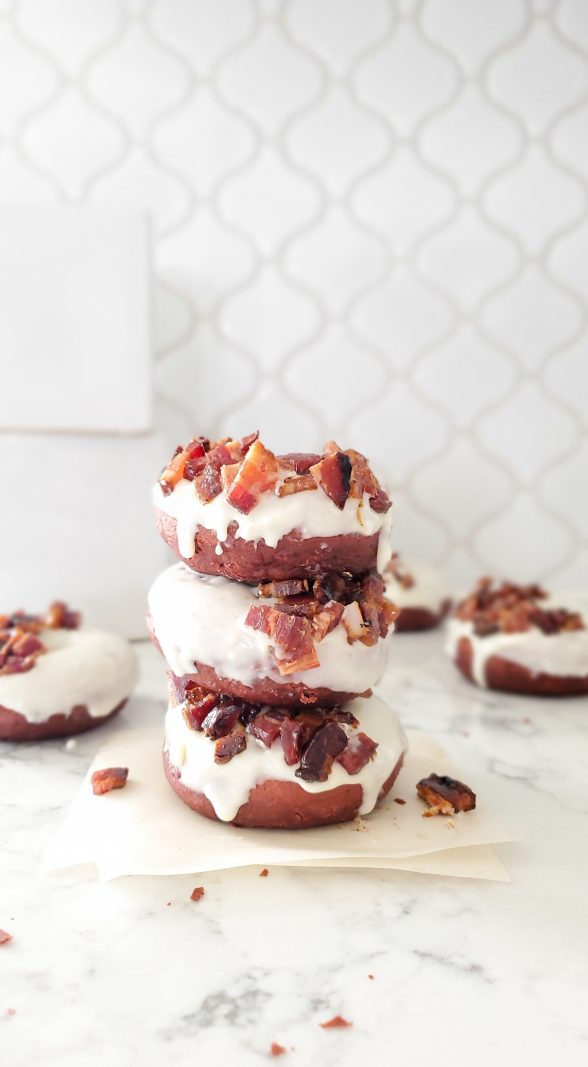 Preparation
Doughnuts
Preheat oven to 350°F. Grease doughnut pan.
In a bowl, mix together flour, brown sugar, cocoa powder, baking soda, and salt.
In another bowl mix together melted butter, egg, buttermilk, vanilla, and red food colouring. Ensure that all ingredients have been well incorporated.
Pour dry ingredients into wet and mix. Once again ensure that all ingredients have been well incorporated. Make sure not to over mix.
Pour doughnut batter into doughnuts tray.
Bake in the preheated oven until a toothpick inserted in the centre comes out clean, approximately 10 to 12 minutes.
Allow doughnuts to cool in doughnut tray and then remove from tray and place on the cooling rack.
Doughnut Glaze
In a stand mixer, whip together room temperature cream cheese and room temperature butter.
Add powdered sugar 1/4 cup at a time.
Add vanilla.
Add cream. You may add more cream to thin out glaze until you reached your desired consistency. Add in 1/2 tbsp increments.
Candied Bacon
Preheat oven to 375°F and line baking tray with parchment paper.
Place Grimm's Double Smoked Side Bacon strips on parchment paper and top each strip with 1 tbsp of brown sugar.
Cook bacon for approximately 5 -7 mins and then flip over and cook for approximately an additional 5 minutes.
Remove from oven and allow to cool. Once cooled, chop up bacon.
Assembling the doughnuts
Once doughnuts have completely cooled, dip doughnuts into the glaze and place back onto the cooling rack.
Sprinkle with Grimm's Double Smoked candied bacon.