It's that time of year again when the weather gets chilly and the food gets more comforting! Chanelle Saks, @ChezChanelle, shares one of her treasured Thanksgiving traditions with us — her Maple-Bacon Brussel Sprout recipe! Serve alongside your turkey or one of our Grimm's Hams (Old Fashioned or Festive would pair perfectly!) It's a savoury-sweet combination that brings together Grimm's Thick Sliced Bacon with maple syrup for a delicious depth of flavour that will make your Brussel Sprouts a family favourite.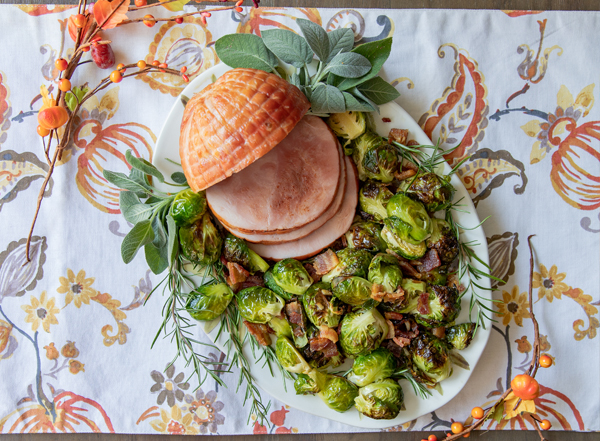 Ingredients
6 slices of Grimm's Thick Sliced Bacon – Traditional or Natural 
1 lb brussel sprouts (approx. 20), cleaned and halved 
1-2 tbsp olive oil
3 tbsp pure maple syrup
Salt and Pepper to taste 
Served alongside a Grimm's Ham Half – Old Fashioned or Festive 
Preparation
Preheat the oven to 400F. Line a baking sheet with parchment paper and arrange 6 slices of Grimm's Bacon. Cook in the preheated oven for 15 minutes – flipping once halfway.
Remove the bacon from the oven (keeping the oven on) and dice into small pieces.
To the same baking sheet (do not remove the grease), add the cleaned and halved brussel sprouts and drizzle with the olive oil, maple syrup, and season with salt and pepper. Give them a good toss then sprinkle with the bacon bits.
Return the baking sheet to the oven and cook for another 20 minutes, until brussel sprouts and bacon are cooked and crispy. Serve alongside a Grimm's half ham and enjoy!