Chanelle (chezchanelle) is back with these nutritious and easy quesadillas that make the perfect work from home lunch.
Ready in just 10 minutes! This version is vegetarian but feel free to add your favourite Grimm's meat!
Ingredients
4 Grimm's Organic Original Flour Tortillas
5 tbsp olive oil, divided
3 cloves garlic, minced or pressed
1 tsp ground cumin
1 can chickpeas, rinsed and patted dry
1 1/2 cups fresh spinach, roughly chopped
1/2 cup pickled banana peppers, chopped
1 cup marble cheese, grated
salt and pepper to taste
optional garnishes: cilantro, lime, avocado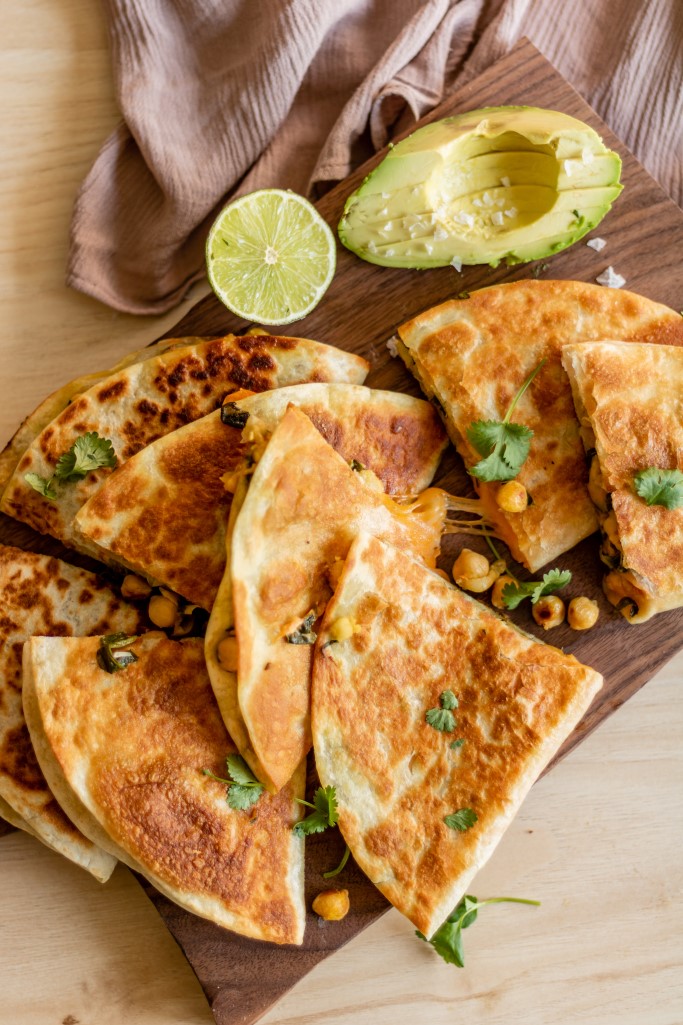 Preparation
Preheat a sauté pan over medium heat with 3 tbsp olive oil. Add minced garlic and cumin and sauté until fragrant, about 3 minutes.
Add rinsed chickpeas and sauté for about 5 minutes. Add spinach and banana peppers and cook for about 2 minutes, or until the spinach is wilted.
Remove the filling from the pan and set aside. Wipe the pan clean and heat 1 tbsp oil over medium high heat. Meanwhile, fill each quesadilla with 1/2 cup of filling and 1/4 cup grated cheese. Fold in half and place two at a time in the preheated sauté pan, grilling each side for about 3 minutes or until golden brown. Repeat the same steps for the last two quesadillas.
Top with your favourite herb and a squeeze of lime juice & enjoy a hot lunch!