This salad is bursting with fragrant spices and a sweet and citrusy finish, great for lunch, a light dinner or delicious inside of a wrap.
Ingredients
salad
250 g Grimm's Old Fashioned Ham, cubed
1/2 cup feta, crumbled
1 small eggplant, cubed
1/3 cup, plus 1/4 cup canola oil
1/2 small jalapeño pepper, seeded and finely chopped
1 can of chickpeas (540 ml), drained and rinsed
2 tsp kosher salt
10 sprigs fresh cilantro, finely chopped
5 fresh mint leaves, finely chopped
10 grape tomatoes, halved
dressing
1/2 cup extra virgin olive oil
2 tsp sherry vinegar
1 lemon, zested on a microplane
2 tbsp fresh lemon juice
1 small garlic clove, finely minced
1 small shallot, finely minced
1 tsp honey
1/2 tsp ground cumin
1/2 tsp ground ginger
1/4 tsp cinnamon
1/4 tsp ground allspice
ground black pepper and kosher salt to taste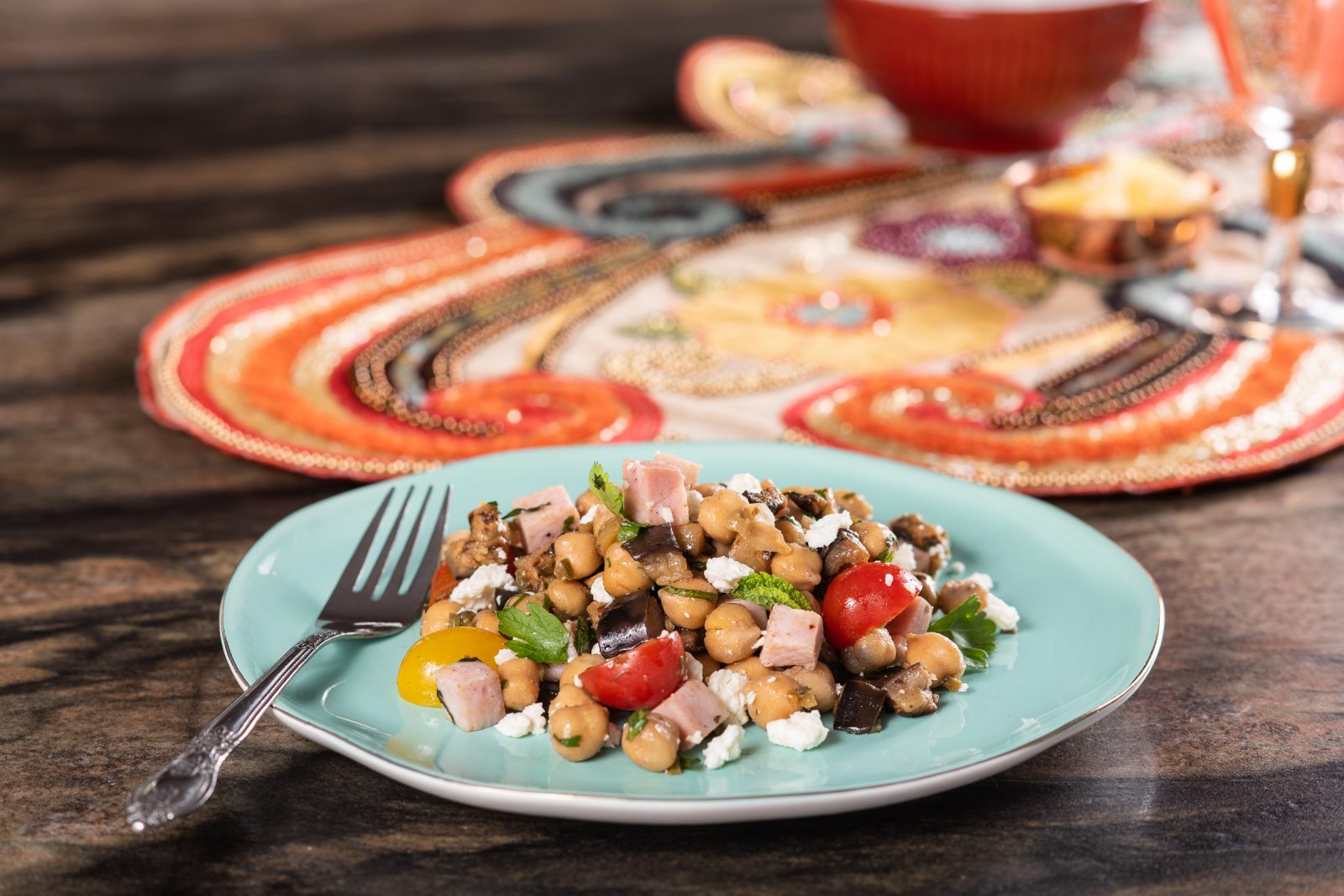 Preparation
Heat a large non-stick skillet over medium high heat and add 1/3 cup of canola oil. Add the cubed eggplant, and 1 tsp kosher salt. Cook the eggplant until nicely browned, (about 7 minutes). Remove from the pan and set aside in a bowl.
Add the rest of the canola oil to the pan and add the jalapeño, chickpeas, 1 tsp kosher salt, and sauté for 4 minutes. Remove from the pan and add to the bowl.
In a separate bowl, whisk together all ingredients for the dressing. Add the Grimm's Old Fashioned Ham, grape tomatoes, cilantro, and mint to the eggplant and chickpeas. Combine all of the ingredients with the dressing and mix well.
Top with crumbled feta and serve warm or at room temperature.