Simple and delicious.This recipe, made with Grimm's European Wieners, can be served as an appetizer or a light dish.
Ingredients
1 pkg Grimm's European Wieners
1 bunch asparagus, bottoms trimmed off
2 tbsp lemon juice
1 tsp sugar
1/3 cup olive oil
1 tbsp whole grain mustard
1 small shallot, minced
2 tbsp chives, sliced
skewers
salt and pepper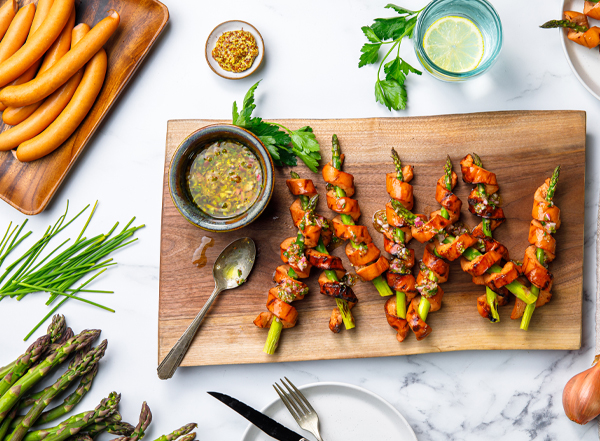 Preparation
Pre-heat grill.
In a small bowl mix lemon juice, sugar, oil, mustard, shallot, chives and parsley. Season with salt and pepper. Set aside for later.
Put a skewer down the middle of the wiener lengthwise. Now cut into the wiener at a 45 degree angle about ¼ inch from the end of the wiener. Make sure to cut until you hit the skewer in the middle. Now roll the wiener away from you and continue to spiral cut trying to keep you cut about ¼" width until you reach the end of the wiener. Remove the skewer and you should have a spiral cut wiener.
Wrap the wiener around the asparagus, making sure to stretch the wiener to expose the asparagus between the spiral cut wiener. Now it's time to grill. Grill until wieners are warmed through, with a little char and the asparagus is tender.
Remove from the grill, place on a platter and drizzle with the lemon-mustard vinaigrette.