Ingredients
2 x 300g Grimm's Bratwurst Sausages, casings removed
1 onion, finely chopped
2 cups sauerkraut, drained
2 teaspoons garlic powder
1/2 cup herb flavoured cream cheese
1/2 cup Panko
Salt and black pepper
Canola oil for deep-frying
Breading:
1/4 cup flour
1 egg plus 2 tablespoon water, beaten (you can add another egg later if runs out)
2 1/2 cups Panko
Dip options:
Mustard or Mayo-Ketchup Dip (Mixture of 1-part ketchup and 1 part mayonnaise plus a dash of hot sauce)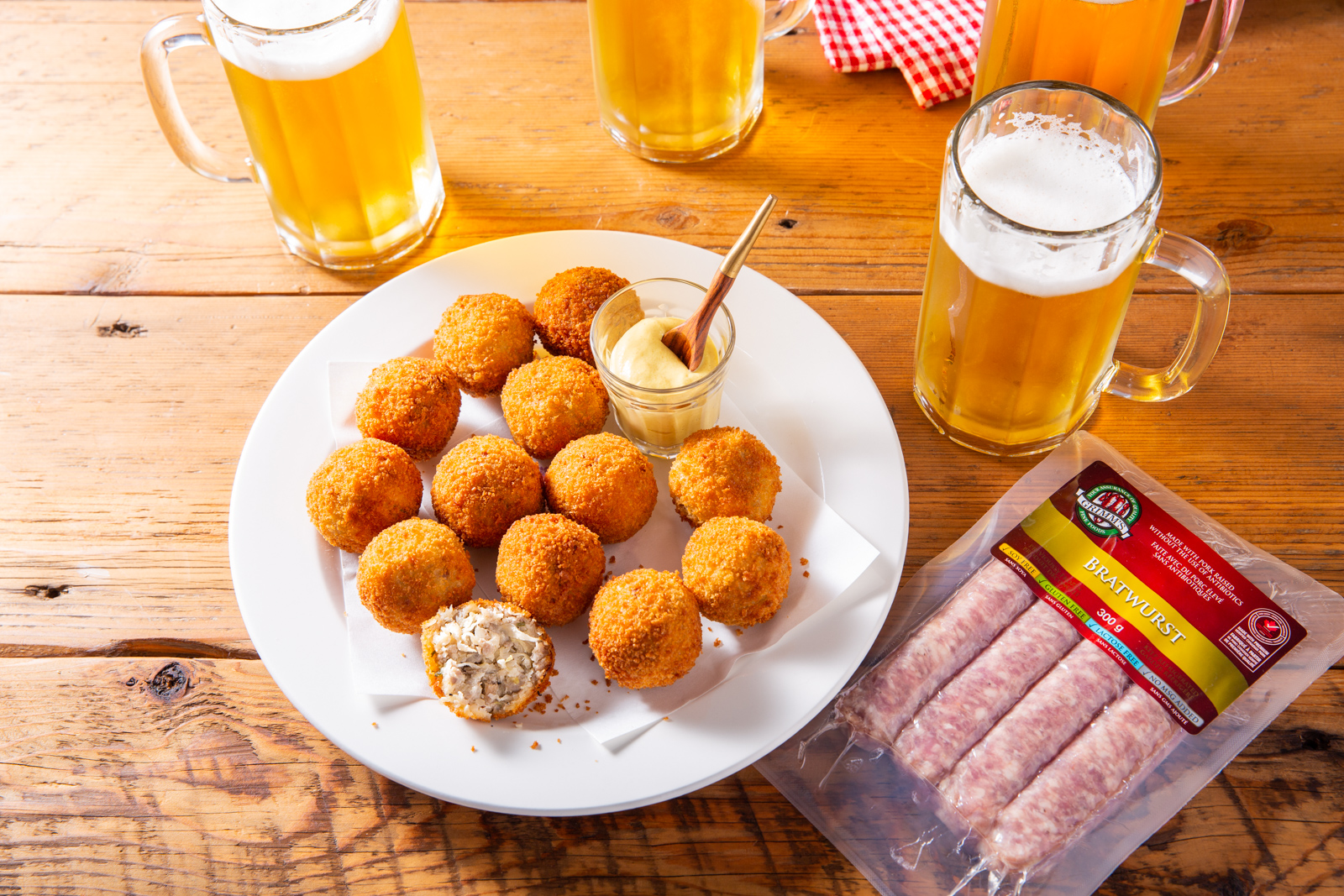 preparations
Sauté sausages in a large frying pan, breaking up the sausages into small pieces. Add onions and continue cooking until sausages are cooked and onion becomes translucent. Transfer to a plate and let cool.
Combine the sausage mixture, sauerkraut, garlic powder, cream cheese and 1/2 cup Panko in a large bowl. Stir well to incorporate all the ingredients. Adjust with salt and pepper.
Make golf ball-sized balls and place them on a tray, let them rest covered for 30 minutes in a refrigerator.
Bread the balls. Prepare a breading station with 3 large shallow bowls with flour in one, egg wash in another, and 1 1/2 cup Panko in the last bowl. Dust flour, dip in the egg wash and roll the balls on the bed of Panko. Gently press the balls with Panko. Repeat the process.
Heat enough oil to submerge the balls to 350-375 degree F in a deep-frying pan. Deep-fry the balls, a small batch at a time, until they turn golden colour. Remove burnt Panko crumbs in-between batches. Rest them on a kitchen paper lined tray. Serve hot with dipping sauces.