Ingredients
Beer Braised Grimm's Bratwurst Sausage
1 pkg Grimm's Fresh Bratwurst Sausage
946 ml of your favourite beer
1 onion
1 carrot
1 celery
1 tomato
Beer Hollandaise Sauce
1 cup clarified butter
4 egg yolks
1/2 tsp dijon mustard
1/4 cup of your favourite beer
1/2 cup lemon juice
Poutine
1 thick potato, diced
1 thick yam, diced
herbs and garlic, to taste
2 eggs, poached 
Grimm's Double Smoked Side Bacon, fried and diced
cheese curds 
green onion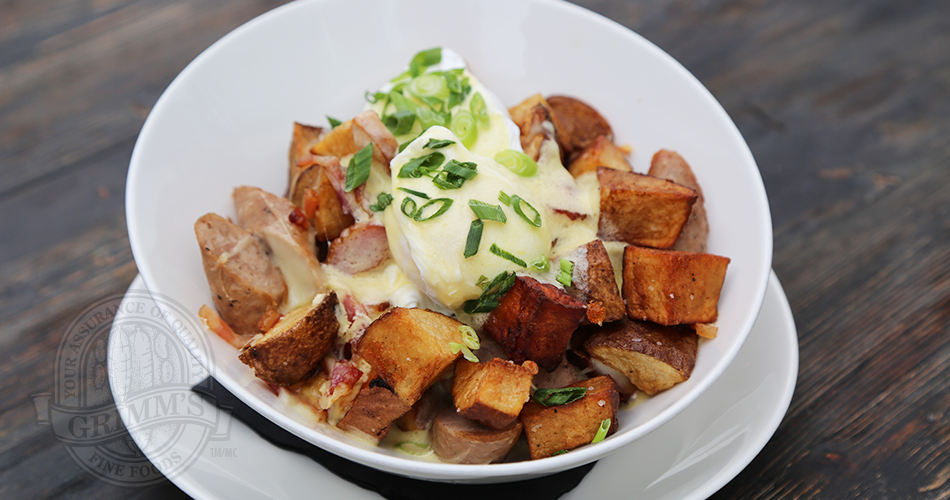 Preparation
Beer Braised Grimm's Bratwurst Sausage
Place all items in a pan and place in oven at 275°F for 2 1/2 hours
Beer Hollandaise Sauce
Melt butter and leave at room temperature.
Over a pot of water, whisk remaining ingredients constantly making sure nothing is stuck to bottom of the bowl.
Continue cooking until light, fluffy and smooth. Remove from heat and slowly add the butter until emulsified.
Keep sauce in warm place and wrapped until ready to use.
Poutine
Roast 1 thick diced potato and 1 thick diced yam in the oven with herbs and garlic (425°F for 25 minutes). Or use your favourite frozen hash browns.
Top potatoes and yams (or hash browns) with diced braised Grimm's Bratwurst Sausage, diced Grimm's Double Smoked Side Bacon, cheese curds, diced green onion, and Beer Hollandaise Sauce. 
Enjoy!