Ingredients
1 pkg Grimm's Breakfast Sausages
1 medium onion, diced
3 garlic cloves, minced
2 potatoes, diced small
salt and pepper, to taste
4 bell peppers, cut in half lengthwise (see photos)
8 large eggs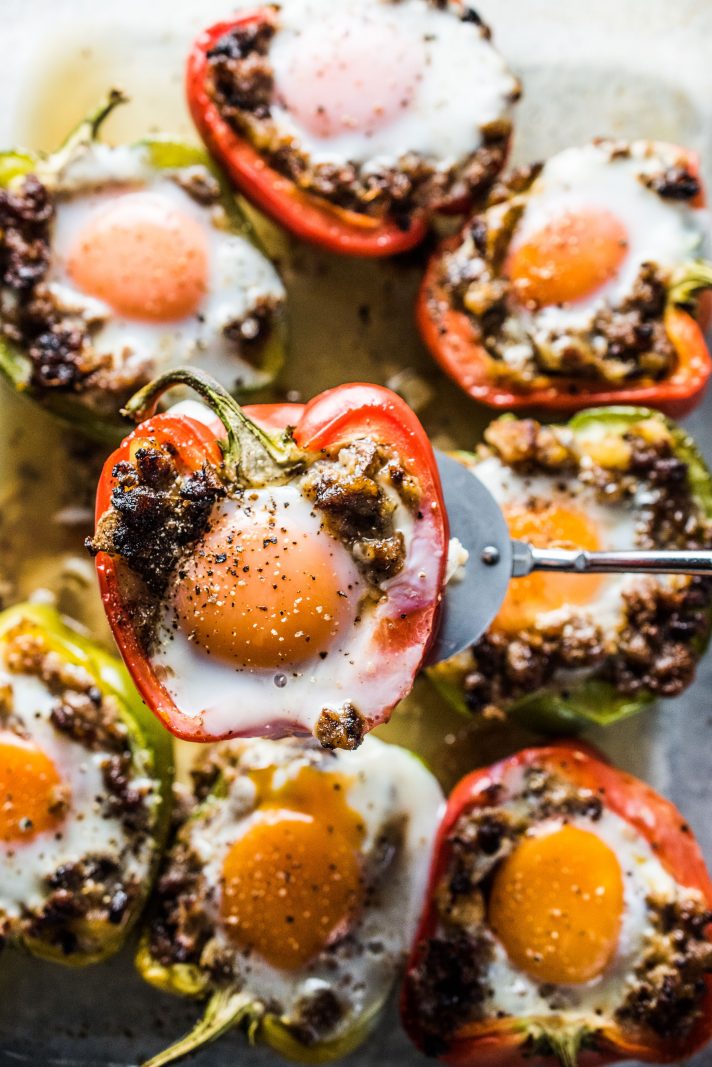 Preparation
Preheat your oven to 350°F.
Remove the sausage from the package and chop it into small pieces. (Note: you may peel off the casing if you'd like.) Add the sausage and onion to a large skillet over medium high heat. Cook until the onion is soft and the sausage is cooked through, breaking up the sausage with a wooden spoon as it cooks. Add the garlic and potatoes to the pan and cook, stirring occasionally, until the potatoes are soft, about 15 minutes. Season to taste with sea salt.
Arrange the bell pepper halves in a casserole dish. Divide the sausage hash between the bell peppers, pressing it firmly down. Carefully crack an egg into each pepper. Pour a cup of water into the casserole dish and cover with aluminum foil.
Bake in the oven for 18-20 minutes, or until the eggs are soft set. Serve right away

To make this dish ahead, cook the sausage hash and press it into the bell pepper halves. When you are ready for breakfast, crack the eggs into the peppers while your oven is preheating.