Ingredients
340 g pkg dry penne (gluten-free)
1 pkg Grimm's Mennonite Style Farmer Sausage Ring, sliced
2 zucchini, sliced
3 medium carrots, sliced
3 asparagus stalks, trimmed and sliced
2 cups cherry tomatoes, cut in half
2 shallots, thinly sliced
2 tbsp extra virgin olive oil
1/4 cup fresh orange juice
salt & pepper
dressing
1/2 cup mascarpone cheese, at room temperature
​zest of 1 large lemon
zest of 1/2 medium orange
juice of 1/2 lemon
juice of 1/2 medium orange
dash of salt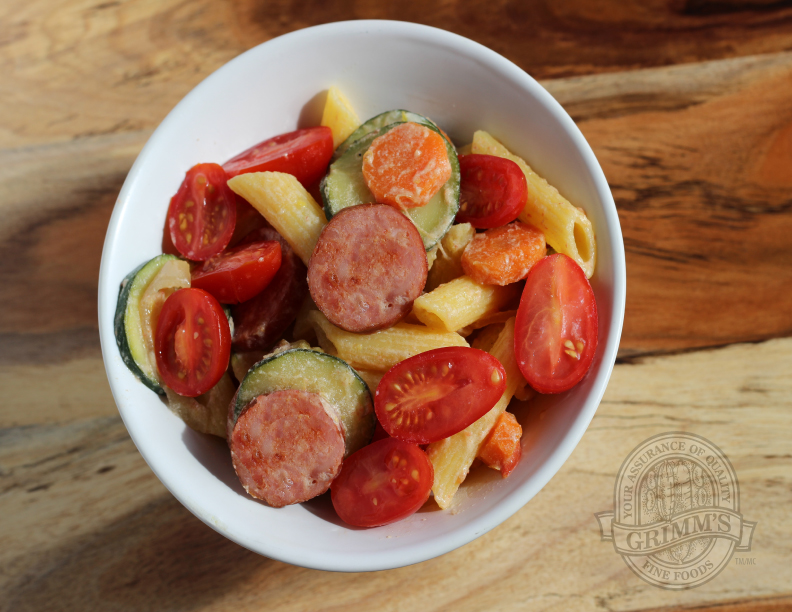 Preparation
In a large skillet, brown Mennonite Style Farmer Sausage slices set aside.
In a large pot, bring salted water to a boil.
Add pasta and cook until al dente, about 8-10 minutes.
In the same large skillet, add 2 tbsp of olive oil over medium heat.
Add carrots, asparagus and shallots, cook until vegetables begin to soften, around 4 minutes.
Add in fresh orange juice and zucchini, salt and pepper, and bring to a boil.
Reduce heat to low, add in sausage, pasta, and tomatoes to the skillet.
For the dressing, whisk together orange zest, lemon zest, orange juice, lemon juice, and mascarpone cheese until smooth.
Pour over the pasta mixture to coat.
Serve immediately.