loveinmyoven gets creative and shows us how to make a fun and healthy snack using our Yours Naturally Lean Turkey Pepperoni.
Ingredients
1 pkg Grimm's Yours Naturally Lean Turkey Pepperoni
3 romaine lettuce leaves, washed and chopped finely
1 pkg Grimm's Cheddar Cheese (170g), grated
1/2 English cucumber, sliced lengthwise (8 total)
3 large pickles, sliced lengthwise
1/2 large bell pepper, sliced lengthwise (8 total)
8 round rice paper sheets
Honey Mustard Dipping Sauce:
2 tbsp liquid honey
2 tbsp mayonnaise
1/2 tsp vinegar
2 tbsp dijon mustard
optional: cayenne sprinkles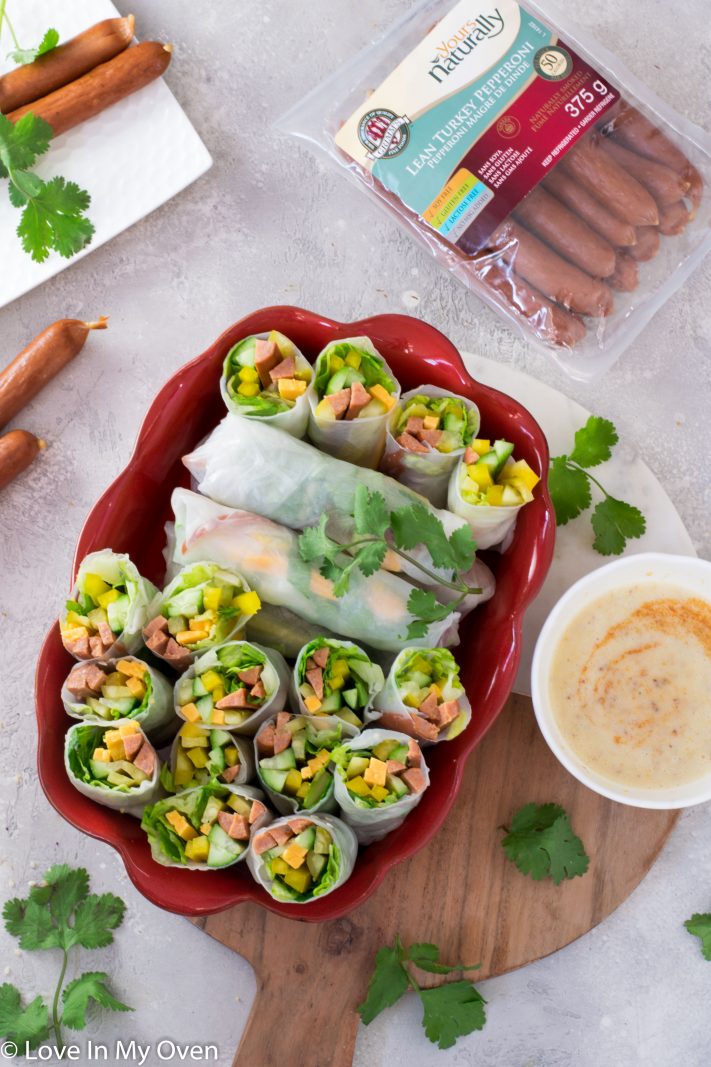 Preparation
Cut 8 pepperoni sticks in half, lengthwise, then in half again (4 long pieces in total).
Fill a large, shallow bowl with warm water. Set up your work station: the rice paper, the warm water, then the veggies and pepperoni, all in a row. Start by taking one piece of rice paper and holding it in the warm water for 5 seconds. Remove it, shake off excess water and place it down on a flat surface, like a cutting board. Allow it to sit for about 15 seconds, then begin adding fillings to the bottom third of the rice paper. Sprinkle some romaine first, followed by the cheese, then add 2-3 pepperoni quarters, some pickles, a slice of cucumber and bell pepper.
Grabbing the bottom of the rice paper, fold it tightly over the filling, tucking it in. Begin rolling, tucking in the sides as you go. Finish rolling it up and place it in a serving dish before repeating with the remaining rice paper and filling.
Honey Mustard Dip
In a small bowl, whisk together the honey, mayonnaise, vinegar, and dijon mustard. Sprinkle cayenne pepper to taste. Serve with the salad rolls or store covered in the fridge.
Salad rolls are best enjoyed immediately or, if making ahead, wrap individually in plastic wrap and store in an airtight container in the refrigerator for up to 1-2 days.