Put down that takeout menu! Need a quick and easy weekday meal that packs delicious flavour and is kid friendly? siftandsimmer has the perfect recipe for you!
Ingredients
Rice
1/2 cup Grimm's Ham Garlic Sausage, diced
3 tsp vegetable oil, divided
3 large eggs, beaten
1 large white onion, diced
2 cups cooked white rice
1 tsp soy sauce
1/4 tsp black pepper
1/2 cup pineapple tidbits, drained
1/2 cup frozen green peas
Garnish
1 tsp toasted sesame oil
1 green onion, chopped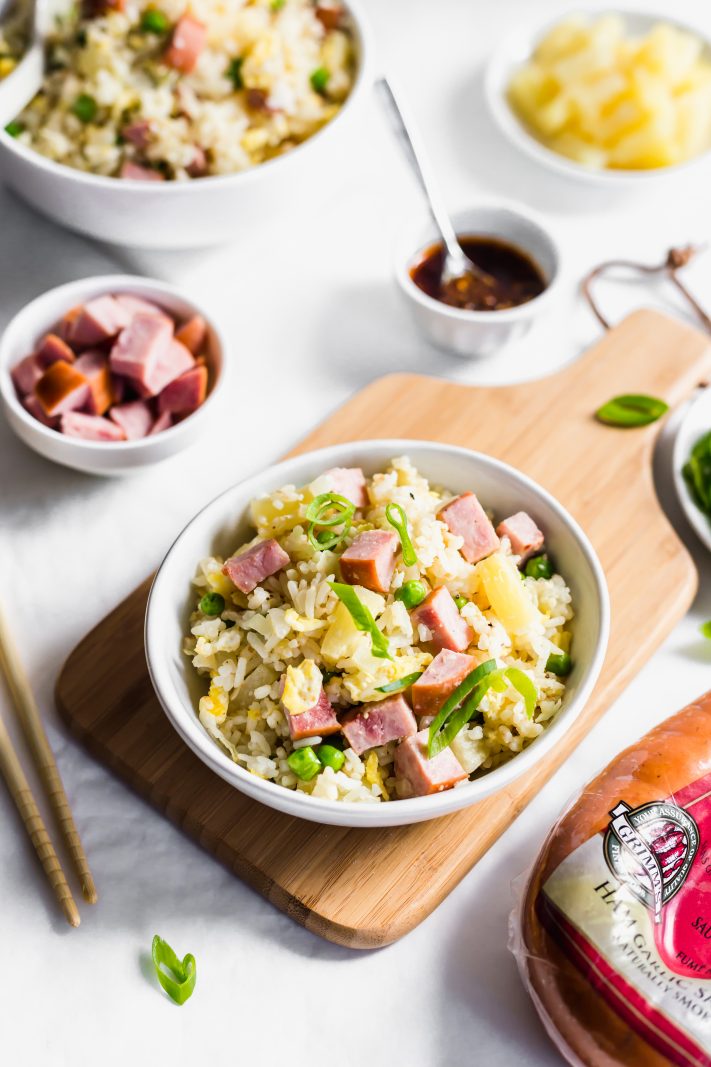 Preparation
In a large wok over high heat, add 1 tsp oil and the beaten eggs. Stir and scramble for 2-3 minutes, until almost fully cooked. Transfer to a clean bowl. Set aside.
Add the remaining 2 tsp oil and the cooked rice. Stir constantly, moving the rice around the wok. Add in the onion and keep stirring for another 1-2 minutes, until the onion becomes fragrant. Next, add in the Ham Garlic Sausage and stir fry for another 2 minutes. Add in the scrambled egg and mix with the rice until the egg is fully cooked.
Season with 1 tsp soy sauce and black pepper, and add in the drained pineapple tidbits and the frozen peas. Continue stirring for 3-4 minutes, or until the peas are warmed through.
Remove from heat. Serve fried rice in bowls and garnish with a drizzle of toasted sesame oil and chopped green onions. Add some chilli oil if you like. Enjoy while hot.