Newfoundland Blogger crumbtopbaking created this delicious and easy to make Sausage Frittata with Peppers & Onions, which is exactly what a holiday brunch should be.
Ingredients
2 cups Grimm's Kolbassa Sausage Bites, sliced 1/4 inch thick
2 tbsp extra virgin olive oil, divided
1 cup red onion, chopped
3/4 cup red pepper, chopped
3/4 cup green pepper, chopped
1/4 cup jalapeño pepper, chopped
3 garlic cloves, minced
6 large eggs
1/2 tsp kosher salt
1/4 tsp crushed red pepper flakes
1/8 tsp ground black pepper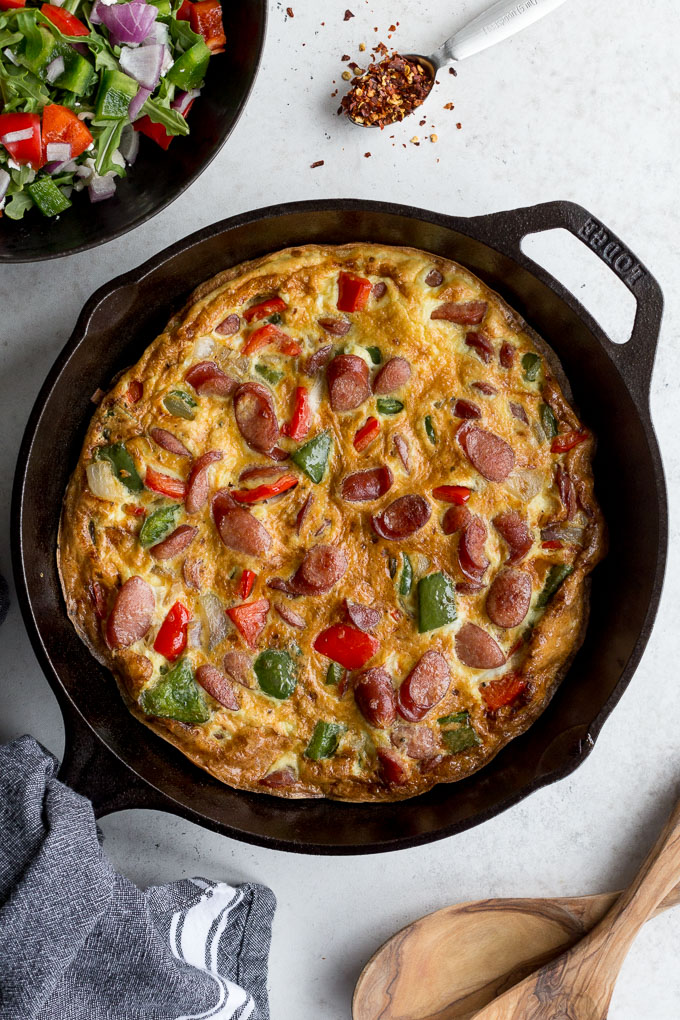 Preparation
Add 1 tbsp of olive oil to a 10 inch cast-iron skillet and heat over medium heat.
Add the sausage slices to the skillet and brown on both sides. This should take about 5-7 minutes. Transfer to a plate and set aside.
Carefully grease the bottom and sides of the skillet with the remaining 1 tbsp of olive oil. Add the chopped peppers and onions and sauté for 2-3 minutes, or until they start to soften. Add in the garlic and cook for another 2 minutes, stirring frequently to ensure the garlic doesn't burn.
Add the sausage back in and stir everything around to ensure even distribution.
In a medium sized bowl, whisk together the eggs, salt, red pepper flakes, and pepper. Pour over the sausage mixture. (You may need to reduce the heat to medium low to ensure the frittata doesn't burn on the bottom. You can also swirl the egg around the edges of the pan to help it seep down around the frittata and cook quicker).
Cook for 5-7 minutes, or until the eggs start to set around the edges.
Place the frittata in the oven and broil for 2-3 minutes, or until the eggs are set and the frittata is browned on top.
Remove from oven and let rest for a few minutes before cutting into slices and serving.
Store any leftovers in an airtight container in the refrigerator and enjoy within 3-4 days.